Of all the social media tools that have emerged since the turn of the century, one of the most exciting is podcasting.
Podcasting first started in 2004 with audio and has become a medium of communication used by individuals and organizations of all types and sizes – Fortune 100 companies in the US, FTSE 100 in the UK, non-profits, governments, small- to medium-size businesses, the mainstream media… you name it, today they're podcasting in one form or another.
I've been involved in podcasting since 2004, currently hosting three business podcasts:
For Immediate Release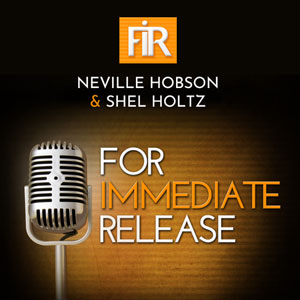 Originally known as 'The Hobson and Holtz Report,' Shel Holtz and I started 'For Immediate Release' (FIR) in January 2005 as a weekly podcast at the intersection of business, communication, and technology, focused on a niche audience made up of professionals across the communication spectrum – marketing, employee communication, advertising, corporate communication, and more – wherever they are in the world.
The podcast evolved over the following decade including developing the FIR Podcast Network. In 2017, we relaunched FIR as a monthly show of between 60-90 minutes per episode.
In January 2022, we expanded FIR with the addition of new, short-form episodes of between 10-15 minutes each with conversation on a single, timely topic to complement the monthly long-form shows that typically have multiple topics with deeper discussion and analysis on each.
At this time, we joined the Marketing Podcast Network to offer our shows to a wider and broader audience through that network, complementing the existing distribution via the FIR Podcast Network.
https://www.firpodcastnetwork.com/for-immediate-release/
The Small Data Forum Podcast
Thomas Stoeckle, Sam Knowles and I co-founded The Small Data Forum monthly business podcast in London in the summer of 2016. Our idea was to make Big Data less intimidating, more actionable and thus more valuable, in particular for marketing and communications professionals.
Each month, we get together via Zoom to listen, learn, share and educate ourselves and others who grapple with the challenges of the information avalanche.
We take a sideways look at the uses and abuses of data big and small in politics, business, and public life with opinion and insights that challenge accepted wisdoms.
In 2021 we began a series of occasional interviews with opinion formers – people with expertise and insights in the areas of our interest and of our listeners – in order to add further stimulus and interest in the very topics, and contemporary issues, that drive our monthly show.
https://www.smalldataforum.com/
Ideas to Innovation Season 3
'Ideas to Innovation' from Clarivate started in 2021. I got involved with it as talking-points researcher, scriptwriter and host in May 2022 when we launched Season 2. That began a series of conversations that tell stories capturing the emotion and the vision of remarkable people who have been on journeys to find creative solutions to the toughest of challenges.
Over the course of 15 months we created 21 episodes in conversation with guests who share the most inspiring and fascinating stories that will make you think, "Wow, they really did that?"
In September 2023, we launched Season 3 in which we strike up new conversations with global innovators, scientists, researchers and change-makers – expert voices, all, from across business, science, healthcare, academia, technology and more. They share their compelling and personal stories that uplift and inspire us to think forward with innovations that transform exciting ideas into practical reality.
https://clarivate.com/podcasts/ideas-to-innovation-season-three/