It's hard to avoid the hype and buzz about the Samsung Galaxy Z Flip 5 foldable smartphone that's been building over the past few months. It reached a crescendo before, during and in the days following Samsung's huge "Galaxy Unpacked" launch event in Seoul, South Korea, on July 26, when it went on pre-order in a dozen countries.
That buzz is building again now that the device went on general worldwide sale on August 11.
I pre-ordered a Z Flip 5 in July and I've spent the past ten days experimenting and test piloting as I got to know the new device that arrived on August 4.
You can read many, many articles, reviews and more on every aspect of this new fifth-generation model that have already appeared worldwide since the July launch announcement.
As part of my own research leading up to deciding to trade in my Z Flip 4 and buy the new Z Flip 5, these are the top features described by Samsung that I see making this model pretty compelling:
There is a huge amount of information about the Z Flip 5 that I could dissect and comment on in this article. I'm resisting that idea as I want to focus on just a couple of the things that resonate most strongly with me and which validate for me my act of upgrading to this latest model.
Z Flip Comparisons
Any of the links above will take you to some of that huge amount of information about this phone. Two things I will share. First, this specifications comparison between the Z Flip 5 and Z Flip 4 by GSMArena. I found this most useful in understanding what really is different between the two and what that meant when deciding whether to buy the new model.
The screenshot below gives you an idea of what you'll discover on the website. Much of it is quite technical, but all of it will illustrate precisely what's different between the two where most of the differences are technical.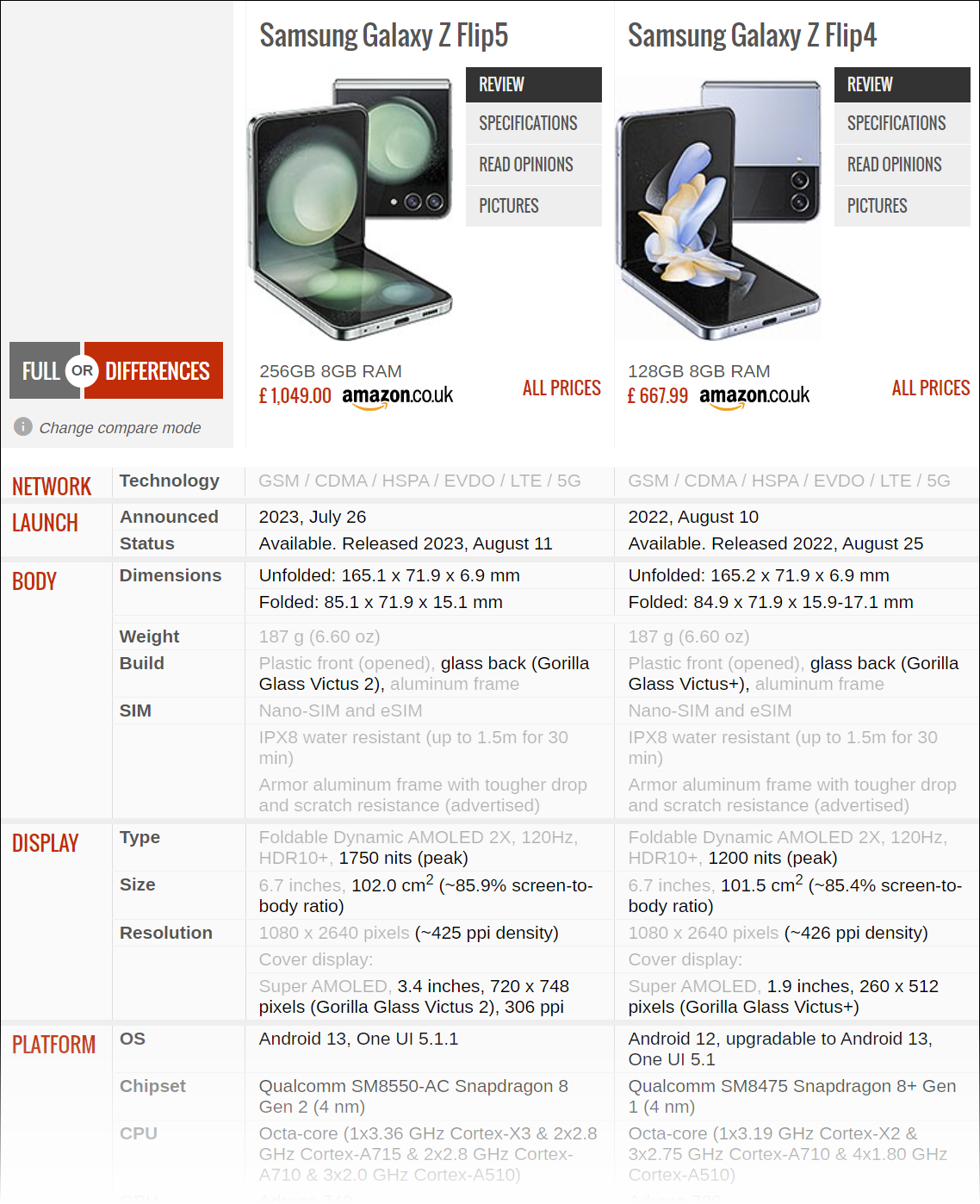 Finally on the Z Flip 5 and Z Flip 4 comparison, I recorded a short video of the two devices just after I received the 5 and had spent 24 hours getting to know it. Seeing both together, the different cover screens are apparent. I also showed the difference between the two when you fold them shut – no more gap with the 5 because of the new hinge.
The new hinge mechanism really is an excellent improvement on the Z Flip 5 compared to the Z Flip 4 (which itself was an improvement over the Z Flip 3). Samsung has pulled off quite an engineering feat to ensure that the hinge on the 5 is more robust and reliable than before. This enhancement not only provides a smooth and effortless folding experience but also offers increased durability, addressing issues about the hinge on the Z Flip 4 that some users had experienced.
I said earlier that the Z Flip 5 is beautifully made and charmingly compact. Indeed, it's something to admire and get appreciative comments from your friends about your great choice :) But there is a flip side (poor pun, sorry) to this glamour.
The Z Flip 5 is very slippery in your hands. As you'll know if you own any recent high-end smartphone, protecting your investment from accidental damage through being dropped, for example, is an essential task from the start. This is no different so a good protective case is a prerequisite.
There's quite a marketplace for cases, not only directly from Samsung but also from Amazon and Etsy to name but two markets so you have plenty of choices. Expect to pay a premium price to protect a premium device.
The Flex Window and the new UX
And now let's talk about that new large cover screen referred to by Samsung as the Flex Window. Did I mention it's extraordinarily immersive and versatile?
When I had the Z Flip 4, I really did try hard to make the most of the small cover screen that was, at best, not bad for showing a couple of lines of notifications. At a pinch, you could install some widgets with a workaround to run apps but what a process and on such a comparatively tiny screen it was hardly worth it.
In reality, I found the small screen of little use or value, so I ignored it for the most part other than as a clock with a date that also popped up calendar reminders and app notifications. Then, I'd open up (unfold) the phone to read them fully.
With the Z Flip 5 we now have something of genuine utility and value, a tool that makes this device truly an interactive means of communication: you don't just receive content to view and dismiss it, you can also engage with that content on the cover screen in the same manner as you would when the phone is unfolded and you have the full 6.7″ screen to use.
And therein lies the beauty of this setup. Already this has changed my behaviour in how I use a foldable smartphone.
Now, I do message-checking activities only on the cover screen. I don't unfold the phone at all unless some activity needs me to do something on the phone that is best done with it unfolded.
The cover screen does much more, though, than simply let you engage with messages, etc. For example, you can run apps on the small screen as you would on the full screen. The image at the top shows one of the available widgets that I've configured with the primary social networks I use – I can interact with content there on the cover screen, perfect for quick reading and posting messages or replying to them. You get a small but full keyboard on the cover screen that is surprisingly good, not the hunt-and-peck experience you might have expected.
One of the most useful cover screen features is also one that isn't yet fully supported by Samsung – the means to use installed full apps on the small screen, not just widgets, such as the example I mentioned that's in the photo at the top. To enable this, you must use a workaround via an add-on app called Good Lock that you get from Samsung's Galaxy Store. It enables a separate widget called CoverScreen OS that lets you deploy apps directly on the cover screen.
Check the image carousel for photos I've taken of my Z Flip 5 showing examples of the different ways you can use the cover screen. There are many customisation options to explore.
I should also mention the fact that not every app you can install on the device has the ability to be used on the cover screen.
I see all this as steps in the overall evolution of this device and what it lets you do, in some areas in a rather kludgy way at the moment. In the context of running apps more seamlessly, this would be version 0.9. I would expect software improvements from Samsung and app developers in the coming months as being able to run regular Android apps this way is something competitors already have enabled on their foldable devices.
Looking to the Future
The Samsung Galaxy Z Flip 5 represents a significant step forward in the foldable phone market. Its large Flex Window cover screen adds a new layer of functionality, making the device more versatile, user-friendly and very compelling.
The design improvements, including the new hinge and the enhanced cover screen, make the Z Flip 5 an irresistible choice if you're interested in a contemporary flip phone. The device's performance, battery life, and storage options further solidify its position as a strong leader in the foldable phone category.
As for how the Z Flip 5 succeeds and what it means for Samsung's overall success, three key points arise in my mind:
A New Era of Foldable Phones: The Galaxy Z Flip 5 represents a significant step in the evolution of foldable smartphones. How will this innovation impact the broader mobile industry, and what can we expect from future iterations of foldable technology?
Sustainability in Tech: With components made from recycled materials, the Galaxy Z Flip 5 aligns with a growing trend towards sustainability in the tech industry. How will this commitment to environmental responsibility influence other manufacturers and the industry as a whole?
The Return of the Flip Phone: The Galaxy Z Flip 5's design harkens back to the era of flip phones but with a modern twist. What does this say about consumer nostalgia, and how might this design influence and shape the future of smartphone aesthetics?
Overall, the Samsung Galaxy Z Flip 5 is not just a device but a statement of style, innovation, and sustainability.
"Today we deliver the future of foldables".

TM Roh, President and Head of MX Business, Samsung Electronics, July 26, 2023.
It is at least a very clear glimpse into the future of mobile technology, where the lines between form and function continue to blur, and where the past and present converge in a sleek, foldable design.
Related reading:
[Disclosure: My research into the subject for this article was ably assisted by ChatGPT 4 and Claude. Their AI-generated output to my prompts was reviewed, edited and rewritten, and added to in parts by me for factual accuracy and to improve the story. I added links to relevant online sources where such links to related information would aid the reader. Note also that none of the URLs on this page contain any affiliate links so feel free to click/tap away in confidence!]