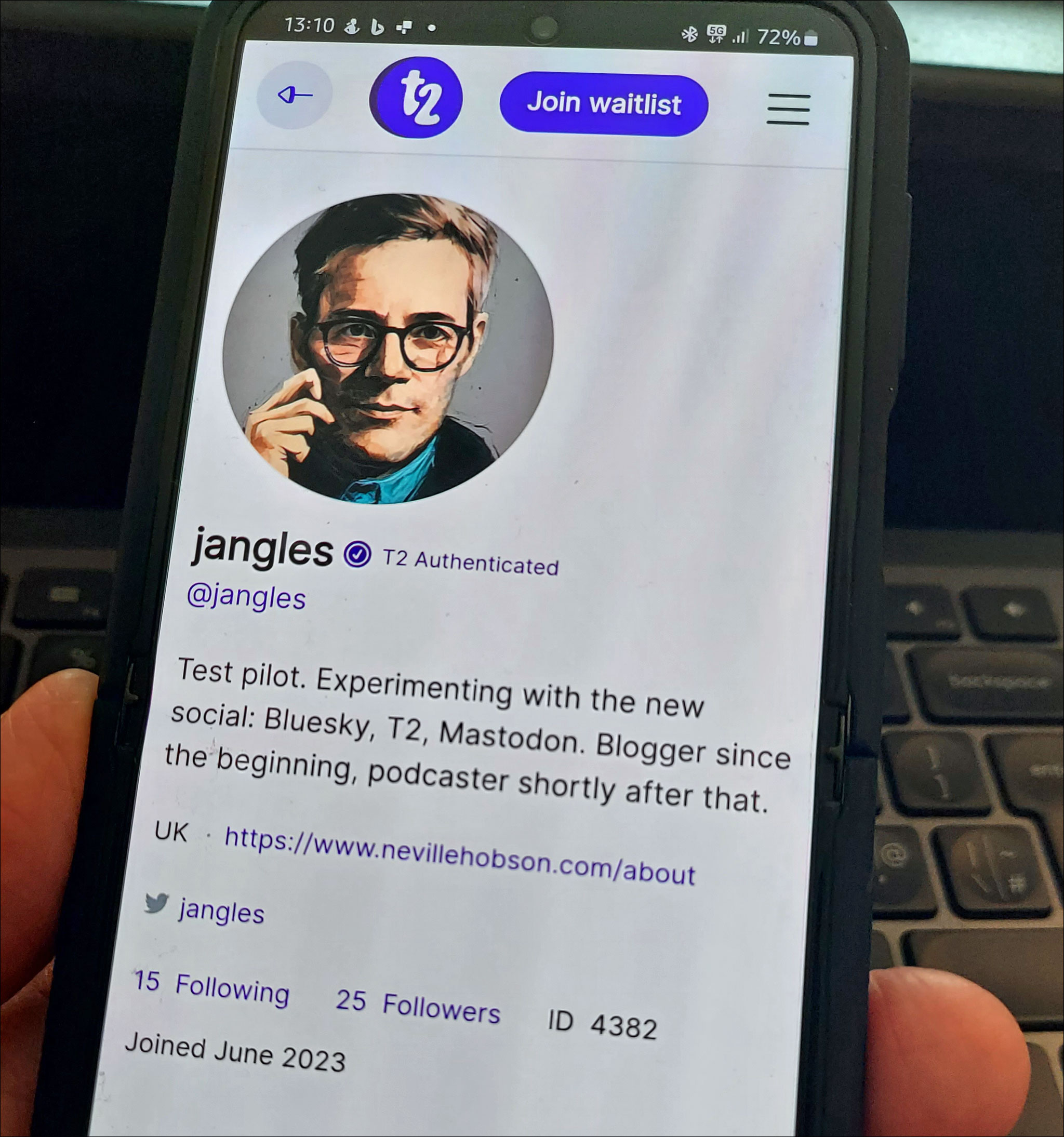 When Twitter first appeared in 2006, it marked the start of enablement and empowerment of people who wanted a means of communication that was unfiltered, uncontrolled and unfettered. It would let you chat with your friends and engage in sharing news and information on a small scale, something that met the wishes of many looking for such an outlet.
It extended the appeal of blogs which were gaining a lot of attention at that time. Indeed, Twitter billed itself originally as a "microblogging platform" – rather than publishing long-form articles in a blog, Twitter would be a place for sharing snippets and short texts with friends such as you would do with text messages on a mobile phone (hence Twitter's original character limit of 140).
Fast forward 17 years to a landscape where today Twitter is a global phenomenon as a social network, a huge algorithmically-driven broadcasting platform for advertisers, celebrities, politicians, activists, and so-called influencers, and a magnet for bad actors, especially since Elon Musk's acquisition of Twitter in 2022.
Sadly, Twitter today is also a place that is far, far from the original ideals of its founders.
Luckily, if you're looking for a place that will remind you of the beginnings of Twitter in 2006-2007 – a time of original discovery, authenticity and simple engagement – and in the formative few years after, a new platform called T2 is very likely that place.
If all that is just history to you as you never were on Twitter before 2010 or at all, and you're simply looking for a place to have the authentic conversations you've always wanted to have (to borrow T2's words), then T2 could be that place for you.
T2 aims to be the new public square – a source for up-to-date, short-form information, and friendly conversations.

T2 FAQ
Such a simple phrase sets the scene for what you should expect when you sign up. To open an account, you need an invitation code – join the waitlist to wait for one, or find someone who has a code to share (more on that below).
To start with, T2 is in early development as a platform and what it wants to offer users. The name 'T2' may signify 'Twitter 2' alluding to a view that this is the next Twitter, but it seems unlikely it will continue to be called T2. It's not yet beta, it's still alpha so things are basic, they likely will break now and again, and lots may change over the course of time.
This is not a place for you if you expect a nice polished environment, mobile apps, a feature-rich user experience, a comprehensive help and support system, and communities of people already there waiting for you.
The appeal of T2
T2 is a place for experimentation, for discovery, a place under construction, to engage with others and contribute to development via feedback and suggestions. It's a place I think of as a microblogging site far more than I think of it as a social network. That may change, too.
If you're a kick-the-tyres kind of person who relishes the unexpected, loves testing the new, and sharing your discoveries and learnings with others, then this is exactly the place for you!
Given that T2 is clearly a work in (fast-evolving) progress, I'm not going to attempt a full-on guide on the details of what T2 is and how to use it. Other than to say: open an account, log in, set up your avatar and profile, follow some recommendations on who to follow, and you're ready.
There's nothing to install or much to set up. Things are obvious to get started even if you're new to social networking. Rather, to microblogging.
So in this article, I'll outline three things that I regard as highly appealing about T2 from an individual user's point of view from using it over the past month. That's an important point, incidentally – T2 is all about individual users, not organisations (see the terms of use).
1: Familiar look and feel
The Home screen is where you'll likely spend the most time. It will be a familiar-looking place if you are a Twitter user so if you plan to transition to T2, it's good to know.
At the top of your screen, there is a post-creation editor with the friendly question "What's happening?" Take your cue and type!
You'll have 280 characters – exactly the same as with Twitter if you aren't subscribed to Twitter Blue – and you can add links to content elsewhere online. You can attach images to your posts. You can use hashtags as you can in Twitter and you have similar functionality with comments, likes and re-posts (same as retweets).
And you can include a link to your Twitter handle in your T2 profile if you have an account there.
For now, this is about all you get. No video embedding although you can add links, no private direct messages, no lists, just a single timeline with everyone's posts visible to all. As T2 develops more, and the developers consider user feedback and suggestions, I expect more features and functionality to emerge. Don't forget, this is an alpha project at the moment.
As for user behaviours, T2 makes its position clear in its Community Guidelines in a simple and friendly manner.
Welcome. Please be kind. Everything you post is public.

T2 Community Guidelines
I've yet to encounter anyone with an agenda who rants about US politics, something extremely common on Twitter. No one who trolls others, or hijacks a conversation with rude and offensive commenting on a post. No porn images. No sales pitches, no get-rich-quick schemes. I've yet to see anyone utter the 'f' word or worse. No toxicity. Long may this last!
2: Small scale
T2 launched publicly at the beginning of 2023. When I joined in early June, there were just over 4,300 users. That number had swelled to just over 9,200 a few days ago, some three weeks later. I expect it will have passed 10,000 during the coming week or so.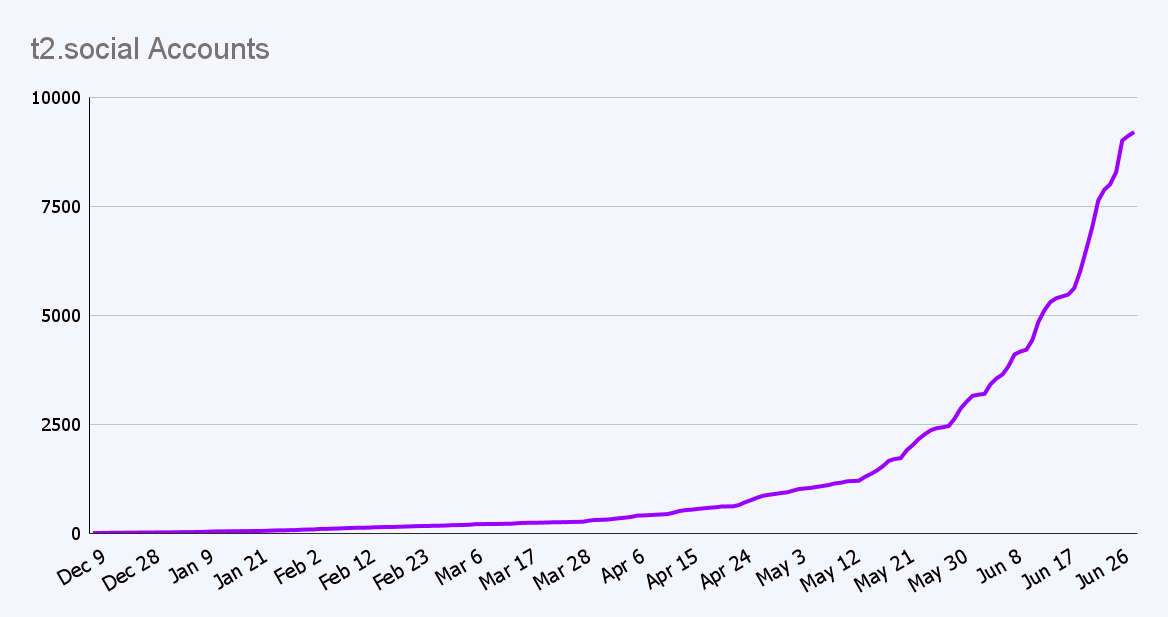 It's clear that platform growth is being carefully managed so that influxes of new users don't overload the current infrastructure as its being built. Invitation codes are one good way to manage that.
So scaling small is part of what makes T2 a very nice and friendly community. The other part of that is the types of people who are here at the moment. My impression is that this is a very international place. T2's corporate HQ may be in Berkeley, California, but the users I've engaged with are not majority American. I see people in the USA and also in the UK, Japan, Netherlands, Argentina, Canada, Germany, France, Sweden, South Africa, India, Brazil, and probably many more countries represented.
It's a delightful mix and blend of cultures, ideas, and behaviours. It reminds me of Twitter back in the day :)
3: Real verification
Before Elon Musk, Twitter had a system of verification that actually carried some weight regarding knowing whether someone was who they said they were. After Musk arrived, that system was replaced by one that 'verified' a user purely on their paying Twitter $8 a month for a subscription to Twitter Blue. Thus it now means little if anything regarding knowing whether a user is who they say they are.
T2 has a verification system that actually does check your identity when you apply to be verified. Using an online verification procedure from Persona Identities, you log in to a specific web page and start by showing a government-issued ID (eg, passport, driving license) via your webcam or phone camera and upload a selfie. If that passes online checking by Persona, you pay T2 $5 by PayPal or credit card and the team will confirm your verification.
Persona's process looks to be sophisticated and comprehensive. According to its website, the automated online verification procedure will "extract and verify government IDs, such as passports and driver's licenses, with configurable and automated heuristic checks across 200+ countries and territories".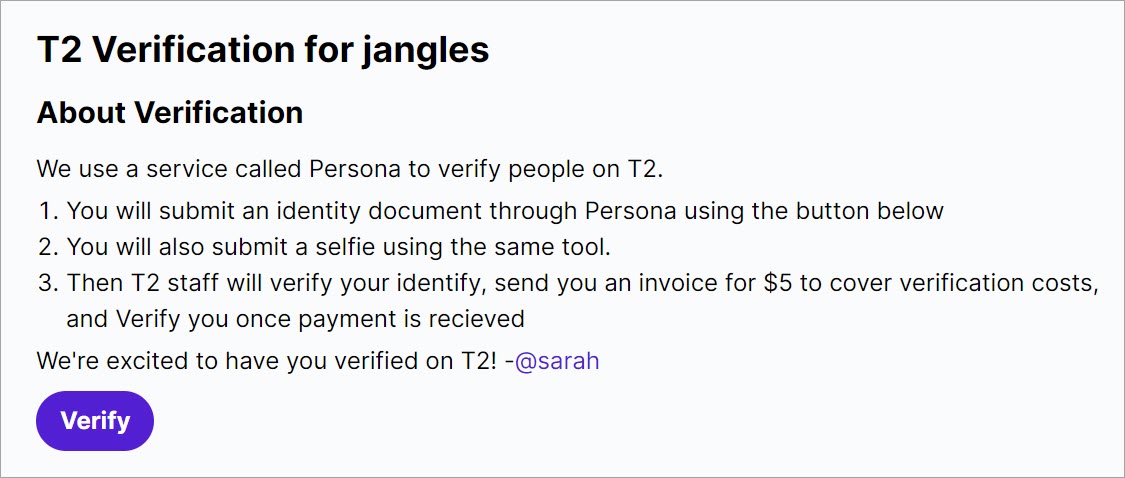 You'll then see a "T2 Authenticated" label on your user profile (you can see mine in the photo at the top of this page).
I like this KYC-type method of evidence to back up someone's claim to be who they say they are. I think it's a good enough step to give you more confidence about someone, certainly more credible than someone being called "verified" just because they subscribe to a service for $8 a month.
T2 also offers another form of verification: if you were a legacy verified account on Twitter (that's what Twitter now calls its verification system prior to Musk), "you can bring your checkmark with you to T2". Fill out a form to start the process. This might be a good alternative if you held that status on Twitter and don't want to go through the $5 T2 process.
---
Choices and decisions
The overall social network landscape that surrounds Twitter is looking mightily conflicted right now. Twitter is still going through more turmoil, with significant issues emerging in the past day or so about accessibility restrictions on content imposed by Elon Musk to combat what he calls data scraping of content that impacts networking performance and user experience. Or something like that.
A consequential effect of this – let's call it collateral damage – is the impact on Bluesky, another Twitter alternative that I've been experimenting with since May (and have written about here). This weekend, Bluesky paused new signups and restricted some service features after suffering from degraded performance.
All of this suggests looking for an alternative to Twitter may well be worth the time, especially now.
As we've seen over the past year, many Twitter users have abandoned ship and flocked to perceived alternatives such as Mastodon and Bluesky. The predicted flood turned out to be little more than a trickle, though, and the much-talked-about imminent demise of Twitter still hasn't happened.
While Bluesky is the one getting huge attention at the moment, I think you should take a close look at T2.
Which one is better? I don't believe one is better than the other. Both have their pros and cons. Both places offer a similar experience when creating messages, replying to others, etc, so I think much depends on what you're looking for in terms of community and engagement.
That said, Bluesky is further advanced in the development cycle than T2. It's in private beta, to start with, not alpha. It has a much richer feature and functionality set. It's also strongly focused on building out a new protocol where a decentralized social network isn't the be-all and end-all.
And Bluesky has significantly more users signed up, just passing 203,000 – T2 is currently less than 5% of this number with under 10,000 users.
I like Bluesky for all of that – more people to engage with, more Twitter-like behaviours. Yet that also can be a downside.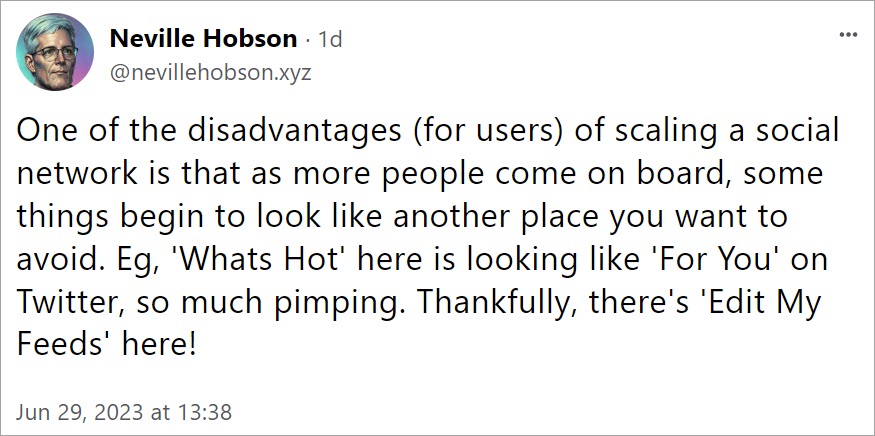 T2 does feel different, not only because it's smaller-scale right now. I think it's attracting a different kind of user than Bluesky. I certainly notice far more sharing of original thoughts and ideas (the essence of microblogging) than linking to articles or products or what others say to stimulate likes and reposting – all very Twitter-like behaviour.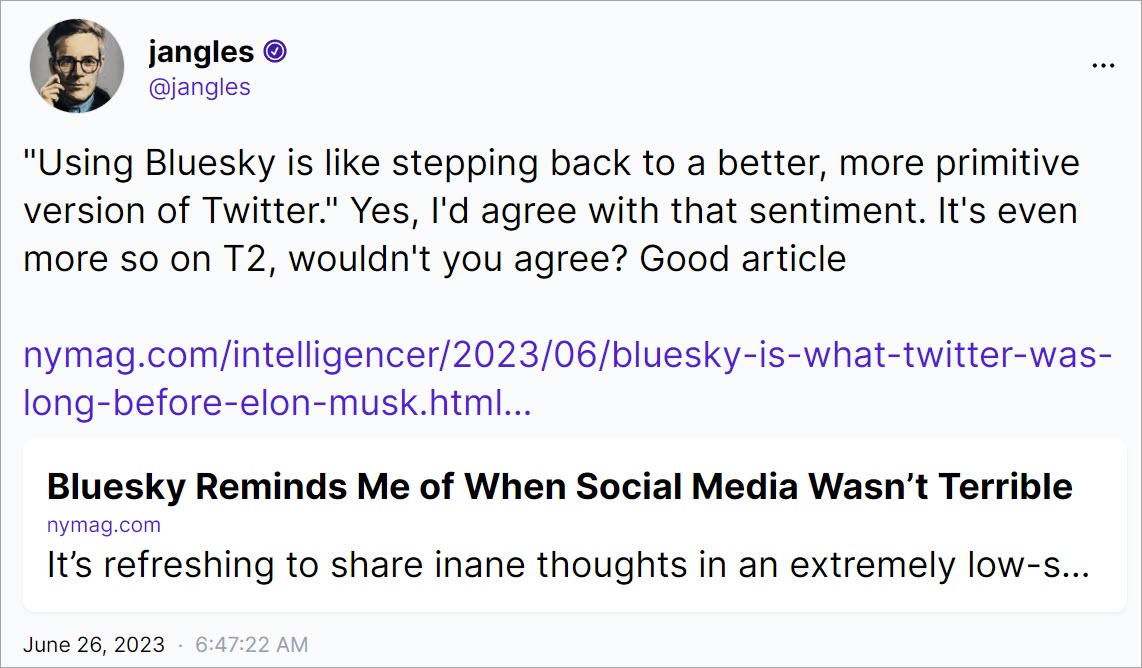 You don't have much to lose by looking into T2 and Bluesky, and potentially a lot to gain. Then you can make informed decisions.
A final thought to add to the overall mix. My focus is on using tools like T2 and others as part of your means of engaging with other people on a personal level. This is not about using any tool for a business or other organisational purpose. T2 (and Bluesky) doesn't talk about businesses setting up stalls on its service. Indeed, when you read the terms of use, it will become clear that you can't use an account for a business purpose.
Will that change? Will we eventually see businesses and advertisers in such places? There's no indicator from any platform that duplicating that aspect of Twitter is an intent. No doubt we'll see debate and discussion in the future on revenue models for platforms. After all, they are for-profit companies and this will be a highly competitive space. Freemium model, subscription fees?
Perhaps this might signal the start of a universal approach to paying for services. Not huge amounts but micro-payments for micro-blogging.
Meanwhile, make the most of the environment T2 offers you right now. Experiment!
We believe in the basics: offering simple tools and creating space for human conversation. We're working to build an elegant, sustainable, and hospitable place that recaptures what we all used to love about the internet.

About T2
If you are curious and would like to kick the tyres with T2, I have some invitation codes available. Ask for one by emailing this address with your request, with a concise explainer of why you would like to experiment.
I also have a few Bluesky codes available, ask from the same email address with a similar concise explainer.
First come, first served, on a very limited supply. If you don't hear back within 48 hours of your email, assume they've all gone.
Related reading:
What Is T2 Social? – a good explainer and guide on how to use T2 and make the most of it, published on 18 June 2023 by Matt Horne. The irony of linking to Matt's Twitter handle isn't lost on me.