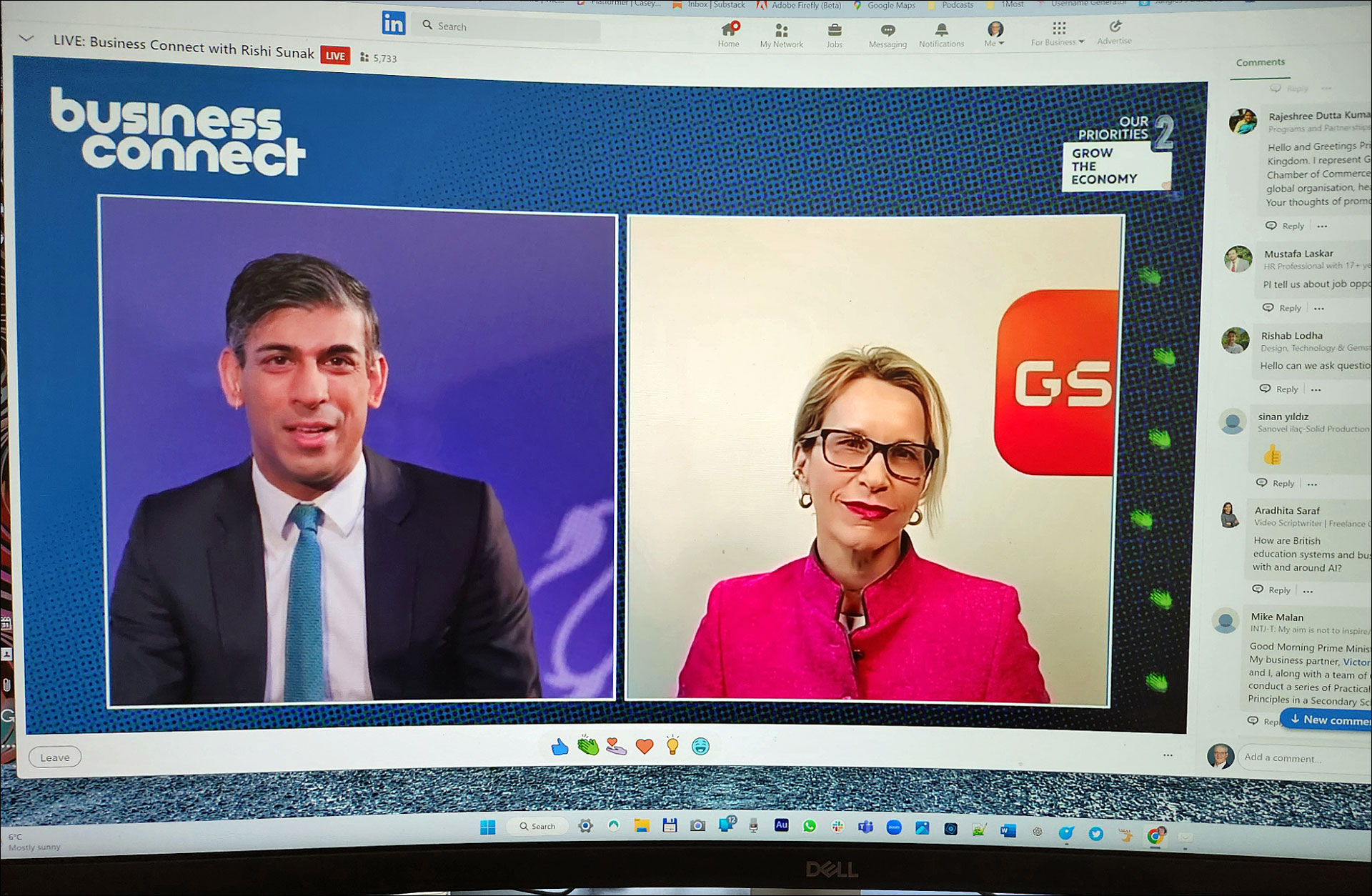 Today the UK government launched Business Connect, described as a new conference that champions the dynamism of UK businesses to unlock innovation and grow the economy. Or, as The Times puts it, a charm offensive with business.
It's also a means by which Prime Minister Rishi Sunak can engage in small-group conversation that will let him pitch his wares, as it were, more directly and personally.
As part of this charm offensive (I like The Times' moniker), Sunak presented himself live on LinkedIn at 8.30am this morning in an online event. Over 30 minutes, he spoke to a handful of people who were brought into the live video stream in turn, asking Sunak questions which he addressed, making this a reasonably engaging series of inter-connected one-to-one chats.
What did it achieve, I wonder.
I saw Rishi Sunak's post on LinkedIn advertising the event at about 8am this morning. That post said, "On 24 April I'll be answering questions from the business community – live – right here on LinkedIn."
That he did. But judging from some of the comments posted on LinkedIn, quite a few people were expecting Sunak to answer questions they were posting in the chat. Indeed, that was largely what I was expecting to happen.
Clearly, that would have been almost impossible in a live session like this. Texts were appearing non-stop in a constant stream along with emoji reactions. Some of the questions were plain silly or utterly off-topic but would require moderating. Others seemed to me to be really on topic, but you couldn't expect individual answers in a session like this over 30 minutes.
Instead, we had scripted Q&A. Yet I think it wasn't bad at all. Even if there was a huge sense of stage-managed marketing here, Sunak has the personality and the natural talent to at least give a good impression of authenticity.
Imagine, then, if this had been an ask me anything type of online event. Instead of on Reddit, on Linkedin. Eminently doable and I hope this idea gets attention from Sunak's comms team.
Risky but if done well, it can be so engaging and genuine. Here's a terrific example.
Improve the engagement
If I had a direct criticism of today's LinkedIn event, it would be about identity. Meaning, who were the talking heads who appeared one after the other? Each said who they were but by the time I got even halfway through listening to them, I had forgotten their names.
Captions with names and LinkedIn handles would have been immensely helpful. It would also let you check them out there and then if you wanted to.
I've seen some comments about the lack of subtitles. Yes, it would have been helpful, and certainly so if they were included in the recording post-event but they're not. That's a big opportunity missed to engage with people who didn't see it live but could be interested in the recording. If mobile, subtitles will enable viewers to follow along completely, given how so many people (me included) tend to watch most videos on social networks with audio muted. Subtitles are essential.
If you want to see the video recording, it's here. (Imagine if I had been able to embed the video right here: you could just watch it. But I couldn't find an embed code or any way to do that.)
Looking forward to the next one with improvements!