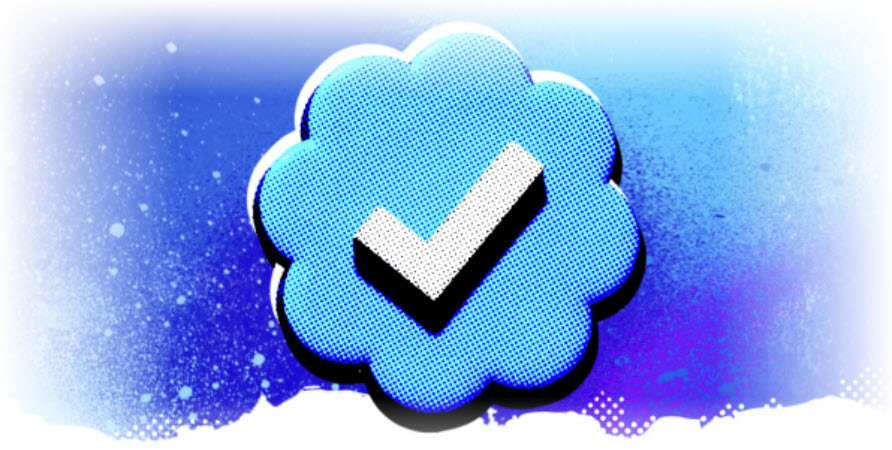 For many people, the blue checkmark on Twitter has been synonymous with credibility, influence, and social status. For others, it's a vanity project with no real value to anyone, a broad sentiment that might grow in the face of changes to the verification programme that are in process.
These changes to verification and the meaning of the blue checkmark have left many questioning the whole point of Twitter and the overall purpose of the verification programme.
In the beginning…
Twitter launched its verification feature in 2009 to combat the growing issue of impersonation of Twitter users, particularly concerning high-profile individuals. The blue checkmark provided a visual cue that the account belonged to the person it claimed to represent. As the platform grew, verification became a status symbol, with many users striving to obtain the coveted checkmark.
But the social network endured controversies in 2017 leading to its suspending the verification system entirely later that year.
Jump forward to May 2021, and Twitter relaunched verification with a re-declaration of what it means to be verified on Twitter:
The blue badge is one of the ways we help people distinguish the authenticity of accounts that are of high public interest. It gives people on Twitter more context about who they're having conversations with so they can determine if it's trustworthy, which our research has shown leads to healthier, more informed conversations.

Twitter: 20 May 2021
Jump forward again, to October 2022 and the arrival of new proprietor Elon Musk following the closing of his successful bid to acquire Twitter for $44 billion.
Musk set in train a series of massive changes at Twitter, from reducing employee numbers by thousands to leading the charge on launching the new Twitter Blue subscription service designed in part to address the loss of revenue from big advertisers who fled the social network and to replace the existing (now called 'legacy') verification programme.
Twitter Blue offers a range of additional benefits, some of which – being able to edit a tweet you've already published, for example; or posting tweets up to 4,000 characters, a significant increase beyond the standard 280 characters – are highly attractive to many users.
You pay for such benefits with the current subscription fee at $7.99 a month in the US (UK: £7.99 a month), more if you pay via the Apple Store, based on paying for a year in advance.
And then there's verification, now only available to individuals if you subscribe to Twitter Blue.
Getting the Twitter blues
With Twitter Blue verification, the original core principle mentioned above of verification being "one of the ways we help people distinguish the authenticity of accounts that are of high public interest" has gone. Now, verification is only a cue that a particular blue-checkmarked account is paying for a Twitter Blue subscription:
The blue checkmark means that the account has an active subscription to Twitter Blue and meets our eligibility requirements. Starting April 1, we'll be winding down our legacy Verification program and accounts that were verified under the previous criteria (active, notable, and authentic) will not retain a blue checkmark unless they are subscribed to Twitter Blue.

Twitter (undated)
So, the meaning of 'Twitter verification' has entirely changed to simply one that says you're verified as a Twitter Blue subscriber.
In my book, that means little, perhaps even nothing at all. My primary Twitter handle @jangles is verified (rather, 'legacy verified' in 2017) and according to Twitter, I will lose this verification very soon (bye-bye blue checkmark!) as Twitter starts winding down the old programme from 1 April and if I don't subscribe to Twitter Blue.
As I have neither wish nor intent to pay Twitter for a blue checkmark of questionable value, this looks like a certainty. Or perhaps it's all an April Fool's joke? That's what Politico is wondering.
In any case, I think this devalues Twitter and makes me wonder, "what's the point?", a question the EFF eloquently explores.
Just look at the differences in the meaning of 'verification' now on Twitter in this comparison of how the word is explained on a 'legacy verified' user profile such as mine:
So I expect the blue checkmark to disappear very soon.
I don't lament its imminent passing, frankly. If you've read any of the articles here over the past six months and more, you'll know that disillusionment with what Twitter has fast become under Elon Musk's leadership has set in, to the extent now that I have little faith in Twitter as a place of "healthier, more informed conversations."
I also think it's worth repeating a point I made last December in an article about the changes in Twitter verification:
We live in a time of severely diminished trust in institutions and individuals alike. And the rise of bad actors, scams and fakery at scale requires tools and methods that increase trust, not diminish it. Twitter Blue 'verification' may prove to be another straw on Twitter's back, hopefully not the final one that breaks it for users.

Neville Hobson, 19 December 2022
Or starting the end of days for Twitter, to use another metaphor.
I don't plan on leaving Twitter – I've been here since 2006 – but I no longer see this social network as a primary place of engagement with people. It still has a role to play in the wider universe of people sharing opinions, news and information online but with huge caveats attached.
Related:
Additional reading: