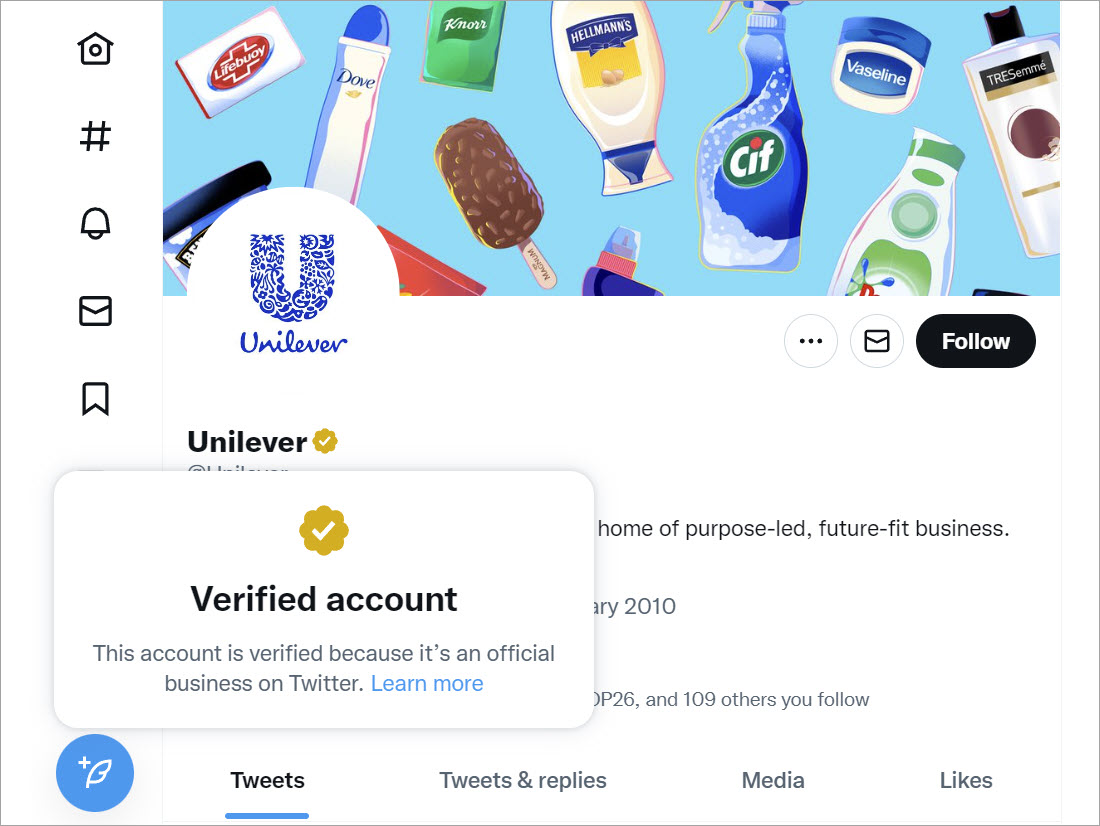 Last week Twitter relaunched Twitter Blue, its new subscription service that offers premium features like account verification and a range of services such as greater prominence for your tweets, the ability to edit your tweets after publication, and to see less ads. It costs $8 per month ($11 per month if you use the Twitter app from Apple's App Store) in the US; UK pricing is £8 a month.
Traditionally, Twitter verified accounts were reserved for public figures, celebrities, and other high-profile individuals to confirm the authenticity of their account and distinguish them from fake or impersonator accounts. Verification was seen as a prestigious status symbol and was often sought after by users who wanted to establish their credibility and authority on the platform.
With the introduction of Twitter Blue, the traditional concept of verification has changed. Now, anyone with a Twitter Blue subscription can verify their account, regardless of their fame or influence. This has led to criticism from some users who feel that the verified badge has lost its exclusivity and value.
While I'm certainly no celebrity or famous person, Twitter verified my primary account @jangles in February 2017. Now, the meaning of the blue check mark next to my handle has changed.
For me, the 'because it's notable' descriptor matters nothing compared to the procedure for individuals that led to the verification being made by Twitter.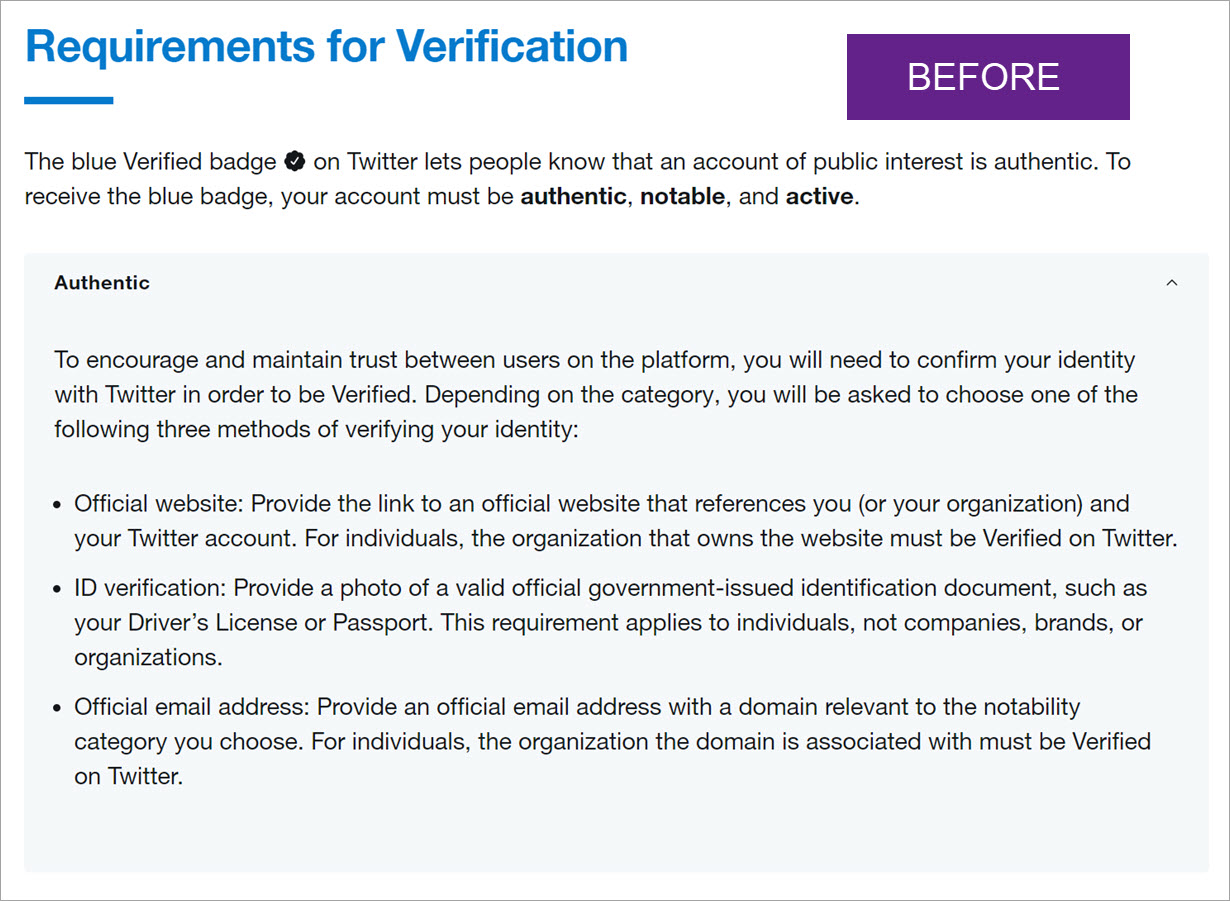 It must be said that the former process was far more comprehensive and carries greater credibility due to its identity verification aspects than the new process where you can simply sign up for a Twitter Blue subscription, verify your account (not your identity) with a few clicks, and pay $8 a month.
On the plus side, the new verification process for Twitter Blue subscribers is much simpler and faster than the traditional verification process was.
Incidentally, you can quickly check what kind of verification a Twitter user has by clicking on the blue check mark next to a user's handle. The screenshots above show the evolution of the legacy verification; the one below is what a Twitter Blue verification looks like, with the description "This account is verified because it's subscribed to Twitter Blue."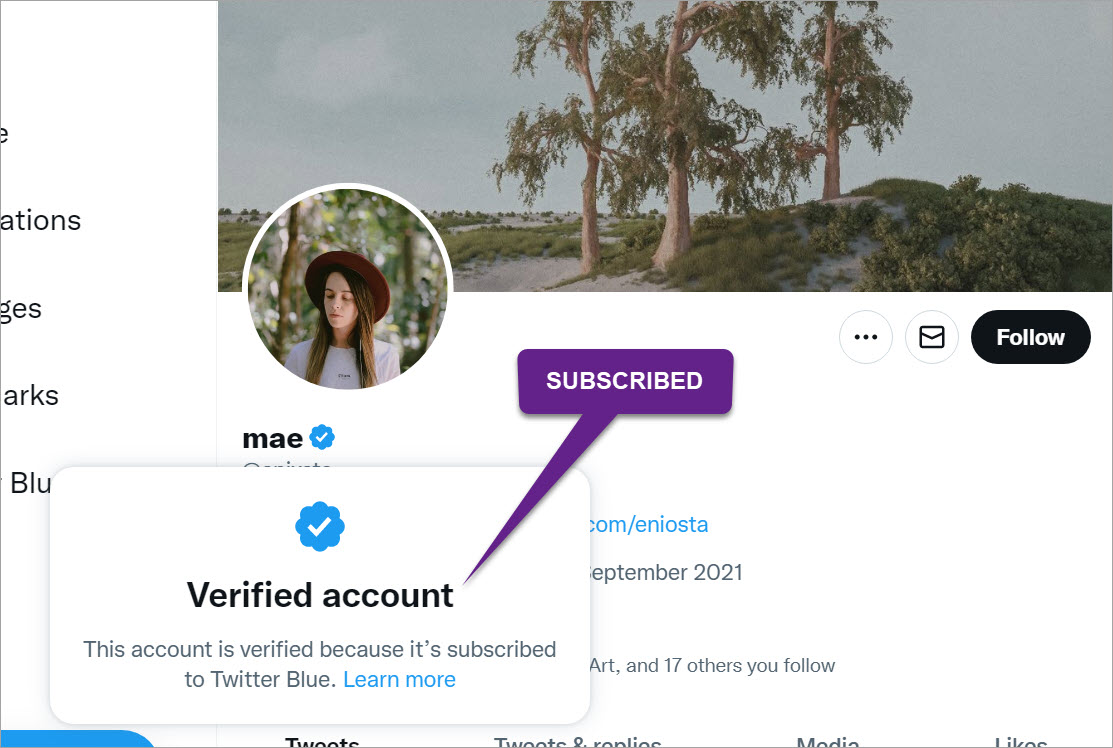 More than just blue for business
For businesses, the blue check mark no longer applies – that's only for individuals, whether they are 'legacy verified' or Twitter Blue subscribers.
Now, Twitter has launched Twitter Blue for Business where businesses get a gold check mark (not a blue one) such as illustrated in the screenshot at the top, along with a different explainer: "This account is verified because it's an official business on Twitter."
Overall, the introduction of Twitter Blue and its verification feature has changed the traditional concept of verification on Twitter. While it has made it easier for users to verify their accounts, it has also led to some concerns about the loss of exclusivity and value of the verified badge.
We live in a time of severely diminished trust in institutions and individuals alike. And the rise of bad actors, scams and fakery at scale requires tools and methods that increase trust, not diminish it. Twitter Blue 'verification' may prove to be another straw on Twitter's back, hopefully not the final one that breaks it for users.