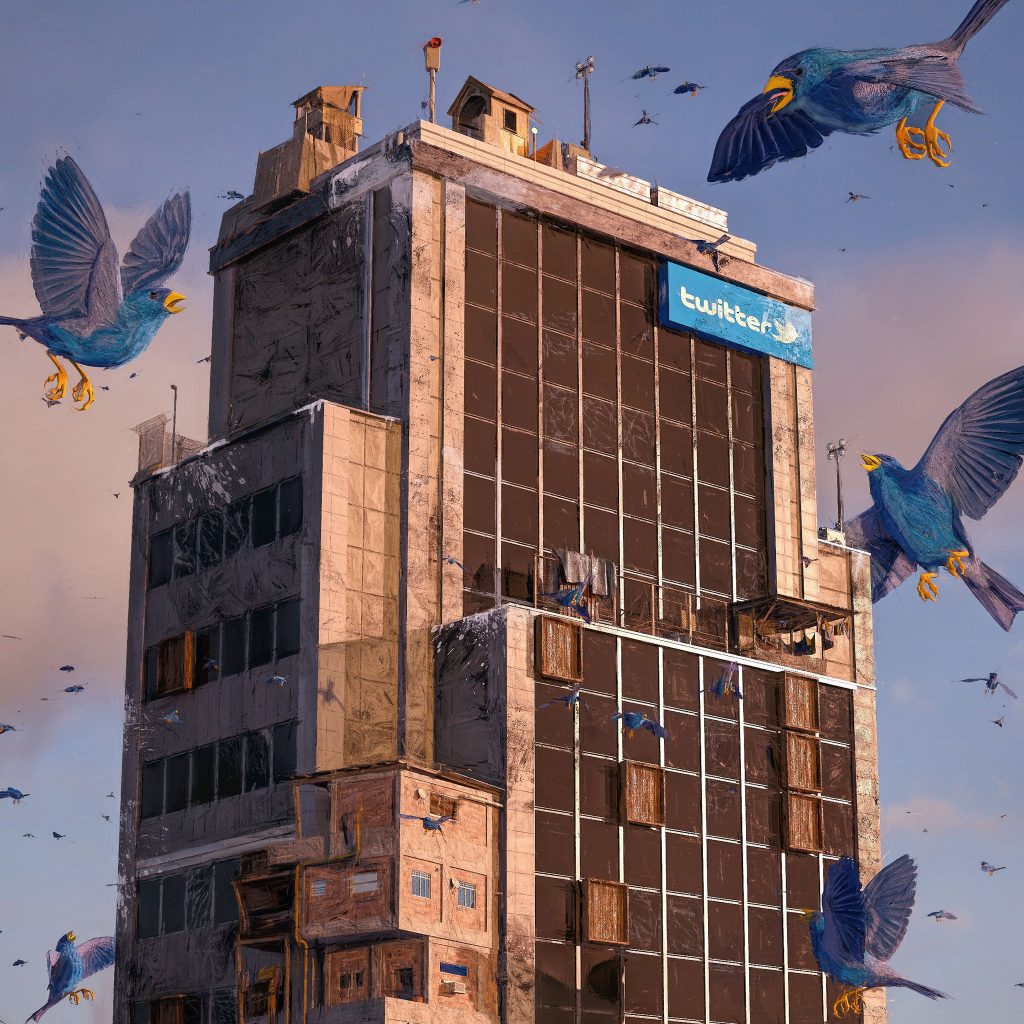 Even if you're not a fan of Twitter and/or Elon Musk, you'd have been hard pressed to avoid news about both over the past week.
Since closing the deal to buy Twitter for $44 billion (£39 billion) on October 27, Musk has sowed huge fear, uncertainty and doubt about what's next for the social network that's unevenly beloved of celebrities, politicians, big organizations, non-profits, individual people, and spammers and scammers alike, everywhere in the world.
There's so much going on, and so many people with opinions that are sprayed far and wide across the Internet and all its layers, that it's hard to keep abreast of things. The Wikipedia entry about the acquisition and its immediate (current) aftermath is a good place to go for an impartial, factual narrative account of happenings that's updated frequently and citing reliable and trustworthy sources.
Looking through all the FUD and getting to some idea of what matters to many people, there are a couple of primary areas I'm paying attention to:
What's happening to Twitter the company in the midst of huge-scale layoffs of employees; and
What's happening to Twitter the social network as a tool for communication and engagement by and with people around the world.
Much of what mainstream and social media report on cite as the primary source of their information the tweets published by Elon Musk. It probably marks the first time that Twitter has been cited in such a way and at huge scale by mainstream media around the world without the verification and fact-checking they normally would conduct before publishing.
Over half of all employees are being let go
Musk is making good on his stated intent of firing more than half the number of people (three-quarters say some reports) who are employed by Twitter around the world according to media reports, many citing Musk's tweet as their source. Before the layoffs started, Twitter had about 7,500 employees in total according to CNN.
It's clear that people have been let go worldwide as many are tweeting (the irony) their perspectives.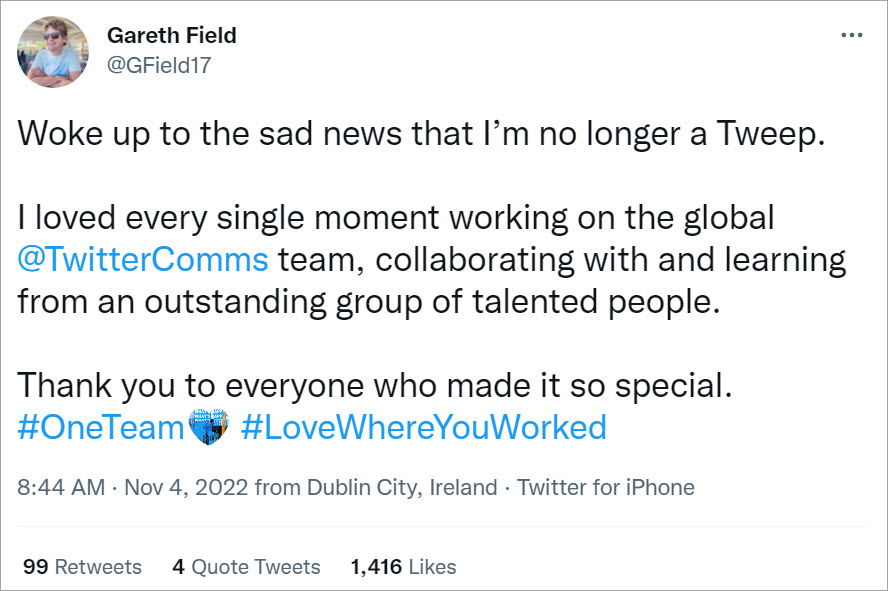 While the carnage is yet to conclude, it's an unclear picture on what will happen to signficant elements of what Twitter offers – content moderation, for example – if there are fewer employees involved. There are no clear words yet from Mr Musk on what's coming, which suggests this action is firing from the hip as opposed to a detailed strategic plan, created over time, being executed. Is he making it up as he goes along?
One upside to all this is that other opportunities are opening up, with people working for other companies tweeting about vacancies.
There are signs, though, that all this could get pretty ugly.
In the US, there's talk about class-action lawsuits against Musk. Here in the UK, trade unions such as Prospect are proactively signalling a stand on behalf of laid-off employees.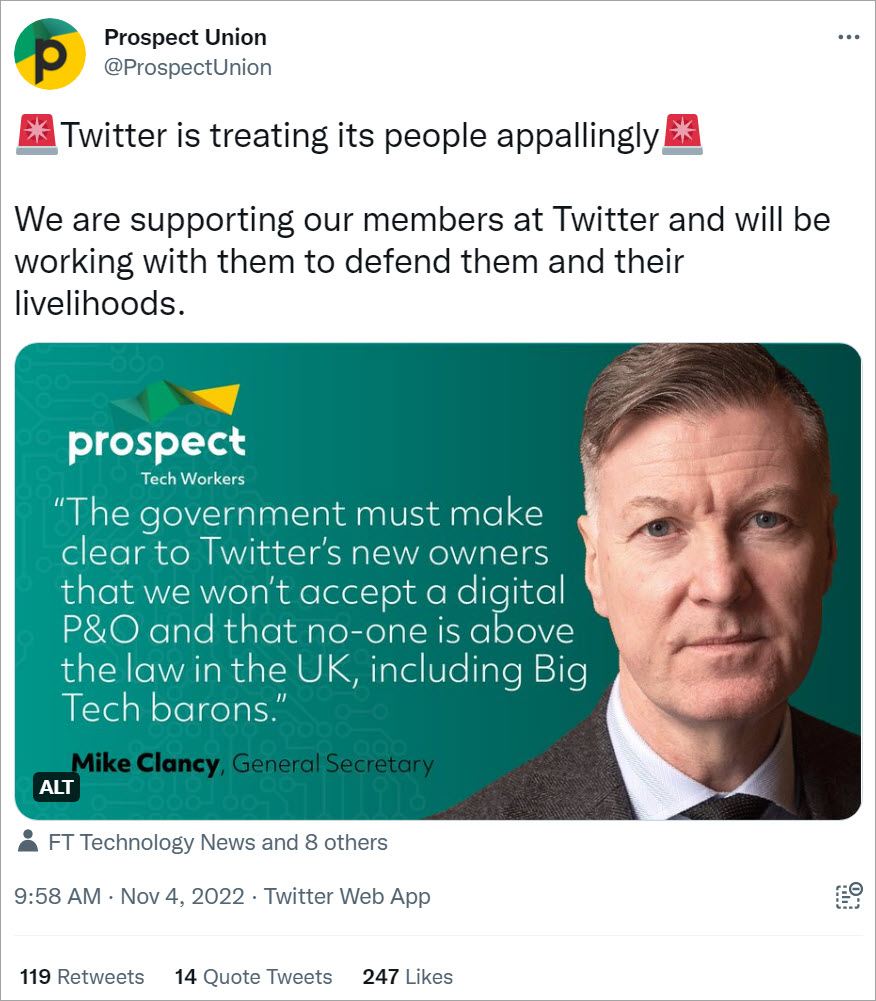 Prospect's tweet includes mention of "a digital P&O," a reference to the infamous mass firing of 800 employees at once via a streamed video recording by the British ferry operator P&O Ferries earlier this year.
At a time like this, emotion drives reactions and behaviours. And while Twitter co-founder Jack Dorsey's humility in a tweet where he apologised for growing the company too fast got much attention, the responses to it are hardly complementary.
A twist in the tale
If you're thinking that all of the above looks pretty chaotic, you wouldn't be wrong.
Business Insider asked a number of business school professors to analyse Elon Musk's first week running Twitter. Their conclusion: "A case study of failed leadership."
And news emerged during the weekend that some employees included in the mass layoffs were let go by mistake, says Reuters quoting Bloomberg:
Some of those who are being asked to return were laid off by mistake. Others were let go before management realized that their work and experience may be necessary to build the new features Musk envisions.

Reuters, 6 November 2022
Looking at some of Musk's recent tweets, he talks about plans or changes for content moderation and commenting with no links or credidible explainers seemingly based only on his own experiences.
What is Twitter becoming?
As for the service Twitter offers as an online social network, it looks like this is rapidly evolving into a place where money talks the loudest.
First, after Musk teased his intentions in a series of tweets, Twitter introduced a charge of $7.99 per month for a Twitter Blue subscription in order for users to remain verified on the platform. It's likely to be £7 a month in the UK.
This is a signficant step – a backwards step, in my view – as it changes the dynamic of a trust-based verification system that existed until now to one where just paying a monthly fee gets you the coveted blue check mark with no requirement to prove your identity, or enables you to continue having it if you already have it.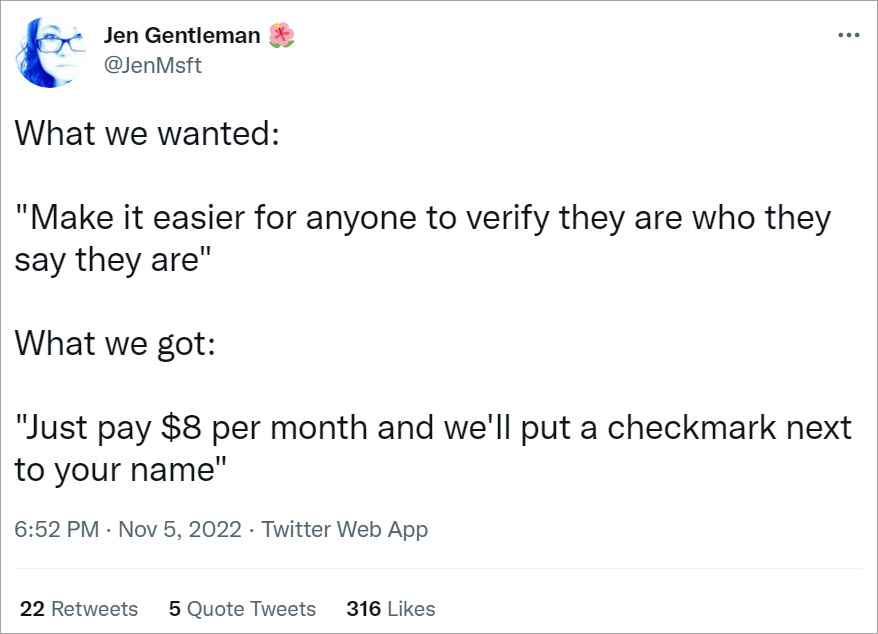 It's probably the wider realm of free speech and content moderation that is causing the most disquiet, given the lack of clear action by Twitter for those areas post-acquisition and the alarm we see over the mass layoffs that may include now ex-employees whose jobs were directly in those areas.
Many people are concerned, me included, that this will herald the influx of a great many bad actors – let's use more direct terminology here: crooks, spivs, do-badders, etc – who just cough up their eight bucks and proceed to peddle their hate.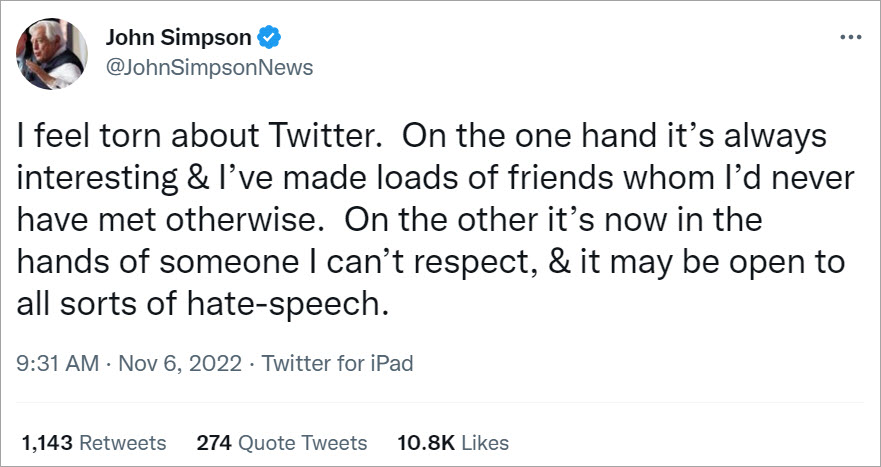 The United Nations has even published an open letter to Elon Musk from UN High Commissioner for Human Rights Volker Türk (who, of course, has a Twitter handle), urging him to "ensure human rights are central to the management of Twitter" under his leadership. The letter follows reports that Twitter's entire human rights team was laid off – not "an encouraging start," said Türk. You can download the letter as a PDF.
And then we come to the big corporate advertisers, the companies and organizations from which Twitter earns the bulk of its income that, Musk says, has seen "a massive drop in revenue" (hence now charging users a monthly fee).
Some of the world's largest advertisers have paused their paid-for activities, given the wide uncertainty prevalent at present. That undoubtedly would have a negative impact on other advertisers' intentions if it continues for much longer.
And let's not overlook one major fact – with the changes happening now and what may come in the near future, do we still know our audiences? If I were tweeting and representing an organization, how confident, even comfortable, would I be in an environment where I'm not sure any more about who I'm connecting with?
There's much more to consider in this strange Twilight Zone in which we are travelling, but I think this narrative I've written covers the basics as I know them today.
As for me, I intend to stay with Twitter as long as it does not evolve into a hate-filled free-for-all where anything goes. But I do have a Plan B escape route just in case, and I'd urge you to do the same. I've opened accounts in a number of potential alternatives to Twitter as I wrote about in May and updated in October.
I'm spending more time on Mastodon, my preferred alternative which I joined in 2017, building up new connections with many Twitter departers or would-be escapees. You can connect with me there if you'd like to – https://mastodon.social/@jangles
(Image at top of page: Angry Birds by Beeple.)
[Updated to include later reference to business school professors' opinions on Elon Musk's first week at Twitter, and Reuters reporting on employees laid off by mistake.]