In August, I had the great pleasure and distinct honour of being in conversation with Jerry Harrison, a Rock and Roll Hall of Fame inductee through his role with Talking Heads, one of the most critically-acclaimed New Wave rock bands of the 1980s.
Our conversation was for an episode of the Ideas to Innovation Season 2 podcast I host for Clarivate, a global company I've been working with since early 2021 in a range of communication areas. The podcast season is about bringing inspiring stories to listeners told from a personal, on-the-ground perspective from the people who are most passionate about the positive outcomes they helped deliver.
Joining me in the conversation with Jerry was Mike Ward from Clarivate. The conversation wasn't about Jerry's music career. Rather, it was focused on what he's been doing since he became active in the business of healthcare from the early 2000s as a co-founder of three Bay Area-based companies including a direct investment platform for innovative healthcare startups.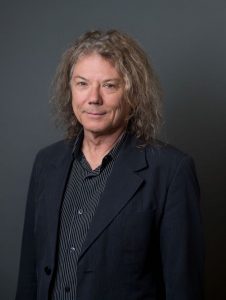 It was innovation in healthcare that we talked about, with Jerry setting the scene for the conversation by sharing insights into how and why he made the leap from making music to helping healthcare startups change the world through innovation as a way to change people's lives.
He described how breakthrough ideas in healthcare can often come from the simplest ideas. He spoke about the AngelEye camera system that enables a mother, a father, grandparents, to remotely check in on the health of their premature baby in a hospital neonatal unit without interrupting the process of intensive care.
"It was a very simple breakthrough," he says, "a perfect example of an idea that was not overly expensive to deal with, but nobody had thought of."
This, together with other examples of innovation in healthcare, were central to how Jerry highlighted his keen eye and passion for how new ideas can transform healthcare and ultimately change patients' lives, and what to expect in the near future.
I think the recent pandemic has given us a look into the future about what can be accomplished without going to the doctors or going to the hospital. It also has shown when it really is required for you to go. I think that everything has been accelerated by we need to have home testing, we need to have a way for you to then talk to a physician and then him or her to feel confident in prescribing either a test or even perhaps a drug for you.

Jerry Harrison, Ideas to Innovation podcast Season 2
You can listen to the full 20-minute conversation right here:
If you don't see the embedded player, listen on the Clarivate website. You can also read the transcript on the Clarivate website.
Twists of fate
In researching the history of Jerry Harrison in the 1970s to the 2000s as part of my prep for the conversation with him, I read a lot of articles (you can find them by searching Google) that described his journey from being part of two rock bands (the first being Modern Lovers in the 1970s), being a solo artist, getting a degree from Harvard University, being a successful record producer, co-founder of GarageBand.com, and then a healthcare and life sciences business entrepreneur.
It's very much worth adding to this rough mix of story-telling a concise but terrific narrative published in Ultimate Classic Rock on September 16 about that journey that offers some keen insight that other articles missed. It joins up more of the dots.
Yes, 'rockstar entrepreneur' are two words that go well together when speaking about Jerry Harrison.