On July 11, the Guardian newspaper dropped a bombshell across the media and political landscapes with the first revelations about Uber and its law-breaking activities around the world, on an industrial scale, in the pursuit of profits.
News about the Uber Files published by the Guardian and a global array of media partners was the visible first step in making use of a treasure trove of data leaked by a whistleblower to shine a bright spotlight on a company that is no stranger to illegal activities and giving the finger to ethics and what others think.
It is the prime discussion topic between Shel Holtz and I in the July long-form episode 270 of the For Immediate Release podcast published on Monday July 18.
In this article, I'll set out the story we told in that 25-minute discussion. If you don't want to wait, you can listen to the episode right here: the Uber segment starts at about 20m30s into the 90-minute recording.
The Uber Files
The Uber Files are a leaked database of Uber's activities in about 40 countries that reveals how Uber stormed into markets around the world, and how it used stealth technology and evasive practices to thwart regulators and law enforcement in at least six countries.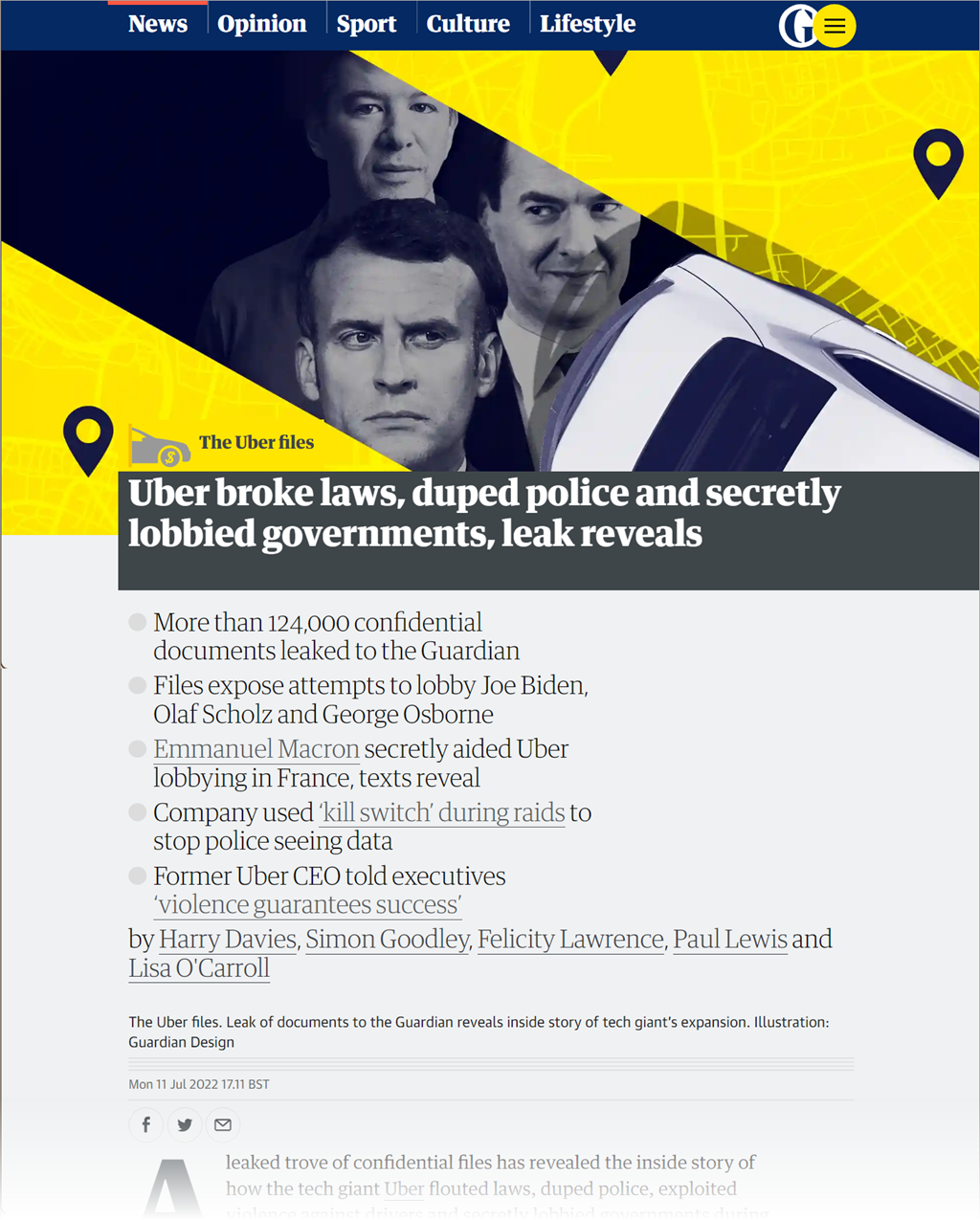 It also shows how Uber deployed a large group of lobbyists – acting in secret and with non-disclosure that contravened ethics standards – to court prominent world leaders to influence legislation and help it avoid taxes.
The leak spans the five-year period between 2013 and 2017 when Uber was run by its co-founder Travis Kalanick, who tried to force Uber into cities around the world, even if that meant breaking laws and taxi regulations.
The Guardian shared the database of more than 124,000 files with the International Consortium of Investigative Journalists (ICIJ) and 42 media outlets including the BBC, the Washington Post in the US, Le Monde in France, and the Süddeutsche Zeitung in Germany.
The leaked files include sensitive texts, emails, invoices, briefing notes, presentations and other documents exchanged by top Uber executives, government officials and world leaders.
The ICIJ said in a tweet, "Uber built a global influence juggernaut – which included an impressive roster of former government officials – and held undisclosed meetings with politicians to ask for favors, including dropping probes and changing policies on workers' rights."
Today Uber is a publicly-listed company with a market cap of $45.5 billion, making approximately 17.4 million journeys a day in 2021.
Did the files show Uber doing anything illegal?
Leaked messages suggest Uber executives were under no illusions about the company's law-breaking. One executive wrote to a colleague saying "We're just fucking illegal." And in internal emails, staff referred to Uber's "other than legal status."
The company used technology that allowed it to show a fake version of the app to police or government officials using the Uber service and who could be investigating the company.
The files document the use of tools such as a so-called "kill switch" that cut access to company servers and was deployed to prevent authorities from seizing evidence during police raids on Uber offices in at least six countries.
Uber avoided paying millions of dollars in tax by channeling money through Bermuda and other tax havens, according to the Uber Files, which show that it then sought to deflect attention from its tax liabilities by helping authorities collect taxes from its drivers.
In a statement to the Guardian, Uber argued the company changed since 2017 after Dara Khosrowshahi came on as CEO.
Uber said:
"We have not and will not make excuses for past behaviour that is clearly not in line with our present values. Instead, we ask the public to judge us by what we've done over the last five years and what we will do in the years to come."
So has Uber changed?
On July 11, TechCrunch reported:
Contrary to the statement that Uber is a company reformed since 2017 — which is when Kalanick resigned as CEO amid a storm of concerns about Uber's workplace culture, including allegations of sexual harassment, racial discrimination and bullying — Uber has continued to operate its service as is, even when local laws stipulate drivers must be treated as employees. And, despite violent protests and attacks on drivers that date well beyond 2017, Uber has continued to operate in countries and cities where local regulators say drivers must have a license to operate a taxi service.
What's Uber's next move?
Two perspectives quoted in a report in The Street.
London-based media attorney Jonathan Coad said that when a story is based on leaked documents, there is little that can be done in terms of denial or rebuttal.
"You have limited choices, saying that this was a past failure and that you – as a company – have moved on is not a complete solution but it may be the optimum strategy here."
Coad believes Uber will survive this because of the strength of its product. He said, "It provides a service which many regard now as an essential part of their lives: inexpensive travel at any time, day or night."
Tessa West, associate psychology professor at New York University, says "The question is, will anyone care enough to stop using Uber? And I think the answer is no."
"At the end of the day, people base their decisions on what makes life easy, comfortable, and convenient. They will sit in their Ubers while hate-tweeting about how bad Uber is. In the competition between standing your moral ground and getting to your restaurant reservation on time, the restaurant will almost always win."
The Chartered Institute of Public Relations (CIPR) in the UK says:
"The Uber file leaks are another example in a long line of high-profile cases demonstrating exactly why the CIPR has been calling for a significant overhaul of the UK's lobbying legislation. The rules as they are, are not fit for purpose, allow for little if any transparency, and do nothing to address the crisis in public trust in our politics."
Final notes:
The Guardian says that there are more than 180 journalists worldwide poring through the gigabytes of data in the Uber Files, so we can expect niche reporting on more revelations in the coming weeks and months.
Thinking about our podcast conversation since Shel and I recorded it last Saturday, I've thought mostly about the lobbying element and how the Uber Files clearly illustrate how unfit for purpose current professional standards and regulatory oversight are.
In our podcast discussion, Shel mentioned that reputation is everything to an organization today, and you would do all you can to safeguard it. Do nothing wrong or you will be found out, he said.
So what's happened to responsibility and the sense of knowing and doing what's right? What happened to safeguarding reputation through words and deeds? What happened to consequences? And does it all come down to choice – between your own morality versus getting a ride home at 2am?
In the UK, Uber drivers' union ACDU is holding a protest strike of drivers in London on July 20 to raise awareness and support for their stand on a range of issues including ending "Uber political corruption in the UK."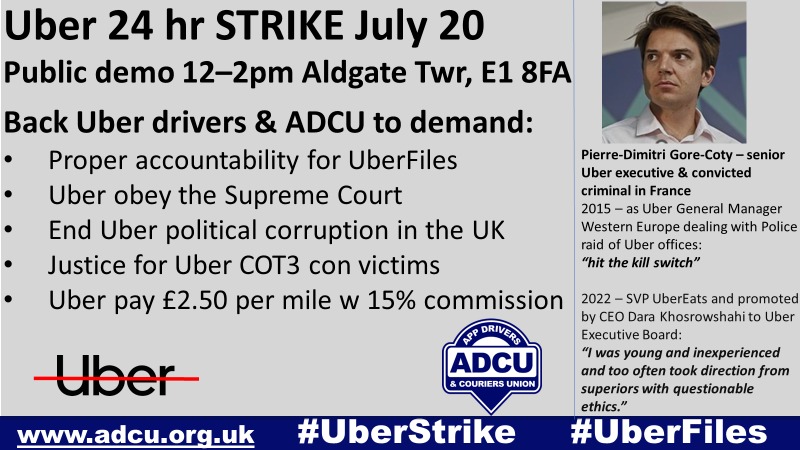 Might such action generate the support the union wishes for that would include creating further awareness about what happened in the Uber Files and why it matters?
I've written a lot about reputation in recent years so I hope you'll forgive my cynicism when I consider the question, "Will anything change?"
I struggle to believe that anything will actually happen to improve the sorry state of affairs as a result of the Uber Files being made public. No effective lobbying for change. And perhaps no politican or lobbyist will suffer severely damaging consequences – or even any consequences.
Someone, please, prove me wrong!
Listen to FIR podcast episode 270; the Uber segment starts at about 20m30s:
Visit the show notes for this episode for links and more content including the other topics we discussed – are holograms the next big media format, the future for NFTs, Wikipedia blazes a trail in getting people to agree, blackmailing restaurants via Google Reviews, and Dan York's tech report. While you're there, consider subscribing!