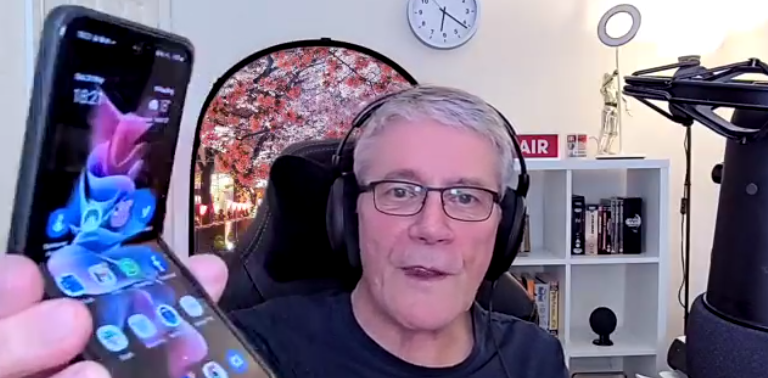 In mid-May, I got a new phone, a Samsung Galaxy Z Flip 3.
Launched in August 2021, this device bolstered Samsung's reputation for innovation and leading-edge technology where they succeeded in bringing to market a smartphone with 'flexible glass' that clearly was ready for the mainstream.
Since then, Samsung has gone on to grab a commanding share of the overall foldable-smartphone market where sales of the Flip 3 accounted for 51% of all foldables shipped during Q1 2022. Overall, Samsung currently controls 74% of the foldables market worldwide, a market that also includes devices like Samsung's Galaxy Z Fold 3 foldable tablet, the Z Flip 3's bigger sibling, along with foldable devices from other makers such as Huawei, Honor, and Xiaomi.
Over the past month the Flip 3 has been my primary smartphone replacing the Samsung Galaxy S20 I've been using since buying one a couple of years ago.
Is the Flip 3 a worthwhile device? How does it stack up compared to other premium smartphones? How is battery life? What about the fold when you bend it – how robust is that and does it interfere with your use of the device?
I talk about these points and more in a 20-minute video review I recorded that I posted to my YouTube channel, and which is embedded below.
If you just want the headline view, here's the concluding summary:
Overall Verdict
PROS
CONS
– Terrific build quality and at the leading edge of manufacturing a foldable smartphone.
– Excellent main display and speed and smoothness of usage whether interacting with apps or watching streaming video.
– Great overall specifications.
– At £949* in the UK, a high price for what you get is the biggest negative although if you look you will find some compelling deals (I've seen 50% off on Amazon).
– Middling battery but fine for general use.
– Camera capability is a weak area with only a 12 megapixel lens.
* Samsung UK list price at date of this review (12 June 2022).
Specs Overview
Foldable 5G flip-phone, dual-SIM (nano and e-sim), 8Gb RAM, 128Gb main storage (can also have 256Gb). No SD card slot. Octa-core Snapdragon CPU, Adreno GPU.
As shipped in mid-May 2022: Android 11, One UI 4.0.
Mine now running Android 12, One UI 4.1.
Dimensions:
Open: 6.7" full rectangle Dynamic AMOLED 2X, 16M colours, 120Hz refresh, HDR10+ (slightly larger than Galaxy S22+ 6.6", much larger than Galaxy S20 5G 6.2")
Closed, front screen: 1.9" full rectangle Super AMOLED, 16M colours.

It's half the size of a normal phone when closed.
Some Initial Impressions
General:
Excellent build quality, weighty feel and comfortable in your hand, open or closed.

It's difficult to open the clamshell single-handed. Let me go further – it's impossible without contortions!

Two handed is good, reducing risks of drops and damage.

Essential to have a protective case as risk of dropping device very high, it's very slippery.

Like all smartphones today, what comes in your package is quite minimalist – just the phone and a data/charging cable, USB-C at one end and USB-A at the other.
If you migrate to this phone from another recent Samsung phone, it's extremely easy and simple to move everything from old to new via Samsung's Smart Switch app.
Clear and bright screens, main and front, with each individually adjustable for brightness.
The front 1.9" mini-screen is great for seeing up to 4 single-line notifications that you can scroll through or dismiss.
The front screen also doubles as an always-on time and date display, familiar if you have a recent Samsung Galaxy phone.

You can set a visual indicator for new messages.
If you have a Samsung smartwatch like the Watch4, all this will be very familiar.

The main 6.7" screen is bright and shows everything crisply and clearly. Colours are vibrant with blacks truly black rather that dark grey as you see on some phone screens. Typefaces are clear and easily readable.

The phone comes with a good screen protector fixed to it by Samsung. Essential to have this.

Opening and closing the phone is a smooth experience. The act of folding and unfolding requires some effort which is a very good thing as it increases your confidence in the build quality and that it will work as expected.
The fold is evident when you look at the screen when the phone is switched off. Of course you see it. But when you look at the screen with the phone on, it's barely noticeable. When you stroke the screen across the fold, you can feel it. But it does not interfere at all with your use.

I got used to this very quickly so it's not a distraction.

When folded, the phone fits perfectly in any of my pockets and doesn't give me heart palpitations when I sit down forgetting I have a phone in my trouser pocket.
Usage:
Battery is rated at 3,300mAh, a little less capacity than some comparable premium smartphones. Battery life is good although much depends on what you use the phone for. My experience so far is that at the end of each day I'm down to about 40% battery. That's perfectly fine and I tend to leave the phone charging overnight.

It supports wireless charging so my current Samsung fast Qi charger that I bought a while ago for my Galaxy S20 is proving its good value.

If I was using this phone for doing a lot of mobile gaming or getting into online places in the embryonic metaverse, or doing lots of video and audio, I would not expect the device to last all day without having to charge the battery.

If these were my main uses, then I wouldn't buy this device at all – there are others with better battery life and also with specs designed for such uses.

It's very responsive: everything from opening apps to navigating menus feels super-fluid and fast, with the high-refresh 120Hz display making everything buttery smooth.
Streaming HD video is smooth with good audio. YouTube no problems, neither with streaming from Netflix and Amazon Prime Video.

In common with an industry trend, there is no 3.5mm audio jack, only a USB-C port.

Photos are good. The phone has twin 12 megapixel front cameras, one of which has widescreen capability. These are what you see in many smartphones and so are quite typical.

I'm happy with the photos I've taken that stand good comparison with what I've been taking on my Galaxy S20 over the past couple of years although that has a 64 megapixel camera. Video shot in HD is also very good.

The selfie camera, at the top centred in the main screen, is 10 megapixels which is perfectly fine in my experience.
This is a great device if you want to do all the things that many people typically do – social networking, watch streaming video, listen to and watch audio and video podcasts, take selfies, do messaging, shopping, even make phone calls – on a device that's powerful, performs very well and is capable of making use of 5G cell networks and fast wifi.

It's also great to sync with your computer, works very well with Windows 11. And important for me, it works very well indeed with Android Auto in my car.
A final thought.
Until the Z Flip3, you would be right at the bleeding edge in buying a foldable Samsung smartphone, very much an early adopter. This one, though, is at the leading edge and shows it's ready for the mainstream, something we might see even more evolved with the Z Flip 4 coming soon.
But, if you want a foldable and powerful Samsung smartphone that ticks all your boxes such as I've outlined here, and you can find a really good pricing deal, then this is definitely worth getting, never mind what's coming in the next version. Unless Samsung surprises the entire mobile industry, Z Flip 4 will be broadly similar in terms of overall tech and the user experience.
Z Flip 3 product page at Samsung UK: https://www.samsung.com/uk/smartphones/galaxy-z-flip3-5g/
Additional reading:
(Picture at top: that's me showing the Flip 3 to my podcasting partner Shel Holtz who grabbed a screenshot from Zoom when we were recording the May monthly edition of the For Immediate Release podcast.)
[Update 1 Oct 2022:] In August, I bought a new Z Flip 4 in a compelling offer from Samsung, part of which was trading-in the Z Flip 3. A very good deal.
I've not written a full review of the Z Flip 4. Broadly, it's like the 3 only even better! Especially notable for me are faster processor so speedier actions, much-improved battery, and faster charging times. Samsung posted a useful comparison guide. And here are initial impressions I recorded in August.