As the continuing war that followed the Russian invasion of Ukraine in February 2022 passed its 90th day, the tragedy that has befallen Ukraine at the hands of Russia knows no bounds.
The Donbas region in the east of Ukraine is but a wasteland with a death toll in the many thousands. After months of non-stop shelling and bombing, the city of Mariupol is it's own vision of Hell on earth. Many Ukrainians have been shipped off to the interior of Russia in a déjà vu act of Soviet-era exile punishments.
While Western governments pursue sanctions and other political acts to persuade Russia to stop its war – no success with that so far – and Ukraine valiantly defends its territory, foreign companies are applying economic pressure on Russia by shutting down their operations in that country that, by some estimates and in combination with sanctions, will have a severe impact on Russia's economy this year and next.
Well, many companies have pulled out, but not all have.
Since the Russian invasion began in February, the Yale School of Management in the US has been tracking a long list of global companies who have curtailed their operations in Russia including the maximum step – withdrawing completely from the Russian market.
Yale says that they have been tracking the responses of well over 1,200 companies, and counting. When I first saw Yale's list at the end of March, it showed that over 390 global or well-known brands had suspended, scaled back or completely shut down their operations in Russia.
Today, two months later, that number has grown to almost 1,000 companies with many shown in the logoscape above. Yet there are holdouts – 232 companies as of today that Yale accuses of defying demands for exit or reduction of activities.
In early March, Shel Holtz and I discussed this situation in episode 235 of the For Immediate Release podcast we co-present. We addressed the big question:
Is there a case for remaining in Russia and how much damage can a brand sustain by staying? While my view was that it's not an easy decision, we concluded that, sooner or later, brands will have to decide which side of history they want to be associated with.
This week, the Edelman PR firm published new research from a survey they carried out over two weeks in April and May that presents a credible view on the impact on trust from maintaining a presence in Russia, and doing business there, that flies in the face of public expectations.
Edelman's 2022 Edelman Trust Barometer Special Report: The Geopolitical Business provides a clarion call to businesses to understand that how they have responded to Russia's invasion of Ukraine plays a significant role in consumer sentiment and behaviour about them.
Tangible effects of damaged trust
Let's start with a foundational look at a key metric in Edelman's research results as the Ukraine crisis creates a new test for business.
Nearly 50% of the 14,000 survey respondents in 13 countries said they had changed their behaviours and boycotted or stopped buying a brand, or encouraged others to stop buying a brand, influenced by how a brand owner has responded to Russia's war on Ukraine.
This suggests that those in the Yale list of 232 companies that continue defying calls to leave Russia can expect a desertion in Western countries of real consumer trust in them and their brands during the coming months.
It's not only the consumer effect that matters.
Looking within a company, we see similar sentiment expressed by employees when asked questions related to loyalty and advocacy and the effect on their beliefs if their employer's response about Russia and Ukraine doesn't meet their expectations.
The stark result – if an employer does not meet employees' expectations about responding to the Ukraine conflict, employee loyalty to the employer would be 24% less than it would otherwise be, with a 26% reduction in employee willingness to recommend the employer to others.
Edelman's research clearly shows that trust increases in companies that take action, from ceasing operations entirely to supporting humanitarian efforts. The reverse is true for companies who take no action and continue doing business in Russia.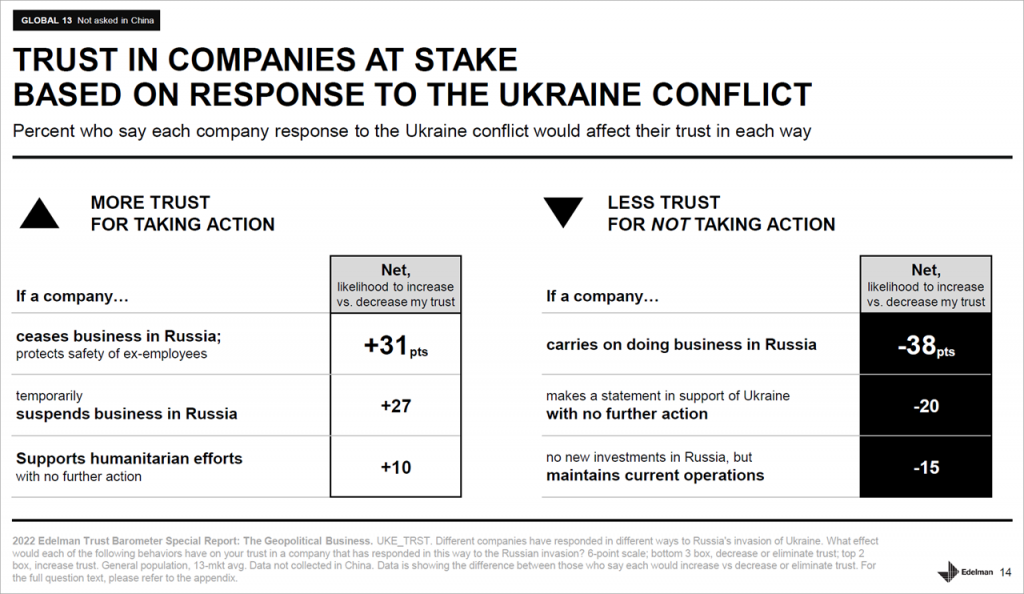 The trust gap is huge with a variance of 69% between positive trust in a company that ceases doing business in Russia, and negative trust in one that carries on there. Even making a public statement of support for Ukraine with no further action isn't enough – such an act would reduce trust by 20%.
Finally, the overall view expressed by survey respondents on whether or not companies in 16 primary industry sectors should be free to continue doing business in Russia shows a clear majority saying they should not be free to do so.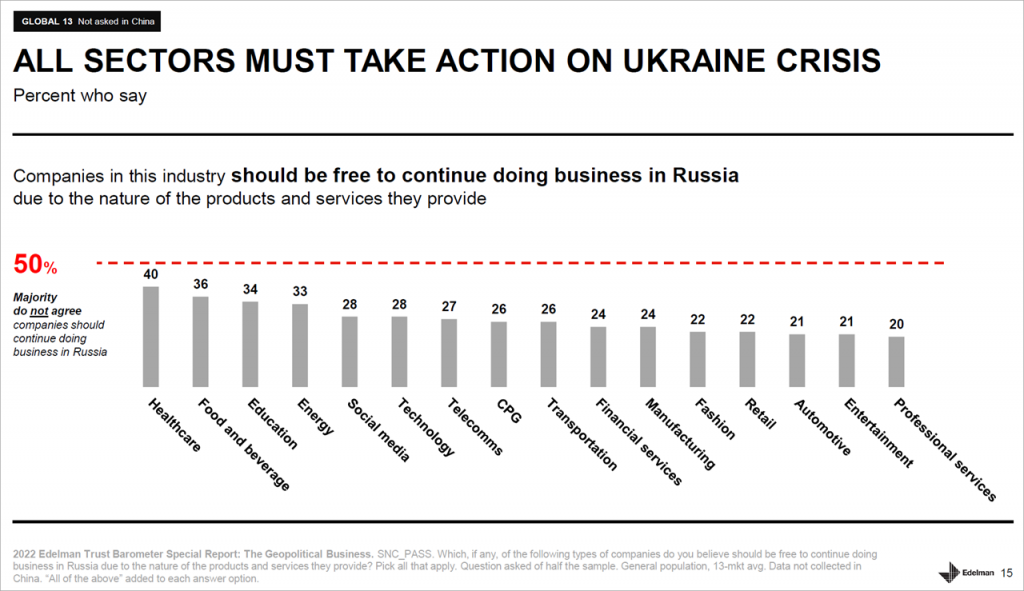 Most of the 232 hold-outs in Yale's list of companies defying calls to cease operations in Russia are in these 16 sectors.
Furthermore, a resounding 95% of survey respondents told Edelman that they expect companies to react to an unprovoked invasion of another country where they have business interests. Their sentiment was equally strong in their expectations of business on other geopolitical issues.
Edelman added that 95% or more expect a strong business response to repressive governments and abusive work practices in countries where they do business.
It's worth noting, too, a few other metrics in the wider report that warrant attention.
A majority surveyed (57%) agree that a global CEO should use their company's resources first to benefit the people of the headquarters country. And there is a huge gap between trust in "brands in my country" and "foreign brands" with an average 24-point trust gap, now evident in nine countries.
Business and CEOs must be sure not to lose sight of pressing social issues like climate change, DE&I (diversity, equity and inclusion) and the income gap. CEOs must lead from the front and communicate company policies and actions on geopolitics. The smart CEO will make decisions based both on ability to do business and being aligned with corporate values.
(Photo at top: Portrait of the commander of the Great Patriotic War, Marshal Zhukov, above Starbucks and Nike signs in Moscow, April 2021. Photo by Tamara Malaniy on Unsplash. Since the Russian invasion of Ukraine in February 2022, Nike has suspended all its operations in Russia; Starbucks has exited Russia entirely and no longer has a brand presence there.)
Related posts: