Today, October 5, Microsoft makes Windows 11, a new version of Windows, publicly available. Over the coming nine months or so, it will be available as a free update in Windows Update on computers everywhere running Windows 10.
Unlike previous versions of Windows, Windows 11 has taken only three months to go from first public announcement about a new version coming today to public availability and access to it.
In those intervening three months, Microsoft has run a community testing programme called Windows Insider that enabled anyone to test drive Windows 11 in development to see what the early-development versions and progressive beta versions look like, get early access to much of the new software's features and many of its functions, see how other programs work on it, and add their voices via the feedback channels with opinions and reports of issues to address.
This army of informal beta testers (for want of a better description) has been key to enabling Microsoft to proceed with its desire to release Windows 11 on schedule. I've been one of them, testing Windows 11 since July.
My experience has been overwhelmingly good on the computer I installed it on, a Dell XPS 8930 tower system with an 8th-generation Intel Core i5 8400 processor and 16 gigs of RAM that I bought in 2018. I installed the first public beta version as an upgrade to Windows 10, installing each subsequent build via Windows Update as it became available.
From my first hands-on experience, I realised that Windows 11 is an evolution of Windows 10. It's not 'new' in the sense of 'brand new,' but in the sense of improving and extending what came immediately beforehand in many ways focused on the user experience. It builds upon Windows 10 and shifts the philosophy behind a computer operating system – you can read about the thinking behind the design of Windows 11 – towards a tool that offers an aesthetic and presentation that emphasises appearance, functionality, and experiences.
The two most obvious examples are the changed taskbar on the Windows desktop, now centred on screen rather than ranged left as in every previous version of Windows – you can see it in the image of my full Windows 11 desktop at the top of this page – and the new Start menu that pops up from bottom centre on your screen, as the screenshot here illustrates: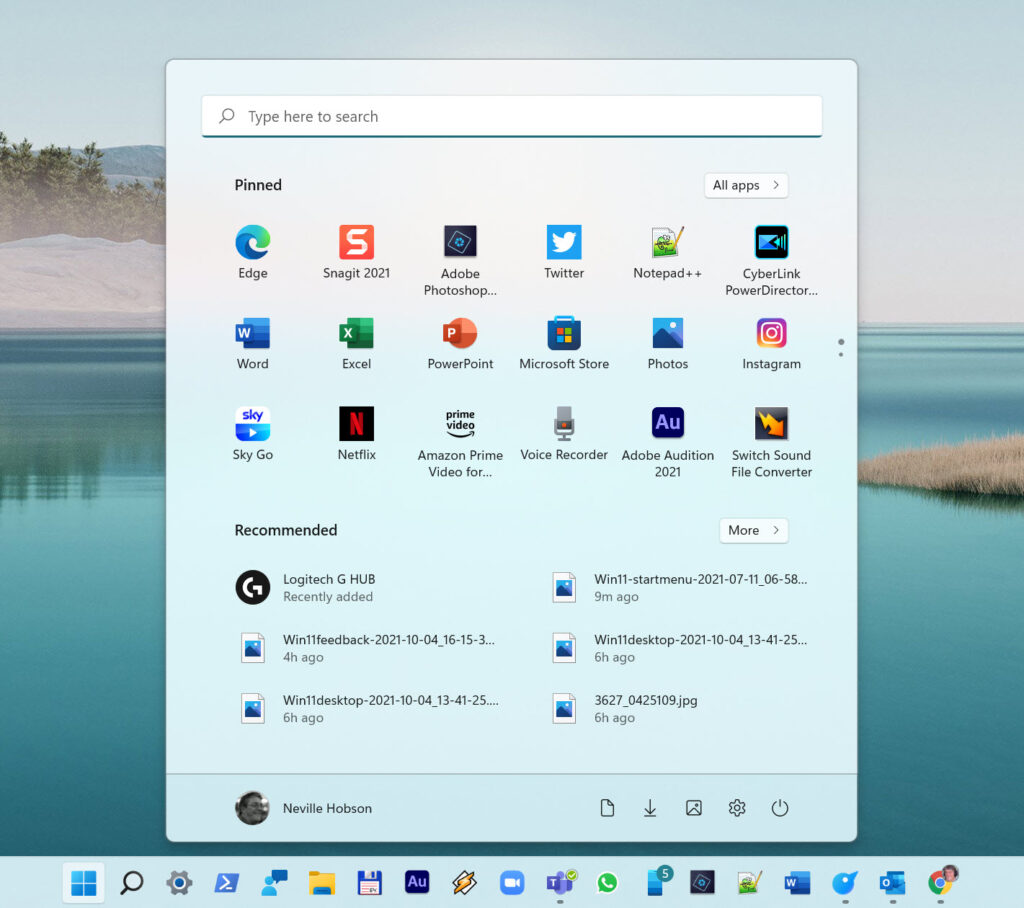 Of course, not everyone likes these changes. But I think the centred taskbar and Start menu offer a far better user experience and just look more pleasing than the aligned-left ones in previous Windows versions. If anything, they're conceptually (and visually) like what you see on an Apple machine which I think is a good thing (others will disagree!).
Should you upgrade to Windows 11?
I'd say yes, based on my good experience with pre-release versions. But it's more than that. This is a version of a computer operating system designed for today, what's ahead, the changing ways we now use computers, and how our multiple devices connect with each other more seamlessly to enable us to be better connected and more engaging. This is very different even to how we started using Windows 10 in 2015, six years ago. A lot has happened in that time.
That said, there are some major considerations. To start with, you need to have a computer that's able to run Windows 11. Microsoft published a specification list which is a good reference. A quick analysis would be running the Windows 11 PC Health Check app, a simple program you can download from Microsoft. It will tell you at a glance whether your computer can run Windows 11 or not.
I ran it on my Dell XPS 13, a new laptop I bought a few months ago, running Windows 10. It passed. In fact, Dell published a guide to upgrading, saying " All new Dell PCs are upgrade-ready to Windows 11 when available" and it published a lengthy list of current Dell machines that can upgrade. Many other PC makers have published similar guides as the overall market gears up for Windows 11.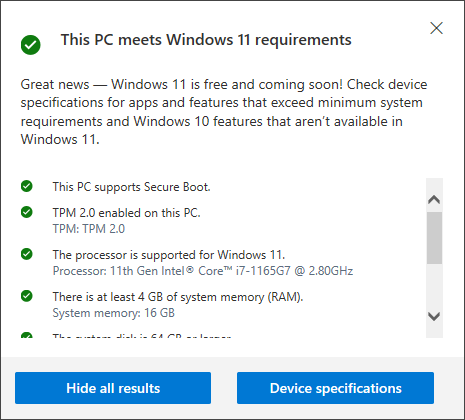 In addition, know that Windows 11 is still a development project: not all bugs will have been fixed when it starts appearing in your Windows Update. Expect to see a stream of updates in coming months as bugs are squashed, security beefed up, and features and functions developed more. We're used to this, though, aren't we? You know it from your Windows 10 experiences! And think about how you get software and updates over-the-air on mobile devices. It's how the tech landscape looks now.
If you're working in a large organisation, such an upgrade most likely will be centrally organised and controlled probably by your IT department. But if you make such decisions yourself, you can just do it.
The risks associated with upgrading a modern computer operating system are low, in my view, all else being equal. Naturally you'd take steps to backup beforehand anything you value that's on your computer. Make sure you have a USB recovery backup to hand, too, just in case you need to restore Windows 10.
And speaking of Windows 10, what happens if you don't want to upgrade to Windows 11? No worries, Microsoft says it will continue support for Windows 10 until 2025.
Additional reading: