Last month, Microsoft announced Windows 11, the evolution of and replacement for the six-years-old Windows 10. The new version will be released later this year (some reports speculate it might be in October) as a free upgrade to Windows 10.
Panos Panay, Microsoft's Chief Product Officer and the executive in charge of Windows, posted a narrative of features to expect in the new OS. He speaks of "simplifying the design and user experience," noting:
It's modern, fresh, clean and beautiful. From the new Start button and taskbar to each sound, font and icon, everything was done intentionally to put you in control and bring a sense of calm and ease. We put Start at the center and made it easier to quickly find what you need. Start utilizes the power of the cloud and Microsoft 365 to show you your recent files no matter what platform or device you were viewing them on earlier, even if it was on an Android or iOS device.
That's a good scene-setter to understand how the new OS is evolving especially from a UX point of view. I see this as confirming what I observe – Windows 11 is a re-imagination, if you will, of Windows 10, taking something familiar and improving it in meaningful and useful ways. It's not a completely new product.
Many mainstream and social media sites have posted their opinions on what's to like and what's not so you can explore many different views. In this post, I'll share some of what I've focused on in my first experiences in using the software.
Microsoft is busy working on the new version and released the first test build in late June to anyone who signed up for the Windows Insider programme. This is the public community of users who want to try out the OS before it's final and provide Microsoft with feedback and suggestions during the testing period.
I'm in this programme (as I was for testing Windows 10 in early 2015). A few days ago, I installed the first update to the test build, version 22000.65, on my customised Dell XPS 8930 desktop computer. The update fixed many bugs in the first version and added some significant new features. My Dell PC is ideal for testing the new OS as it's typical of many such computers in use running Windows 10. Importantly, it passed Microsoft's hardware requirements test as being capable of installing and running Windows 11.
That hardware test, though, has received a great deal of criticism for the superficial way it tests a given PC and comes up with a pass or fail result. Microsoft withdrew it and will release a better version at some point. There is a third-party tester now available called WhyNotWin11 that I see getting a lot of positive mentions.
Microsoft published an overview of specifications, features, and computer requirements so you can see at a glance if your PC should be able to run Windows 11 preview.
The minimum requirement hardware item that is getting a lot of critical attention is the one about the Trusted Platform Module version 2.0. A TPM chip is designed to provide hardware-based, security-related functions on your computer. If your PC doesn't have it, Microsoft says you won't be able to run Windows 11 preview. It's doubtful you would be able to run the released version when it appears as I can't see a hardware-based system requirement so focused on crypto-security being removed.
The look and feel
Once you've signed up to the Windows Insider programme, installing the preview software is as simple as enabling a setting in the Windows Update > Windows Insider Program in Settings in Windows 10 and choosing the Dev channel (if you want the preview right now) or Beta channel (if you want to wait a bit for safer, more reliable, versions). You can also choose the Release Preview channel which will give you the software close to when it's ready for general public release later this year.
The update to Windows 11 is quite quick: in my case, from starting the process to a number of system restarts to seeing the new desktop at the end was less than 30 minutes in total. I experienced no issues at all, as was my expectation.
The first thing you notice is the new look and feel to the Windows 11 desktop. You can see it in the screenshot at the top of this page. As Microsoft's Panay says, it is beautiful.
And then there's the Start button and program icons in the taskbar, all centred and no longer ranged to the left. Visually, this is a huge treat! And just look at the new Start menu:
If you wished for a day without the tiles of Windows 8-10, this is your day! Before, you had few good choices if you wanted to get rid of those, from the clunky to the great alternative of Stardock's Start10 (I use this on all my Windows 10 computers).
Now you have an aesthetically pleasing, native, and useful method of keeping your Start menu in order. The display you first see shows apps you've pinned to the menu with latest-opened or -run content appearing below. You can search for, add, or remove apps at will. I find this highly complementary to apps you pin to the taskbar, especially ones I use most frequently.
All of it is very pleasing to view and use. I do love the centred appearance of taskbar icons and the Start menu.
In the few days I've had since installing the preview, I've used many of the business apps I use daily without any issues of any type as I noted in a post to friends on Facebook. No crashes, freezes, anything weird. A good start.
Yesterday I used Adobe Audition 2021 extensively without any issues. Most of my apps were already installed under Windows 10 so it's good to see that the new OS – and a developer beta at that – runs them all without issues. It bodes well for the apps most of us use day to day on our computers.
I've not yet played any games because I have none installed on this PC (well, apart from Candy Crush Friends and that works well on the preview). I doubt I will install many or even any so if gaming is something important for you, look at some of the reporting out there.
Connecting Android
For many people, one of the biggest things about Windows 11 will be its ability to install and run Android apps. Microsoft has forged a deal with Amazon to offer Android apps via a new app store that Amazon will run. You will be able to install those apps on your Windows 11 PC.
The Verge noted that it was "a surprise addition to Windows 11":
Android app integration directly into Windows is a significant shift, especially as the company has been favoring Your Phone as the method to bridge the gap between Android and Windows. Microsoft has been embracing Android as the mobile version of Windows for years, and now those same mobile apps will run directly in Windows 11.
If you have a Samsung (Android) smartphone, you already have a means of connecting your Samsung phone to your Windows 10 PC and showing Android apps on your PC screen via the Your Phone companion app. I believe it will work on Android smartphones from other manufacturers too. This app also offers a lot more functionality including using your PC to make and receive phone calls.
There's one big difference, though.
The Your Phone setup lets you see, on your PC screen, what's running on your phone. So you run the Android app on your phone and see it on your PC screen, and you can interact with it on your PC with your mouse and keyboard, and touch screen if your monitor has that capability. But the app is not installed on nor runs from your PC.
Here's what that looks like on my PC: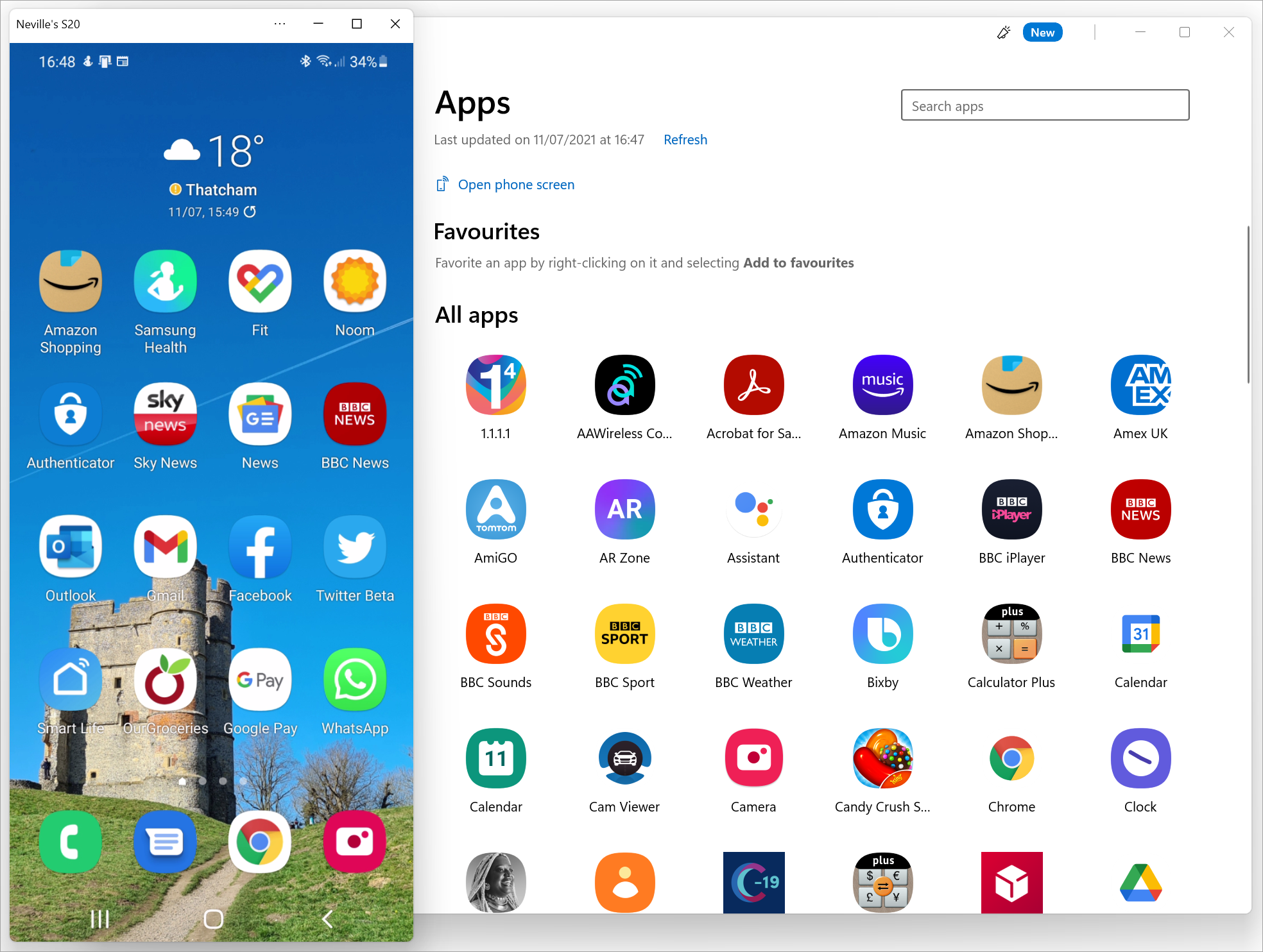 On the left is the live screen of my phone, a Galaxy S20 5G, with the My Phone app on the right. All this is showing on my PC running Windows 11 and works as well as it does on Windows 10. It might suffice until the complete Android experience is up and running for Windows 11, or at least more information from Microsoft appears as to how it's going to work.
Feedback to the development team
A key thing with testing beta software is providing feedback to the developers. While you're not obligated to, it's good practice to offer your experiences, suggestions, and reports to the Windows 11 team, and Microsoft makes it easy to do this via the Feedback app that comes with Windows 11.
Via the app, you can offer suggestions and requests, report problems, and generally provide your feedback directly to Microsoft. You can filter what you see in the app, sorting feedback from the entire Windows Insider community in various ways, and upvote feedback you like. You can also see a record of your own feedback and any responses you get from the developers.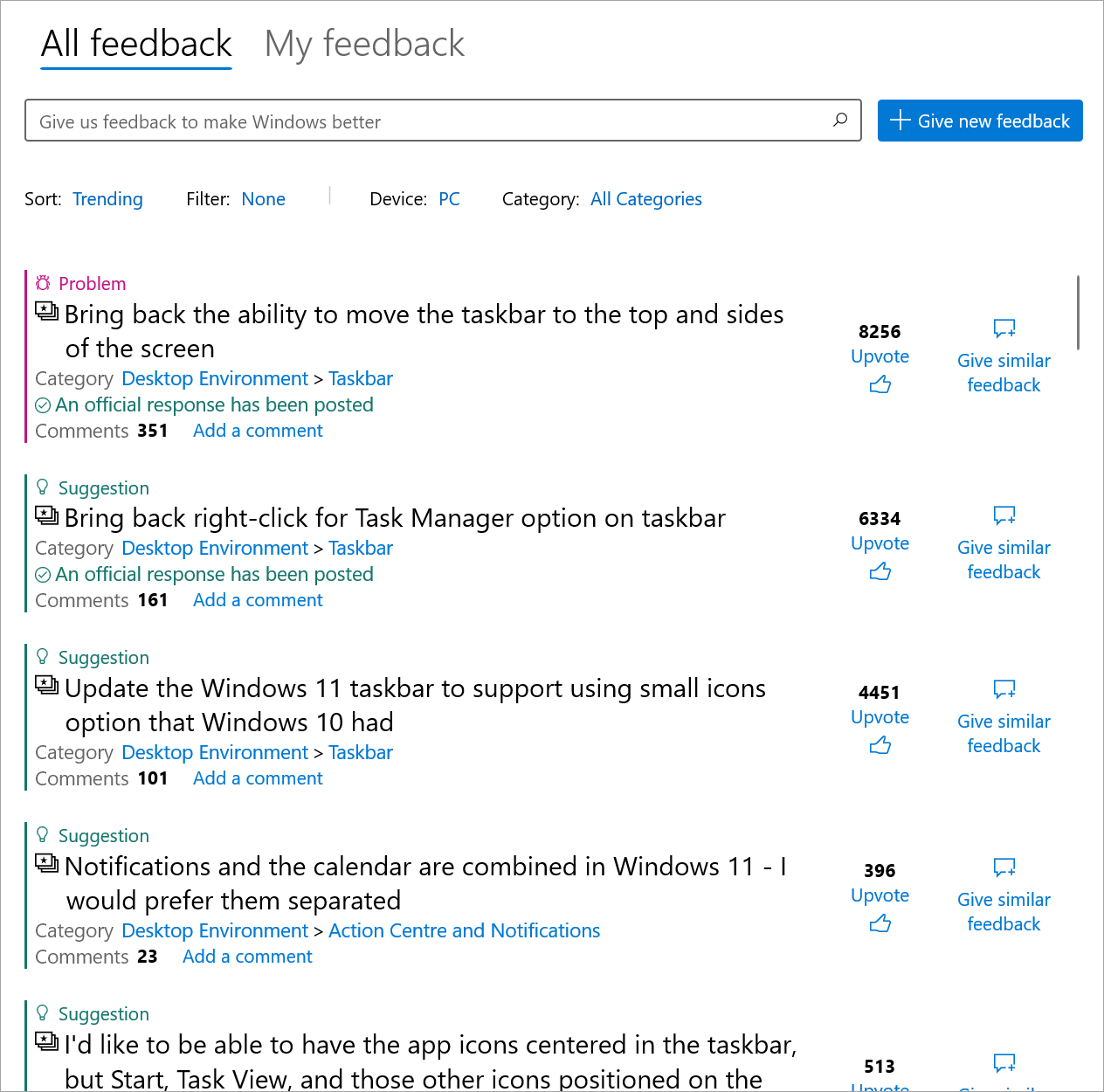 I think Microsoft has made a terrific start with Windows 11. The first preview update is nice work. It looks and feels excellent – I would dare say 'beautiful' – reflecting a compelling visual style that Microsoft clearly has invested serious time, energy, talent, and money in developing.
As this is preview software still in development, it's not perfect. While I've yet to encounter major imperfections, I can see from the Feedback app the many suggestions, reports and requests from other testers that do point out some things not working properly or at all. Over time, much of this will be addressed as successive updates are rolled out during the coming months. I suppose it's inevitable that at some point, something will happen that trashes a PC requiring a quick fix release. I recall that happening for me once with Windows 10 preview testing.
So, keep in mind that if you do join the Windows Insider programme, this is beta software and things can upset your apple cart.
And what if you don't want to upgrade from your Windows 10 setup when Windows 11 is released? You don't have to if you're happy with 10. I'd argue, though, that the latest version will offer you more in terms of UX as well as the latest developments and innovations in tech and security protections. Still, Microsoft says it will continue supporting Windows 10 until October 2025, so you have four more years of life yet.
Further reading:
Also:
---
[Update 18 July:] A week on from installing the second Windows 11 preview, I'm pretty impressed with the stability and robust functionality of the software given it's an early testing version. It's a great deal more stable than I had expected.
I've experienced no issues that would produce a blue screen of death. Or would that be a black screen of death now? The only issues I have run into concern some software already on the system (installed under Windows 10) that didn't behave well after updating the OS to the 11 preview. Uninstalling and installing those apps again fixed all those problems.
There was one new preview released a few days ago in the Insider Dev channel, version 22000.71, providing a good number of new features and quite a few fixes.
Over the past week I've been gradually exploring aspects of the new OS version, discovering features and functions that mostly delight, with 'delight' being a highly subjective emotion.
For instance, I love the new Start menu and centred taskbar icons (something I do mention a lot). I know others who say they really do not like it at all, preferring the range-left of Windows 10 and every previous version since Windows 95. I discovered you do have a choice in this.
The default is centred:
You can also range them left via a selector in Settings > Personalisation > Taskbar:
Like it? Well, I'm not enamoured with it. I'm accustomed now to centred. Aesthetically, centred is delightful and fits well with the emerging new software design ethos that Microsoft is developing. But remember that this is preview software and Microsoft may remove or change the range-left choice in the release version.
You can also select a different theme that can change what the Windows desktop looks like. Like this, for example, which gives a dark mode view:
This one's called Captured Motion and has four different backgrounds. Quite attractive, subjectively speaking. You will find it at Settings > Personalisation > Themes.
I mentioned feedback earlier and I'll note it again as being useful to tell the development team what you think. I've shared some feedback myself although not on the Start menu and taskbar centred or not topic.
As you can see, much of this relates to functionality in the desktop environment, the taskbar, look and feel of the Settings menu, the kinds of things that do matter but do not affect the use of the software in material ways. Microsoft are highly responsive to this, and I can see they have addressed several points in the latest update, along with acknowledging some issues so we know they're on the developer team's radar.
We're currently in mid-July and, if some reports are accurate, it's just three months -12 weeks – until the release version appears.
Overall, though, it looks like so far so good.