'Trust' was the major theme for discussion in the January episode of The Hobson and Holtz Report podcast aka FIR 203 that Shel and I recorded last weekend and published on Monday.
It underpinned all other topics we discussed as we started the episode reviewing the key analysis in the Edelman Trust Barometer 2021 – the report concludes that there is a 'crisis of leadership' with a growing trust gap and declines in trust worldwide; and without a trusted leadership source to look to, people don't know where or who to get reliable information from. We added our opinions and conclusions to the overall trust debate.
Nowhere was this underpinning of trust more evident than in the consequences and outcomes of the insurrection that took place at the U.S Capitol in Washington, DC, on January 6, and the banning of President Trump from Twitter, Facebook and many other social networks.
As political moves continue in the US on a path to complete the impeachment of now ex-President Trump with a Senate trial, attention also focuses on acts taken by Twitter and Facebook – probably the two most significant social networks in all of this – to exclude Trump from those platforms, permanently in the case of Twitter.
Facebook, on the other hand, has taken a different approach in referring its initial ban decision to the new and independent Oversight Board to review Facebook's decision and decide whether it should stay or be reversed.
Twitter's and Facebook's actions to exclude Trump have attracted mixed opinion, igniting a global conversation around whether private companies should hold so much power over free speech. Central to that is a view by many that the bans set a dangerous precedent. Indeed, both Twitter and Facebook themselves have commented on the wisdom or otherwise of the unilateral decisions they took
It's a topic worthy of consideration from a communicator's perspective and, to this end, we discussed convening an online panel to debate the right and wrong of what has happened and what ought to be the approach in future. In essence debating/answering the question "Where do we draw a line?"
We think creating an FIR Live panel – as we did some years ago for live debates – would be the way to go and enable us to contribute to the conversation; stay tuned to @FIRpodcast on Twitter for news soon on if and when we can make this happen.
In a switch of topic, a contemporary approach to the mariners-of-old song known as the sea shanty captured Dan's imagination in his Tech Report, sharing with us the story of sea shanties on TikTok and TikTok's Duet feature, with a great example.
Finally, a note that this episode marks the start of our 17th year of podcasting. The first episode of the original FIR was published on January 3, 2005. Then, it was weekly. After a few months, we moved to every two weeks, a format that remained until 2015.
Between 2005 and then, we also did interviews, book reviews and quite a bit more, including expanding a network that today includes many others podcasting under the FIR brand. In 2017 we launched the monthly edition you're listening to now…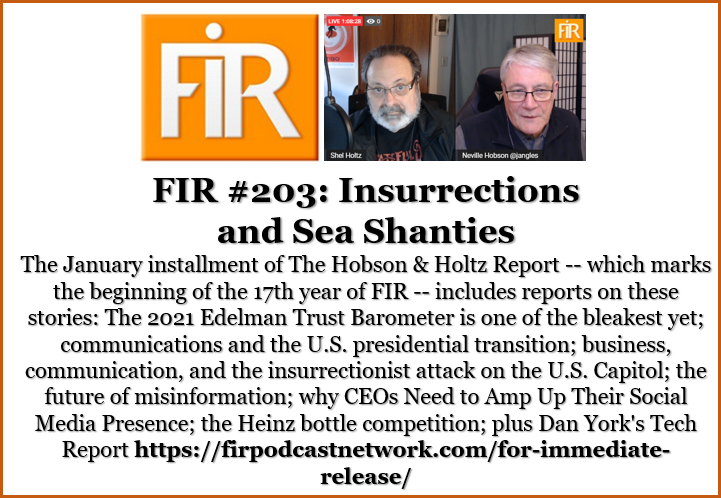 Listen Now
Special thanks to Jay Moonah for the opening and closing music.
Here's the full list of topics Shel and I discussed:
The 2021 Edelman Trust Barometer is one of the bleakest yet
Communications and the U.S. presidential transition
Business, communication, and the insurrectionist attack on the U.S. Capitol
The future of misinformation
Why CEOs Need to Amp Up Their Social Media Presence
The Heinz bottle competition
Dan York's Tech Report covers the deplatforming of Parler, the new White House website, U.S. government analytics, and sea shanties on TikTok (and TikTok's duet feature)
See the show notes on the podcast blog for all the links including topics in Dan's report.
Our next episode will be published on Monday February 24.
In the meantime, please join us each Thursday at 1pm ET / 6pm UK for 30 minutes of informal conversation in the FIR ZoomChat. For credentials needed to participate in the Zoom call, contact Shel or I directly or request the credentials in our Facebook group, or send an email to fircomments@gmail.com. Spread the word to your communications community.