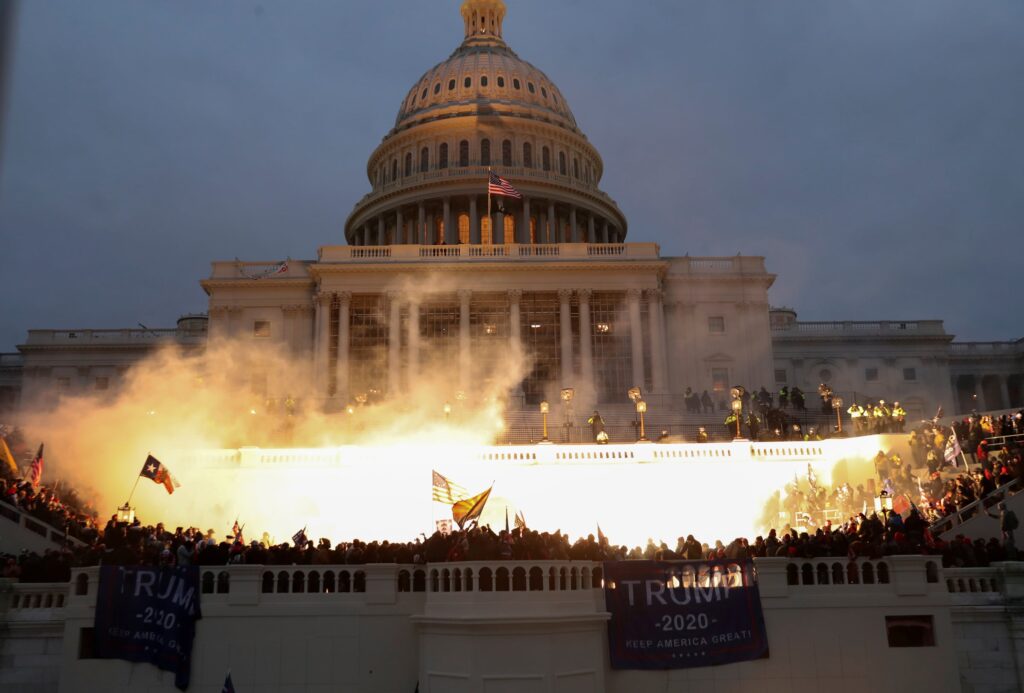 The eye-opening scenes of hundreds of people storming the US Capitol in Washington, DC, on Wednesday January 6 – broadcast live and shown on television screens around the world – will have significant effects in the long term on society in general in ways that are hard to immediately imagine or understand.
In the US, outrage at what happened that day is growing as greater clarity emerges on those events that many see as encouraged by President Trump. 'Insurrection' and 'sedition' are two words I see a lot in the mainstream media describing Trump's role of encouragement in the terrible events of last week that resulted in vandalism, property damage, serious civil disorder and the deaths of five people.
This outrage fuels anger and calls for his removal either by invoking the 25th Amendment to the US Constitution or by impeachment (for the second time). The latter idea in particular is gaining traction.
With the inauguration of Joe Biden as the next President of the United States scheduled for Wednesday January 20 – less than ten days away – it's anyone's guess what will happen between now and then, either from Trump supporters or, indeed, Trump himself whether or not any efforts get underway to remove him from office. Yesterday, CNN published a pretty bleak assessment.
With Trump now permanently suspended from Twitter – he had more than 88 million followers – and with more social networks taking such action, he'll have difficulty reaching mass audiences on social media. I imagine we'll now see messages on his behalf appearing on Twitter and elsewhere from his strongest supporters – who may themselves suffer Trump's social fate.
Matters of Reputation
Meanwhile, there are events taking place concerning what actually happened in the Capitol when Trump supporters stormed the building, with speedy efforts of law enforcement to identify individuals against whom criminal charges can be filed.
That job got off to an easy start as many of the perps in the Capitol building were clearly identifiable from video recordings via the many CCTV cameras. Not only that, many of them portrayed themselves standing amidst the damage and destruction they had caused, with some proudly taking selfies for their Instagrams and Parlers.
The FBI is making good use of Twitter to reach a mass audience, posting pics of 'persons of interest' they'd like to have a chat with.
In addition, there's a collection of links in a Reddit subgroup that points to archives of videos – 350 gigs worth so far – people have curated of the riots that undoubtedly will be of help to the FBI and others.
Some of the unruly mob are experiencing immediate consequences as they depart DC and head home.
Such passing notoriety and infamy (that may not be just in passing) will have severe consequences for many, not only in potential jail time from the FBI's activities in particular but also in terms of career-ending actions by employers.
Already we're seeing reports of companies firing people identified in photos and videos from the Capitol riots clearly showing them in action with the running mob.
It's worth pointing out that many people are not being fired for taking part in protests. Rather, what the words employers are saying that are being reported are about breaching terms and conditions of employment or taking part in acts that are contrary to the values of an organisation.
The lesson here: if you're going to take part in violent protest, read your employment contract first.
It doesn't matter who you are in an organisation either – if you're the CEO and you were in the Capitol building last week, you can be fired too.
This also brings to the forefront a reputational matter that should concern organisations – what should they say publicly about last week's events? Should they say anything at all? What's the damage risk if they do say anything, whether pro or con?
A survey of US voters last week gives some indicators of consumer sentiment in this regard, with half of those surveyed saying they have a more favourable view of companies that condemn the riot. 43% said they would be more likely to purchase from companies doing so.
This suggests that business leaders would be wise to speak out against Wednesday's events: not doing so could impact their company's reputation.
Also, fifty-seven percent of Americans want Trump to be immediately removed from office, according to a Reuters/Ipsos poll conducted last Thursday and Friday.
It would be interesting to see if such sentiment holds up if the pollsters were to ask those voters the same questions in a week's time.
Can We Create Something Better?
Is what we saw last week really how we want to be? Aren't we – what I'd like to call the good 99% – far better than this revolting spectacle shoved in our faces by the aggressive, fanatical and delusional 1%?
Worryingly, that 1% is well organised and its actions were well planned over a long period of time out there in full public view – and nobody else was paying attention or giving it any credence. It looks like the Trump philosophy of anarchy is solidly embedded especially within the Republican Party.
But it does seem clear to me that the events in Washington and the researching, discovering and reactions in its aftermath add up to a dramatic shift where ugly, anti-social, behaviours seemingly entrenched in society and its social media mirror for the past decade have just been strongly challenged.
Social media companies – Twitter especially – have finally stood up to the plate about behaviours especially by prominent and highly influential users, what's acceptable, etc, and acted rather than waffled and flip-flopped as has been the case for years.
Whatever happens next, there are aspects of the reactions and actions since January 6 by all the media, government and citizens that must be part of robust public debate going forward involving every stakeholder that should attempt to devise a better system than we have currently.
We must seriously address issues like fake news, misinformation, and disinformation, that lead to and foster mistrust, despair, glee, more of it, all in unequal measure, that it's no wonder it often seems like there is no future for kindness or genuine and authentic discourse and engagement.
This is not just about America although that's a good place to start, nor is it just about social and mainstream media or governments, the latter typically wanting to talk only about regulation and control. It's a global issue that affects everyone.
You may think this is either a rosy-eyed or dystopian view on the world. I think it's pragmatic and worth discussing.