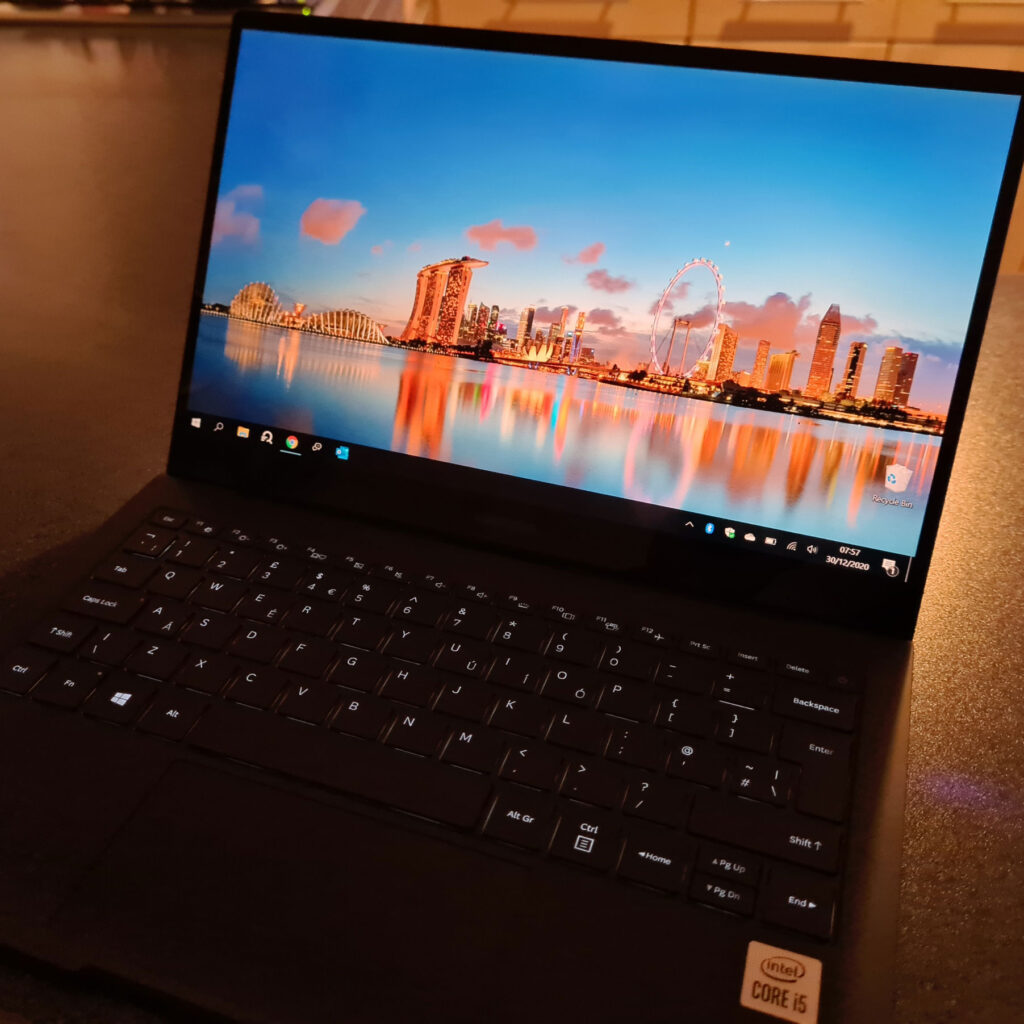 The bottom line summary from my review of the Samsung Galaxy Book S Intel laptop:
Super light and thin clamshell laptop.
Powered by an Intel hybrid Core i5 processor designed for smartphone-like battery life while running regular 64-bit Windows 10: handles with ease typical business applications such as in the Microsoft 365 suite, streaming video, participating in video conferencing with Zoom.
Crisp, sharp and colourful 13.3″ touchscreen display powered by Intel UHD integrated graphics. It has a dedicated outdoor mode that boosts the brightness making it easier to see in sunlight.
Fingerprint sensor that supports Windows Hello for secure log in.
Excellent build quality and great overall minimalist design.
Considerations:
Keyboard backlighting is feeble, pretty dim even on the max setting. The keyboard itself is great to type on, though, with a very responsive trackpad.
Only two USB-C ports to connect peripherals or power other devices (plus a standard 3.5mm headphone jack).
It's a pricey piece of kit at an RRP in the UK of £999 including VAT, although it's very good value in terms of what you get for your money. You can find some good deals if you look around.
My rating:
Samsung Galaxy Book S Intel: The Review
1: Preparations
When I began looking into laptop choices early in December, I made a short list of three key points I would start from:
A small laptop computer with a screen size of 13-14 inches that would serve as the secondary machine to complement the primary Dell XPS desktop system I use in my home office, that would be light but robust.
Usage typically would be when I'm not at the desktop. Pre-pandemic, that would have meant when I'm away from the office working in a different location. Today it means away from the desk that would also mean being elsewhere in my house not necessarily only away from it.
A Windows laptop that would run the same native programs and applications I run on my Windows desktop machine, and would enable me to synchronise everything seamlessly with that desktop machine, and vice versa.
Secondary things included touch screen, SSD storage, memory, ports, etc, that would largely be influenced by feature availability and cost.
While I had a high desire for a Dell XPS laptop (such as this one), I knew that I didn't need such a powerful, highly-specified machine, nor to spend well over £1,200. If the laptop was to be my primary computer, it would have been an entirely different search proposition.
I just needed a competent, usable, and stylish, laptop that lets me do the things I mentioned in the bottom line summary above without any fuss or faff.
With that rationale clear, I went through the inevitable process of looking at different brands and models. Dell, HP, Microsoft, Asus, Lenovo, LG, Acer, even MacBook Air… I looked at them all in differing specs and configurations.
There are so many choices! The research helped me close in on this base specification:
13.3″ touchscreen
Intel Core i5 processor
8GB memory
512GB SSD storage
Integrated graphics
Minimum 2 ports, both USB-C
Slim and light with great battery life
Of all the laptops I considered, none matched the Samsung Galaxy Book S Intel in terms of my perception of the right balance between form factor, tech specs, performance, battery life, price, and what you get for your money.
Notably, the Samsung Galaxy Book S Intel was the only laptop I looked at that could be spec'd with a 500-gig SSD and a touchscreen display at a price point none other could match.
What also appealed to me about the Samsung machine is its use of a new hybrid Core i5 processor from Intel, the first laptop to get this new processor. For info on why this matters, read NoteBookCheck's analysis.
And so, I ordered the Galaxy Book S Intel from Samsung UK – taking advantage of a great discount offer during the Christmas period – on Saturday December 26 (Boxing Day); it arrived the following morning.
2: The Form Factor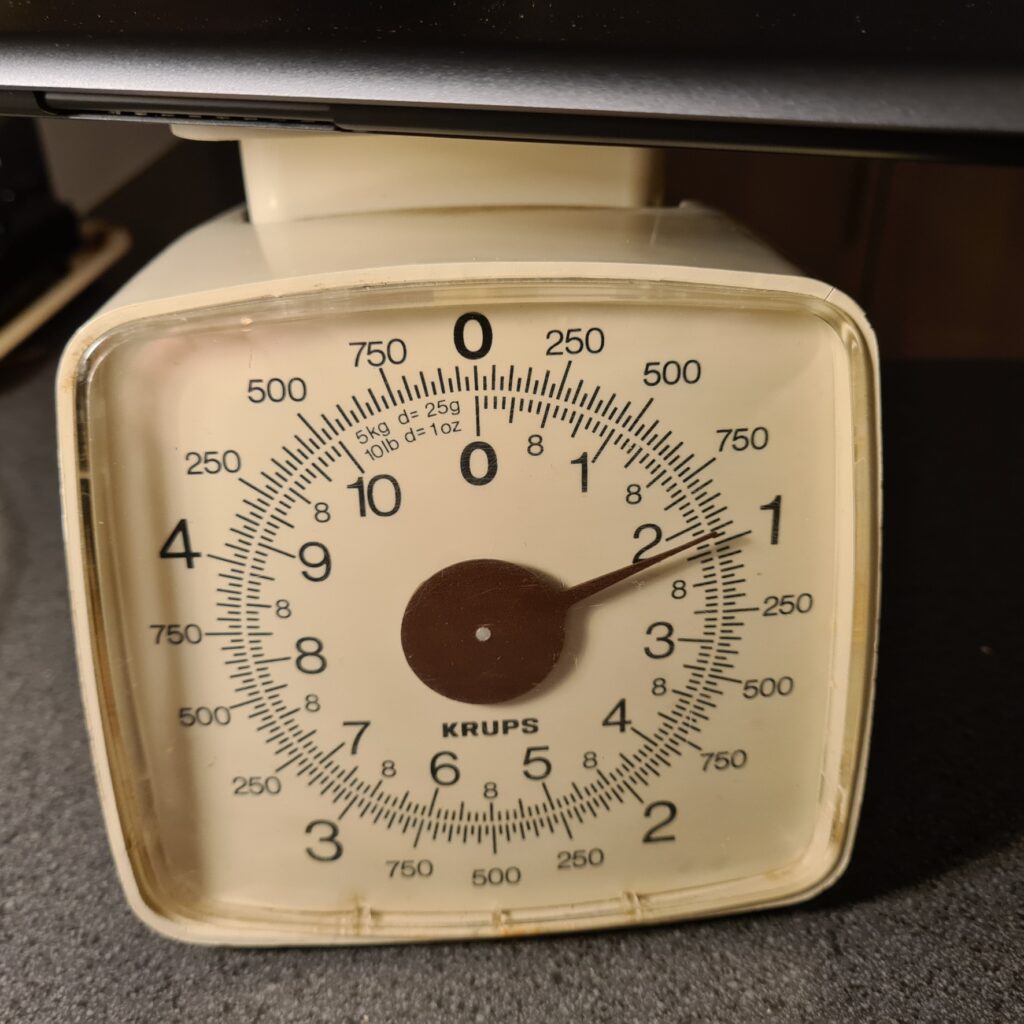 The first thing you notice when you unpack the box and lift out the laptop is how light this thing is! It weighs less than a kilo, just over two pounds. That's about the same weight as a packet of sugar. None of the other laptops I considered came close to this.
I suspect one reason for this is that the laptop has no internal cooling fans so reducing overall weight, one benefit of the new Intel hybrid chip I mentioned earlier.
And how thin it is – with the lid closed, it's barely 6mm thin, thinner than a standard HB pencil!
Appearance wise, it is minimalistic with the Samsung logo offset-left-centred on the laptop outside lid. Samsung describes the colour I chose as 'Mercury Grey' which is similar in looks to many other laptops on the market differing only in the precise shade of grey.
Opening the lid you see a grey keyboard topped with a black reflective screen. The screen is surrounded by thin bezels, the bottom one being slightly thicker and which has the Samsung logo behind showing through faintly. This is minimalism!
The top bezel contains a webcam. It's only 720p resolution, but it's perfectly fine for video conferencing use. It's not Windows Hello-compatible so you can't use it for Windows login with facial recognition.
Centred right below the screen at the top of the keyboard is the twin stereo microphone array. Testing this with the Windows 10 Voice Recorder app, it produces good-quality audio similar to what I've experienced with other laptops using the built-in microphone. As good as I expected.
The top row of keys on the keyboard contains the combination power key and fingerprint reader at the extreme right.
Compatible with Windows Hello, the fingerprint reader is very convenient – you lightly press your finger tip to it in order to log in to Windows (and other app-related use as applicable). Far more convenient than typing a PIN or password each time.
I've yet to use the power button as I just close the lid to put the machine in standby (sleep), or choose 'shutdown' from the Start menu. To start up the machine, I've activated the setting to do that just by opening the lid.
3: The Keyboard – the Good and Not So Good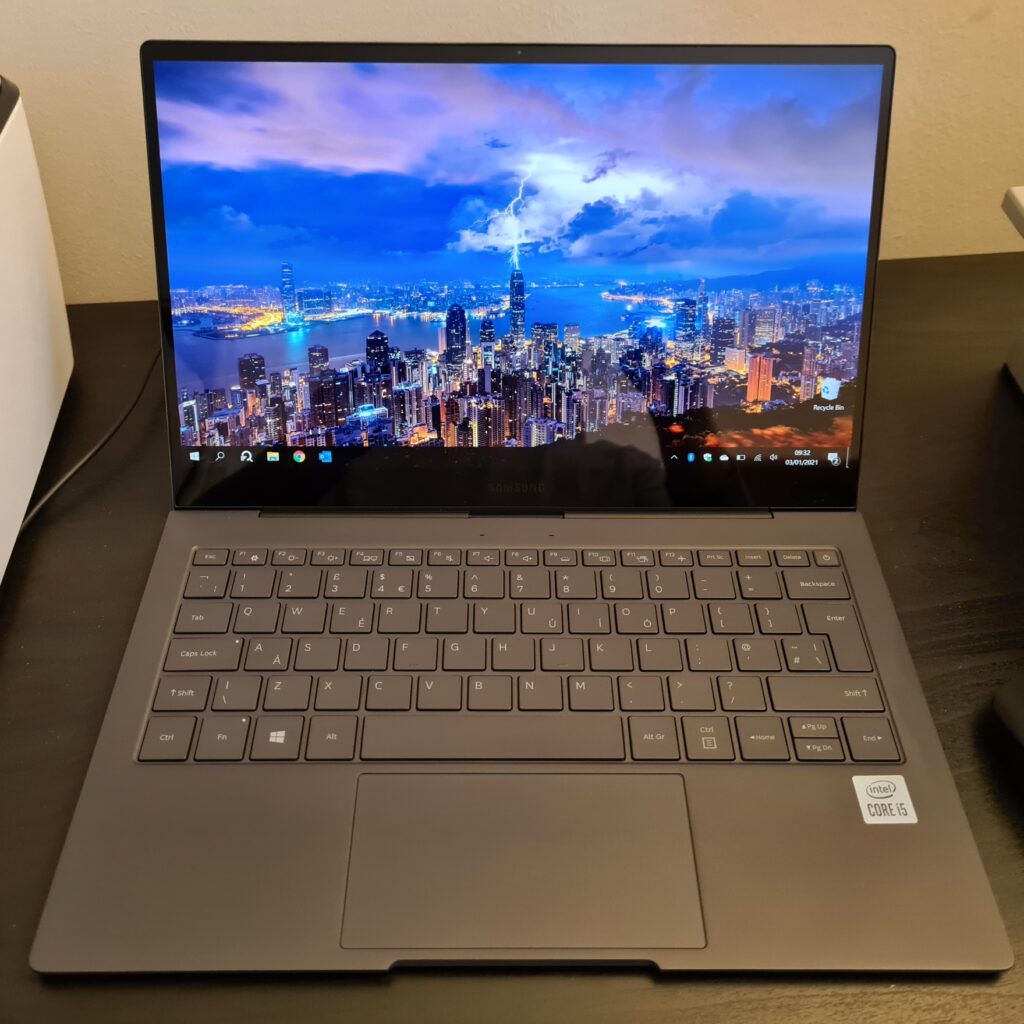 The keyboard is good to type on. The individual keys are well spaced and firm to tap with just about the right amount of travel. In the short time I've had this laptop, I've not made the typing mistakes I usually make where a keyboard's keys are too close together and I hit too many at once or the wrong ones. This one seems about right on a laptop.
I especially like that the caps lock and function lock keys have pinhole blue lights to indicate whether they're turned on. Useful usability feature.
Another neat feature is the airplane mode F12 function key, taking its cue from smartphones and tablets that let you shut off all network connectivity with one key press. That'll be useful when we can all go travelling in planes again.
While the keyboard has backlighting, I've found this feature to be extremely disappointing in its dismal functionality.
The backlighting function does work – it comes on when the ambient-light sensor and/or proximity sensor kick in – but the actual lighting is so feeble that you can hardly see the characters on the keys unless you're in a really dark room.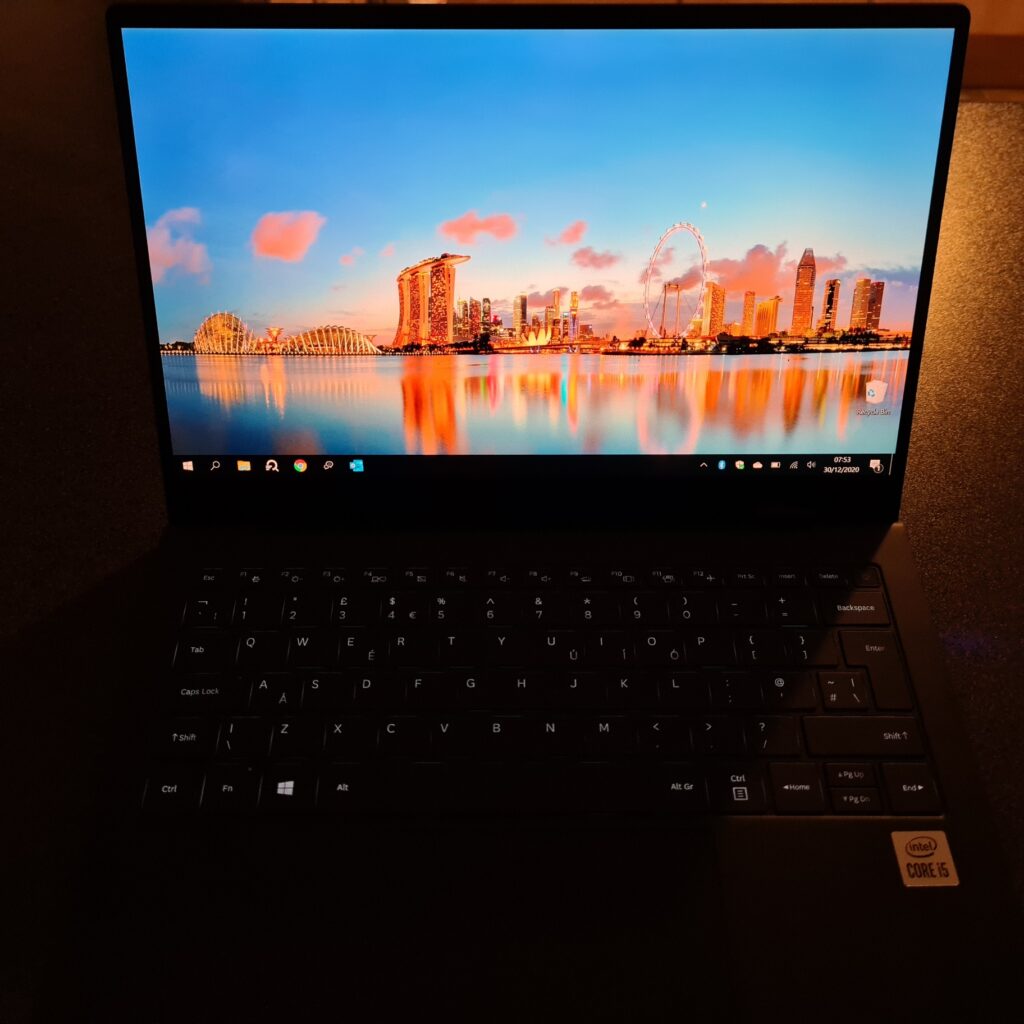 I took the photo above in a darkened room. While the vagaries of light sensitivity in a smartphone camera – a Samsung one at that – suggest the backlighting is actually pretty bright, believe me, it's not good enough to type by without peering at the keyboard to check you're pressing the right keys.
I shared my opinions about this with Samsung Support in emails and a phone conversation so let's see if we see at some point a BIOS update or other fix that improves the lighting levels.
4: Rounding Up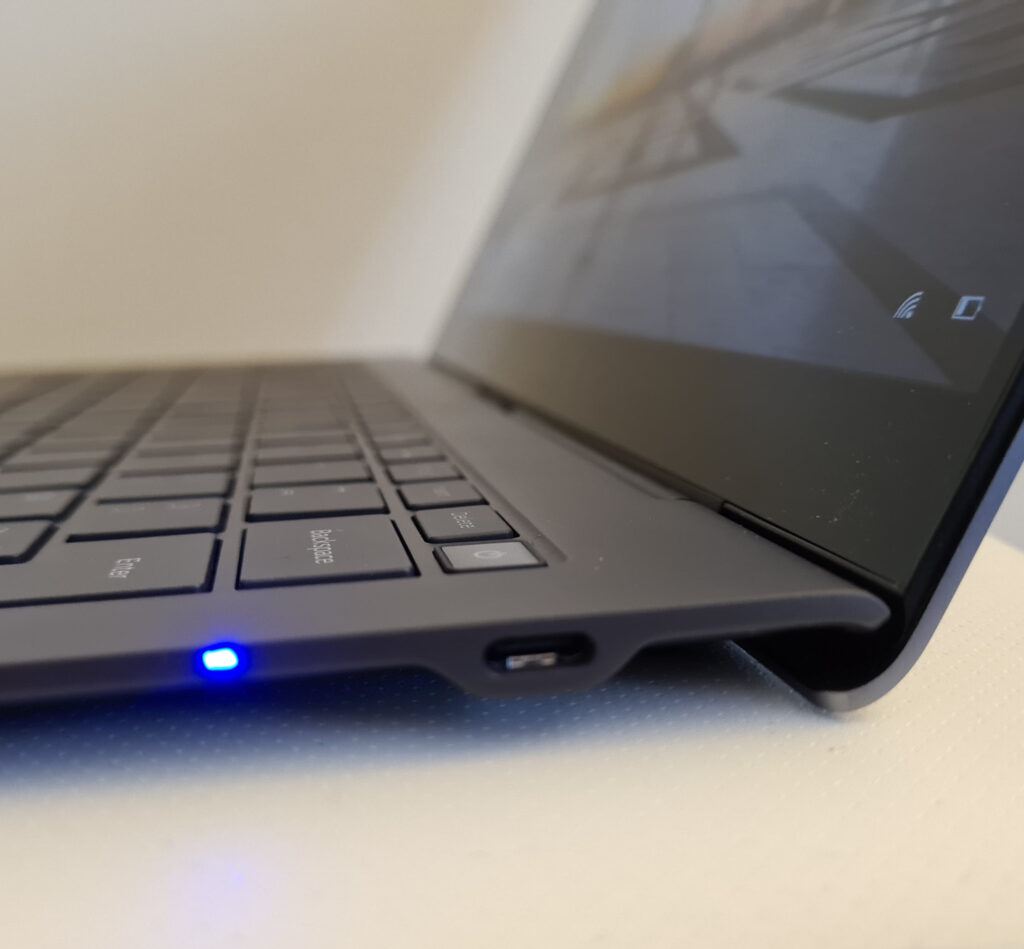 I've had the Samsung Galaxy Book S Intel for little more than a week, and all of the above reflects my experiences and impressions during this time.
I've not used it enough yet to gauge performance although I'm pretty confident that I'll have little trouble running multiple apps at the same time or Chrome with 30+ tabs open (actually, I already did that) without the computer gasping or groaning.
It's also right to emphasise the point that I chose this machine as my secondary computing device. So I don't expect to be doing things like video editing, complex graphics or animations in PhotoShop, crunching big numbers in Excel spreadsheets, and other processor- and memory-intensive activities. No gaming either beyond Candy Crush or Freecell.
This is definitely not the right device for those activities. You can probably run all the applications that let you do those things but don't expect stellar performance.
What I do expect is to use a machine that lets me carry out daily business-related activity such as email, read the online papers, Facebook and Twitter, desktop Zoom video and WhatsApp chats, online collaborative document sharing and editing, and maybe the odd stream from Netflix, BBC iPlayer and Amazon Prime Video.
All for when I'm not at my desk!
Now to complete this round up with some final thoughts:
Battery life. Samsung says you can expect up to 25 hours from a fully-charged battery. Depending on how you use the laptop, your mileage will vary. My limited testing over the past few days with many settings adjusted up from the defaults suggests I could get at least 12-14 hours from how I'd typically use the machine. That's good enough.
Networking. The wifi 6 standard should be coming in 2021 and the Galaxy Book S Intel supports it now. It's the next evolution of wireless local area network (WLAN) technology – commonly referred to as 80211.ax – two of the benefits of which are improvements to wireless speed, range, and reliability, and improved power efficiency.
Storage. A 500 GB drive is plenty of space for a laptop that will be used the way I will use it. You can also specify 256 GB storage at a consequently lower overall cost. But if it's not enough, or you perhaps prefer to use the built-in SSD only for programs, this machine also has an SD card slot where you can add additional storage with an SD card up to 1TB capacity.
Audio. Sound comes via AKG stereo speakers with Dolby Atmos through vents on each side. Sound quality is very good indeed, better than I expected from such a small device.
Pleasant surprises. On opening the box when the computer arrived, I discovered the USB-C charging cable to connect the laptop to a power source is a good 1.8 metres (6 feet) in length. Then I found the box also included an adapter to connect the laptop with an external monitor via an HDMI cable. Nice discoveries!
An additional comment, about the word 'Intel' in the device name. This is to differentiate it from a sister device referred to as the Galaxy Book S Qualcomm with a Snapdragon octa-core processor – similar to ones used in smartphones and tablets – that Samsung released earlier in 2020 before the Intel-equipped version.
In addition to the different processor, the Qualcomm device also has cellular connectivity ability where you can insert a 4G SIM card into an LTE slot. Apart from this, both are identical machines.
Which should you choose? Well, both are Windows laptops but with a significant difference. The Qualcomm version runs Windows 10 S, not the full regular version, one consequence of which is that you cannot run 64-bit programs. See this comparison review on TrustedReviews for more info.
5: Verdict
In conclusion, the Samsung Galaxy Book S Intel is an excellent machine and Samsung has done a great balancing act to offer a Windows 10 laptop that ticks nearly all boxes. It's the one for me.
The disappointing keyboard backlighting isn't necessarily a deal-breaker although if that functionality worked better, my overall rating would have been 5 stars instead of 4.
So if you're looking for a stylish, light-as-a-feather Windows 10 laptop with terrific battery life for most daily tasks, that offers great bang for your bucks, then the Samsung Galaxy Book S Intel is the one for you.
[Edit 6 Jan:] I posted a link to this review on my Facebook profile. It's attracted comments from people, creating good conversation. If you have comments, you might want to add them there and join that conversation – https://www.facebook.com/nevillehobson/posts/10158827474171760.
[Update 11 Feb:] I implemented a small fix for the feeble keyboard backlight issue:
A two-inch strip of tape is probably too long as I believe the ambient light sensor is located in the bezel beneath the time and date in the system tray you see in the photo. So perhaps one inch would do.
I have no idea whether Samsung will come up with a permanent solution to this with a firmware or other fix. For me, this issue is the only thing that makes this laptop less than 5-star. While I still don't see it as a deal breaker, others might. Indeed, discussing this with an acquaintance last week, for her this definitely would be a show stopper.
Hope springs eternal!