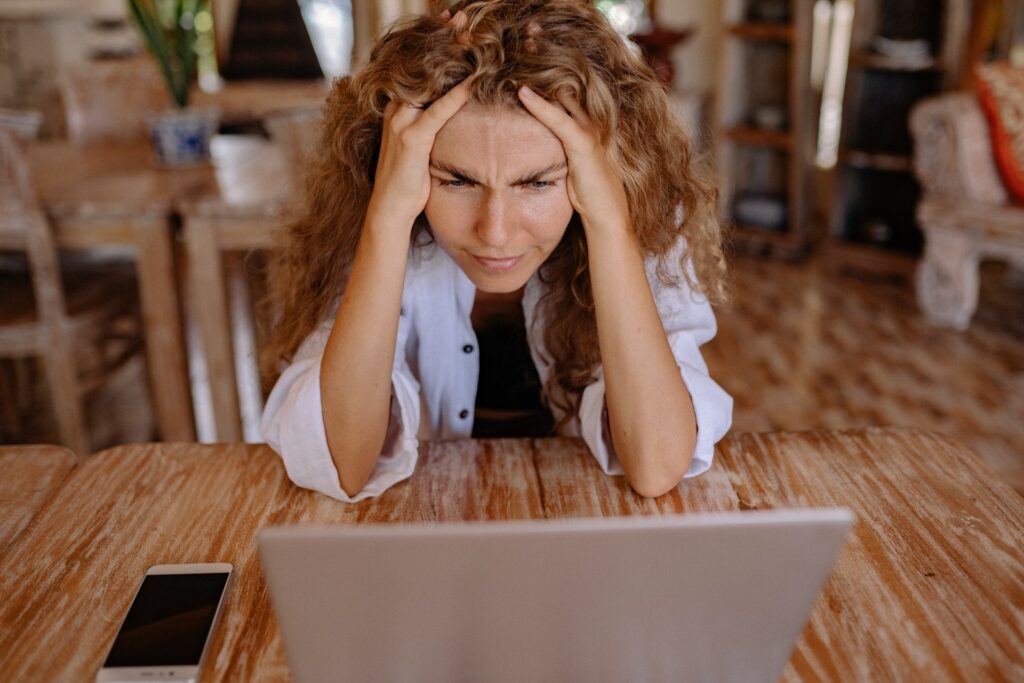 Of all the topics Shel and I discussed in the December episode of The Hobson & Holtz Report aka FIR 202, published last week, two in particular stand out for me.
The first addresses the way in which organisations make apologies to their customers and other stakeholders. With lockdowns, shutdowns and economic gloominess everywhere, the current pandemic provides so many opportunities to do it and do it right.
Unfortunately, while the pandemic has sparked an outbreak of corporate apologies, most are terrible says Bloomberg BusinessWeek.
A crash course: You need to say you're sorry every time a customer is somehow harmed, and that apology should usually include four components: accepting responsibility, showing that you understand the difficulty caused, stating what you've learned, and explaining what you'll do in the future.

These can sometimes be brief—just a few words—and for minor transgressions such as a shipping delay on a nonessential item, you may not need all four components. Use your judgment. But do it right.
The passive-impersonal "We regret any inconvenience" just doesn't cut it. BW has credible suggestions in its five examples of how to do it right.
Next, The Economist's 1843 magazine presents keen insights in its inimitable style into workplace slang for the pandemic and how to describe employers laying off staff in these troubled times.
Coronavirus has transformed the working world, The Economist says: time to sharpen up your slang, as well as your CV.
Many companies now use robotically faceless expressions to refer to the fate of their staff: firms restructure, streamline and downsize, they reposition, realign and integrate. Perhaps worst of all, they make "efficiencies". Only occasionally do they say it like it is.

Workers, too, have their own lingo to describe modern employment. So, whether you're a Zoom zealot who can't stop working, or are enjoying the escape from the scrutiny of your boss, in an uncertain climate, it pays to understand the subtext.
And employees do say it like it is, often with considerable wit and irony, as they see it from their perspectives in different organisations and very different cultures. With five examples from employees in the US, UK, Japan, South Korea, France, and China, the term we're likely to hear more than any other as we move into 2021 is perhaps "zumping: to fire an employee by video (verb)" or "How to end 1,000 careers with brutal efficiency":
How do you fire an employee respectfully if you can't do it in person? Many have settled on the same device they use to bore their charges in endless meetings: video calls.

Now Zoom is coming to kill your career hopes. Looking your soon-to-be-ex-boss in their pixelated pupils is at least more personal than a text or email, though blurry images and frozen screens can make these video rejections awkward and stilted, as well as upsetting.
This approach can work at scale, too, as a large number of Uber workers can attest:
In May a tearful Uber executive laid off 3,500 people on one call, her eyes appearing to dart away off-camera (perhaps towards a script, some observers suggested). Plenty of more traditional companies have coldly chucked their employees via webcam too.
Welcome to a brave new world!
Here's the full list of topics Shel and I discussed:
Twitter's plans to relaunch verification and what's next
Clubhouse is poised to become a major social media platform (if Twitter Spaces doesn't squash it like a bug)
How a company should say, "We're sorry"
Walmart and others expand their employee advocacy programs while Sherwin Williams fires the only employee engaged in it on their behalf
Euphemisms for getting laid off
Could Substack be a new channel for journalism (including brand journalism)?
Dan York's Tech Report covers more Twitter changes; screen sharing comes to Discord while Reddit acquires Dubsmash for its screen sharing functionality; Snap and Facebook take on TikTok; Walmart and TikTok introduce video shopping; WordPress powers 39% of the web (and more about WordPress); podcasting turns 20
See the show notes on the podcast blog for all the links including topics in Dan York's tech report.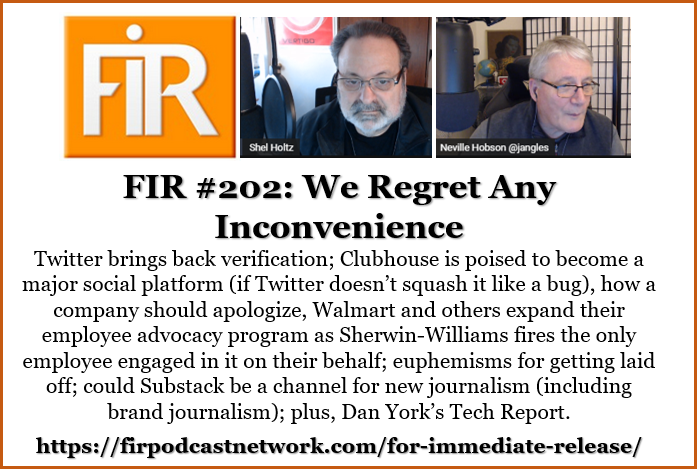 Listen Now
Special thanks to Jay Moonah for the opening and closing music.
We wish all our listeners a Happy New Year! The next episode is scheduled to publish on Monday 25 January 2021.