In the October edition of the 'Hobson and Holtz Report,' episode 200 in the FIR podcast series, Shel and I covered a lot of ground in our one-hour discussion that it's hard to pick a stand-out: all are highly topical issues that are worthy of discussion and perhaps prompting thought and opinion from you as you listen.
But if I had to pick one as a stand-out, it would be the topic we started this episode with – how the pandemic has impacted wellbeing at work globally. This is a pretty hot topic, one I see being discussed online quite frequently.
A report from Microsoft looks at this through the lens of how productivity patterns in Microsoft Teams users in eight countries (Australia, Brazil, Germany, Japan, India, Singapore, the UK, and the US) have shifted since early this year, producing these five key findings:
The pandemic increased burnout at work – in some countries more than others.
Causes of workplace stress differ for Firstline and remote workers.
Six months in there are more communications and fewer boundaries.
No commute may be hurting, not helping, remote worker productivity.
Studies show meditation can fight burnout and stress during the workday.
I suspect that for most of you, these findings may present few surprises. For me, I was especially interested in the final finding, about how meditation can help address burnout and stress. I see this in the broad area of something that I think is becoming increasingly significant in a workplace context, and important generally, where we are all remote and connected only via the Internet and the ubiquitous Zoom meeting.
Tuning out entirely for even a very short time is very helpful to a sense of wellbeing, in my experience.
Here's the full list of topics Shel and I discussed:
A look at how employees are handling life in the pandemic and what companies can do to help
Techlash hasn't gone anywhere, but it has fragmented
Journalists need training on advanced verification techniques to curb disinformation
Sonic logos and other company-used audio needs to change to reflect broad public sentiment
Tesla has done away with its corporate PR department; apparently, all they need is Elon
Voice connects us to others even more than video — and way more than text
Dan York's Tech Report covers Snapchat getting sounds, WordPress's new ability to turn blog posts into Twitter threads, Cloudflare's automatic platform optimization for WordPress, Spotify podcast promo cards, and the crazy amount of live streaming going on.
Our FIR recording sessions are now being streamed live, because why not? We already stream each episode in order to capture a backup recording on YouTube; we've just been making these restricted streams. We have decided to make them public so you can watch and comment.
Our next recording is Saturday, November 21 at noon ET, 5pm UK. You'll see our pre-recording conversation as well as seeing how the sausage gets made. Watch here.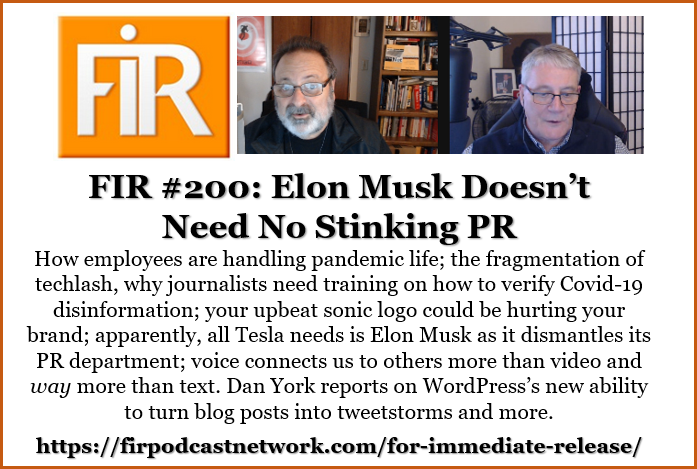 Listen Now
Special thanks to Jay Moonah for the opening and closing music.
Links from This Month's Episode
Links from Dan York's Report
Weekly ZoomChat
We host an FIR Communicators Coffee Break on Zoom each Thursday during the stay-at-home period at 1pm ET, 6pm UK. For credentials, contact Shel or Neville directly or request the credentials in our Facebook group or send an email to fircomments@gmail.com. Spread the word to your communications community.