Report: Just days after the UK's ban on the sale of new petrol and diesel cars was brought forward to 2035 from 2040, there has now been a suggestion that it could be brought forward even further to 2032 – just 12 years from now.
…The move would also ban the sale of hybrid vehicles, which sold more than 13,000 units last month. All-electric cars meanwhile accounted for 4,054 UK sales in the first month of 2020.

InsideEVs https://insideevs.com/news/399114/uk-ban-gas-diesel/
Including hybrid cars in a ban on combustion engine vehicles is interesting but it makes sense: they also have combustion engines.
I see hybrids as a short-term solution to the problems of vehicle emissions, overall air pollution, and the effects on people's health.
And why a stepping stone to electric vehicles (EVs)? Until the battery-charging infrastructure is far better developed than it is today, more people are still hesitating about EVs even though desire is high because a major concern is range – how can I not be anxious about driving to, say, Manchester that's about 200 miles from me when the average range of EVs today is just over 200 miles.
Will I have to stop somewhere on the way to charge the battery? Very likely indeed. Will there be a charging point available? Will it charge fast? How long will it take? How much will it cost? Etc.
Many cars can already do more than 200 miles before needing to charge as this chart from Fleet News illustrates: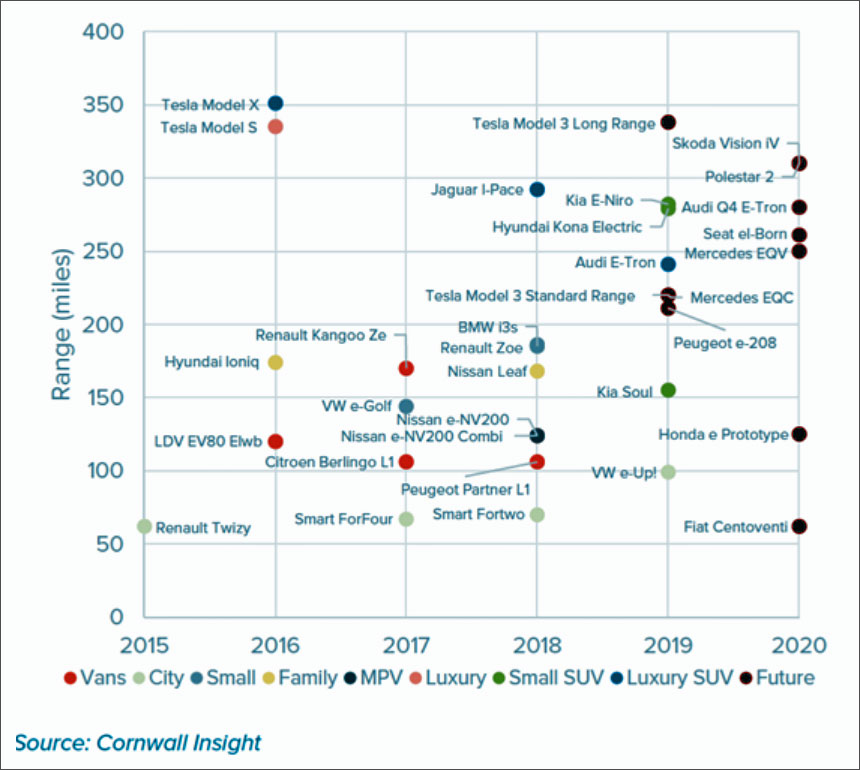 But I'll bet that average real-world use currently doesn't give the range you need. If you want the highest range, don't even think about doing crazy things like giving the car some welly away from the traffic lights, or even turning on the AC or streaming your music playlists from Spotify.
That means not only more public and private charging points and stations are needed up and down the country – far more than Zap-Map's charging map at the top of the page shows – but also cars with even better batteries to store energy to give even more range.
All of the above has started happening, and is picking up momentum, but we're not there yet. I reckon it will be 3-5 years before "range anxiety" diminishes to a point where it's outweighed by the benefits EVs offer.
Until then, my bet's on a
hybrid
: you get many of those
EV benefits
especially in urban use or nose-to-tail queues on the motorway, with zero range anxiety.
Finally:
…It only takes one sharp-witted Twitter user to get Toyota to admit that its well-promoted "self-charging hybrid" cars are actually powered by none other than petrol.

Teslarati https://www.teslarati.com/tesla-rival-toyota-self-charging-hybrid-cars-petrol-powered/
Well, it surely isn't rocket science to read the specs and see that the car has a drivetrain combining a petrol engine and an electric motor with a battery. Where else is the power coming from? "Self-charging" is a good descriptor (although the government of Norway doesn't agree).