With this September 2019 episode of The Hobson and Holtz Report or FIR 187, Shel and I discuss a handful of notable, even memorable, topics and include a segment we recorded two weeks beforehand in Winchester when we were together during Shel's UK trip.
Automotive is a star feature of our discussion with a detailed exchange of views and thoughts on news out of the US about regulatory developments regarding electric cars, specifically on the sound they make.
Which is a thing that concerns said regulators. Typically electric cars make little or no sound at low speeds, presenting a perceived risk to pedestrians who cannot hear them coming.
So rules are coming to the US and elsewhere that will require electric cars to have an engine sound at speeds below about 19mph. What kind of sound isn't clear yet.
Which opens up opportunities to automotive brands to create sounds that will become 'brand distinct,' perhaps along the lines of the Mastercard sonic logo we discussed in the H&H Report in February.
What could an electric car engine sound be like? We tossed that idea around in discussion and showcased the example of the Jaguar i-Pace electric SUV. We included an audio clip of a potential such sound presented by The Verge in an enthusiastic review of the electric i-Pace.
Very unlike a traditional engine. Just like the Enterprise accelerating to warp speed, I thought.
Recording a segment together in Winchester was a special treat, given that the last time Shel and I were physically face-to-face was about five years ago.
We recorded this a day after we had toured the Palace of Westminster in London including the chambers of the House of Commons and House of Lords. We have some ideas about how to make such tours truly compelling experiences.
I hope you enjoy this episode! Share your comments in our Facebook community or via the voicemail feature on the FIR website.
Special thanks to Jay Moonah for the opening and closing music.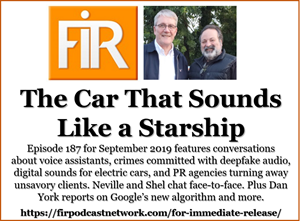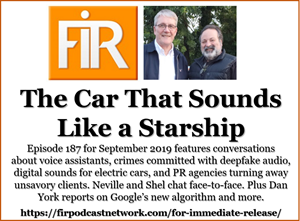 Listen Now
Links from this month's episode:
Links from Dan York's Tech Report
The next episode of For Immediate Release: The Hobson and Holtz Report will be posted on Monday October 21.
(Image at top via The Verge.)