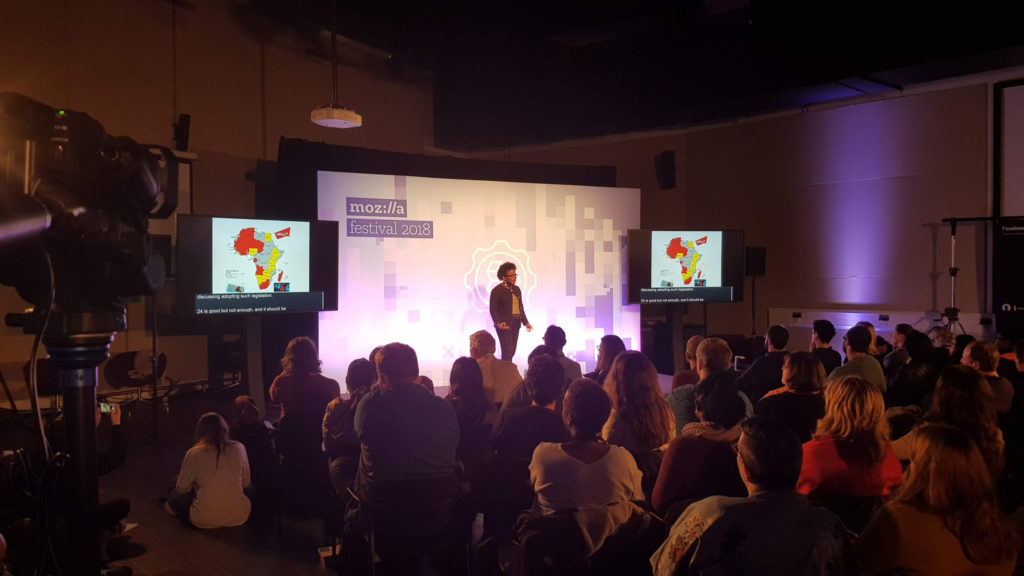 I'm a big fan of Samsung's products especially their Galaxy series of smartphones.
My first Samsung smartphone was a Galaxy S3 in 2012. That was followed by an S4 and then an S6. I'm now on a Galaxy S8. The next one might be an S10 as it looks like I'm an even-number kind of Galaxy user, if I go for another Samsung model again.
Which, by the way, is not a guarantee with the likes of Huawei and other emerging manufacturers offering leading-edge tech and compelling user experiences often at far less cost than premium brands like Samsung (and Apple).
I bought my S8 new in April 2018 – a year after its launch – from a reseller on the UK Amazon Marketplace. It was a great deal: almost half the list price for a new phone that was factory-unlocked to work on any network in Europe.
And it's been a delight to use since then. A sleek, gorgeous, design. A great camera that produces terrific pictures, such as the shot at the top of the page of an interior scene I took at MozFest 2018 in London last October. Rich colours, great contrasts.
There are gigs of storage space that never seems to run out. A battery that lasts a day or more even with my heavy daily use. Connectivity that always works. Fast in everything it does. And it does it all well.
Until last Thursday.
Suddenly, weird things started happening. The screen shivered. Screens came and went at random. Invisible fingers were typing on the on-screen keyboard. It wouldn't shut down without my diving into the tech innards and manually forcing a shutdown.
The battery was draining fast, too, and the back felt unusually warm. Googling for any kind of answer produced a long list of questions by others with similar hard-to-define experiences, not limited to Samsung devices.
Was it a buggy app? An Android issue? Malware? A hardware issue? So then followed a process of elimination in my own troubleshooting, from wiping the system cache to a complete factory reset.
Nothing resolved the issue at all. The realization dawned that, through the process of elimination, any further troubleshooting would need expert help. Luckily, there is a Samsung Support Centre in Reading, less than 30 minutes from me on a good driving day.
There I went on Saturday morning. A consultation with the tech staff and close examination of my S8 produced a speedy conclusion – there was a fault with the screen; the Support Centre had spare parts in stock and could repair it that day.
As I bought the phone less than a year ago, it would still be under warranty. But what I bought from the Amazon Marketplace reseller was a phone originally destined for the Italian market. So, for the UK where I am, you might consider it as a sort of grey import. Would Samsung see it thus?
It turned out not to be so. My phone was under warrantry in the UK and so the repair was carried out on that basis at no cost to me. Given that the actual repair was not only a complete new screen and its related tech but also a new system board and new battery assembly (listed in the image below), this was an unexpected but most welcome outcome.
In effect, everything except the backplate and camera was replaced, all under warranty.
While this result in itself would justify warm feelings towards Samsung, my shout-out to them is much more about the way in which they dealt with this matter – a no fuss, no quibble service delivered in a highly professional manner. It was all about finding and delivering a solution to a customer problem instead of looking for a reason not to or relying on script-driven call centres – an experience far too common in such situations.
You can have a great product and enjoy it every time you use it. But that all counts for nought if you ever have a problem that requires support from the manufacturer or service provider, and when the experience in getting the problem solved is a nightmare.
Like many people I've had bad experiences, some I've written about in this blog – and that can be a useful megaphone in such circumstances.
I've also written about great experiences, such as this one, so a balanced blog is the best approach!
So I now have an almost brand new phone again. Perhaps the next even-numbered Galaxy model could be the favourite in my future after all.
The final word in this tale goes to Google, specifically Google Translate.
As I sat in my home office on Saturday evening making a start on getting the phone back in order again auto-restoring from backups, I was confronted with a screen in Italian, with two buttons requiring an action.
I remembered this from when I bought the phone last April. You remember I mentioned it was a phone originally intended for the Italian market?
While I do speak Spanish I don't speak Italian so I needed some help in clearly understanding the Italian text before tapping any button. Enter Google Translate on my laptop.
I typed in the Italian text and got a translation I understood completely.
Whatever people say about such translation services, my experience is that Google Translate is very accurate indeed, and gets better still over time.
There's AI in there!