The SmallDataForum celebrated its third Christmas with a highly calorific and somewhat alcoholic Italian lunch, followed by post-prandial musings about high- and low-lights of 2018, and some crystal ball gazing for 2019.
Our regular followers / listeners – or just about anybody with any interest in tech and communication – won't be surprised by a list being topped by Facebook, and then some more Facebook. Followed by GDPR and other regulatory activities, mainly by the EU.
And of course we also touched on the topic that's been with us from episode one, when it was called Brexit. These days, Brexitexit is beginning to sound more fitting.
In his analysis of FB's / MZ's predicament, Sam combined review and preview. He sees FB's annus horribilis as the beginning of the end for the meaningful global connector. At the time of the 2019 SDF Christmas lunch, he expects FB's chief apologist to have hung up at least one of his hats, to let a new chairman, or CEO (or both…?) try his or her luck.
Neville expects FB's board to intervene, should the share price continue to be pummeled by mishaps. To misquote Oscar Wilde: one PR disaster may be regarded as a misfortune. Two look like carelessness. Dozens indicate ineptitude. Wired magazine is up to 21 and counting.
And yet. It will take significant commercial pain to either reign in or bring down the Chaos Monkeys of Menlo Park. And that commercial pain will have to come from the community that turned FB into a half trillion dollar business earlier this year (that's before excrement started to hit some rotating ventilators).
No, not the 2.3bn world wide users. Or the somewhat fewer, maybe 1bn plus daily users. The only community that really matters to FB are the folks that put the economy in the attention economy – the wonderful world of advertising.
Sam's hopes are with Aline Santos, the likely successor of Keith Weed as Unilever CMO. His "come on Aline" is a rallying cry for advertisers to call the Emperor's new clothes in social platform advertising for the evidence-lite hogwash that they are.
And as for the EU data regulation that Germans managed to express in one – albeit 26 letter – word: it's too early to judge the real impact of the Datenschutzgrundverordnung (or GDPR).
Yes it looks like it is going to make programmatic advertising harder in terms of data acquisition, and generally to justify related activities. And it may or may not form the basis at some point of a global regulation framework (although the chances of that every happening are really rather slime as things stand).
But as Neville rightly points out, it is the first political framework to attempt to rein in a tech industry that has been enjoying Wild West status for – some might say – way too long already. It is definitely one of the key topics to watch next year as Europe will also grapple with fake news and election interference around the European Parliament Elections in May.
We are only just very slowly realising that Russia and the IRA (the new one, in St Petersburg) are by no means the only potential source of online meddling, and that China and its state sponsored tech giant Huawei might just be the bigger concern, if not merely the tip of a big scary iceberg.
The Daily Mail is concerned, and that certainly has us concerned…
Which brings us to our one word 2019 predictions: for Neville, it is trust (as the leading theme for communicators); for Sam, it is Brexit (or rather, a data- and insight-driven reversal); for me, it is emotion (or the growing acceptance that "we are not thinking machines that feel, we are feeling machines that think", as Antonio Damasio declared in 1994 in his marvelous book Decartes' Error).
Soon enough, we will find out whether and how these predictions will stack up against "events, dear boy, events." Hopefully, you will continue to follow and engage with us as we continue to try to make a little sense of what's happening with and around us.
Merry Christmas, happy holidays and may 2019 prove to be interesting in a good way.
Listen to episode 24:
This episode's show notes were written by Thomas Stoeckle.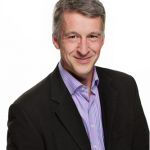 Thomas Stoeckle is an independent business consultant and researcher in the fields of traditional and social media, and public opinion, with a particular interest in psychology and behavioural insights
Until November 2017, Thomas led strategic business development at LexisNexis Business Insight Solutions (BIS). Prior to joining LexisNexis, he was group director and global analytics lead at W2O Group, and managing director at Report International (now CARMA).
A marketing communications researcher and business leader with 20-plus years' experience in helping clients make sense of their global (social) media footprint, and how that affects perception and reputation, he believes passionately in meaning and insightful business story-telling through robust data evidence and compelling visualisation.
Originally from Germany, Thomas has been living and working in London for more than 16 years. A digital Neanderthal among digital natives, he is keenly aware that adequate solutions to communications problems demand fluency in the three languages of humans, machines, and business.