In the November episode of "The Hobson & Holtz Report," aka FIR 164, Neville Hobson and Shel Holtz reviewed these stories:
British Airways management was as unprepared for the iPhone's AirDrop creating an onboard kerfuffle as flight attendants were
With the influencer and micro influencer market saturated, marketers now look to nanoinfluencers
By 2022, most of the skills required for employability will be soft skills
The length of YouTube videos people will watch on their phones continues to increase
Gen Z uses text and chat more than any other generation, but how do they feel about new technologies?
Fake videos have entered the political space; can business be far behind? But new apps can help identify fakes
Dan York reports on Facebook's new Lasso app, a Google outage, and "signed exchange"
Special thanks to Jay Moonah for the opening and closing music.
Links from this month's episode
Links from Dan York's Tech Report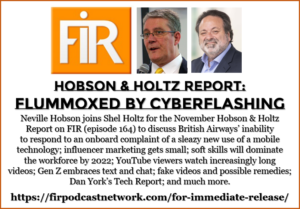 Listen Now