Show notes for this episode written by Thomas Stoeckle.
"If a tree falls in a forest, and no one is around to hear it, does it make a sound?" A modern version of this 18th century thought experiment by the philosopher and cleric George Berkeley might read: "If the EU fines a big tech firm billions of dollars, and no one has the power to enforce it, has it actually happened?"
A recent opinion piece on AdExchanger discussed the connection between Google's $5bn antitrust fine, and the enforcement of fines for GDPR non-compliance. Europe is committed to taking a stand against corporations when it comes to privacy rights of consumers, intellectual property rights of content producers (although the planned law is controversial), and anti-competitive market positions.
But there is potential tension between the goal of harmonizing privacy law across EU member states, and implementation and enforcement of the law on national level, where the regulation applies. Consumer protection has a different priority in different European countries, and even more so when comparing Europe with the US or China, say.
That's why the EU Commissioner for Competition, Margarete Vestager, is seen by some as the spearhead of the only global regulator really standing up to arrogant American tech giants, and by others – not least the current US President – as a busybody trying to suffocate innovative tech businesses. We see a 'commercial culture clash' between Europe and US, between consumer protection and the right of corporations.
And what about China, which keeps working on its modern, global Silk Road, investing $1tn in physical infrastructure, while keeping its digital infrastructure in a walled garden, with Alibaba and Tencent being active and successful on the global stage?
Big questions for the SmallDataForum, as always. And on the topic of the EU's role and potential impact, we agree: Sam is optimistic in describing how the world uses EU regulatory frameworks in trading. 28 countries (or perhaps 27 soon), plus many more internationally are actively following EU standards. Neville confirms that in Europe, there is greater appetite for privacy rights, than in the US.
I see the EU playing a long game, bringing together a number of pillars to create a more integrated framework of regulations to manage and balance the interests of consumers and corporations across personal data (GDPR), electronic communication (ePrivacy), digital copyright and antitrust issues – although some observers only see the smothering of creativity and innovation. These are complex and multi-faceted issues. On the topic of intellectual property, social media and the impact on communicators, the Institute for Public Relations' legal expert Cayce Myers published a very informative and relevant piece recently about the challenges around the EU's copyright reform.
As GDPR is becoming more of a routine part of businesses' and organisations' compliance activities, Sam notes that the implementation so far has passed without major incidents. Programmatic advertising needed to clean itself up, and according to DigiDay, GDPR is buoying both programmatic guaranteed deals, and contextual (rather than personal profile based) targeting. Neville points to the thorny issue of managing consent across a supply chain of users, ad buyers and publishers. We all better learn "WTF is a consent string?"
In our 'let's all get a little more paranoid' section, we discuss Alexa's overzealous listening skills, as well as the murky world of fake followers and inflated reach and engagement metrics across the board of apps and platforms. As always, cranky marketing sage Mark Ritson has a pertinent point on the matter. Neville sees this as an opportunity for communicators to provide direction and guidance.
We round up episode 20 of the SDF with a look at the key findings of the Digital News Report 2018 by the Reuters Institute for the Study of Journalism. As Neville very rightly points out, every communicator needs to study this in detail (findings based on a survey of more than 74,000 online news consumers in 37 countries), and we could only touch on a few highlights such as the decline of social media use for news in some key markets such as the US, the UK, Brazil and France. This appears to be largely due to reduced news consumption via Facebook (where changes to Facebook's news algorithm play a significant role).
Another key finding points to a general sense that the main responsibility for tackling the fake news problem lies with publishers and platforms – very much aligned with findings from a SNCR study in December 2017. The online news landscape keeps evolving rapidly, and overall the Reuters report is optimistic about the news industry.
Listen to episode 20: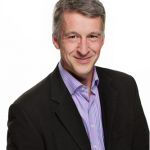 Thomas Stoeckle is an independent business consultant and researcher in the fields of traditional and social media, and public opinion, with a particular interest in psychology and behavioural insights.
Until November 2017, Thomas led strategic business development at LexisNexis Business Insight Solutions (BIS). Prior to joining LexisNexis, he was group director and global analytics lead at W2O Group, and managing director at Report International (now CARMA).
A marketing communications researcher and business leader with 20-plus years' experience in helping clients make sense of their global (social) media footprint, and how that affects perception and reputation, he believes passionately in meaning and insightful business story-telling through robust data evidence and compelling visualisation.
Originally from Germany, Thomas has been living and working in London for more than 16 years. A digital Neanderthal among digital natives, he is keenly aware that adequate solutions to communications problems demand fluency in the three languages of humans, machines, and business.