As the Small Data Forum progresses through its early teenage years – our latest podcast is episode 14 already – regular co-hosts Thomas Stoeckle, Neville Hobson, and Sam Knowles are taking the opportunity to look forward by looking back.
Patients of our own medicine, you might say, we're using the year end and what we've observed and learned in 2017 to enter the predictive analytics business.
We take our inspiration from Janus, the Roman god of beginnings, transitions, and time, after whom January is named. A sculpture of Janus appears at the top of this blog, from the Vatican Museum.
This episode's show notes were written by Sam Knowles.
In our latest pod, we're all making our predictions for what we expect to see happen in 2018
Notably, in how we believe organisations will make better use of data and analytics to thrive and grow. Along with the tinsel, we thought it was time for us to get out our data-driven crystal balls and tea leaves.
During the lifetime of the Small Data Forum, there have been seismic changes in the geopolitical landscape, driven by political parties' and their leaders' smarter use of data.
How different the world might be today had Remain, Clinton, Le Pen, May, and Merkel beefed up their analytics teams and consultants in the way that Farage, Trump, Macron, Corbyn, and the AfD plainly did. Often working with the same, small group of businesses and consultants.
While we've been "on air", politics has woken up to the power that comes from understanding what voters think, feel, and intend to do – and all through little big data analytics. It's also learned how to harness the potential of clustering and microtargeting, using the right messaging derived from nudge theory and behavioural economics.
At the same time, malign interference in the political process has become increasingly apparent, thanks to the confirmed spread of fake content on Facebook, Twitter, and Google-owned YouTube – the vectors of memetic transmission – from Russian and Macedonian bot farms. This phenomenon has Neville wondering whether we are all just "mice in a wheel". Quite so, Slartiblartfast.
So, to our predictions for the new year.
For Thomas:
Europe will take back control, using GDPR and ePrivacy regulation. This may have unintended impacts on communications measurement and evaluation, especially influencer tracking
Applied artificial intelligence will begin to transform the industry, with speech-to-text, real natural language processing, and machine learning all enabling communicators to create "insight on steroids"
And, Manchester City will win the Premiership. That last one through the gritted teeth of an Arsenal supporter.
For Neville:
In 2018, we will see chatbots, AI, and digital personal assistants (DPAs) truly come of age. This means:
– Chatbots will be used for great customer experience and employee effectiveness
– AI will help in crunching huge datasets and initial analytics
– DPAs will start making more and better decisions for you
The New Year will also usher in the era of trust and shifts at scale, online. It will never have been more important – or more possible – to prove your trustworthiness. As an individual, as a citizen, and as an organisation or corporation
And for me?
One of the major disruptive, data-driven businesses of the new economy will fall foul of GDPR during its first year of operation. Given the hack on its customer data earlier this year, I'm backing Uber to be the first to clock a €20m fine from the EU.
YouTube will have a pretty parlous year, financially, as advertisers lose patience with ad misplacement and permanently withdraw from a marketplace they consider to be too poorly managed and unregulated.
2017 has made compelling viewing and listening for those interested in how the ever-more sophisticated reading of the digital runes is affording competitive advantage.
To those who've been with us on the ride on the Small Data Forum, thanks for your support. And for those about to stumble across our offering to the world and become part of the community, we can't wait to welcome you on board.
Listen to Episode 14: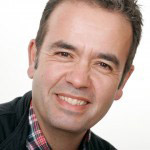 Sam Knowles is Founder & MD of Insight Agents, a corporate and brand storytelling business. He has almost 30 years' experience helping organisations communicate better, clearer, simpler. Data and statistics are the foundation of the stories Sam helps companies to build; evidence-based, data-driven, insight-rich narrative. But only the foundation, before the tools and techniques of story take over.
With a PhD in experimental psychology, Sam has just written an intensely-practical guide to his craft called "Narrative By Numbers: How To Tell Powerful and Purposeful Stories With Data." It will be published by Routledge in February 2018.
(Image at top of Janus Bifrons from the Vatican Museum, courtesy of Wikipedia.)