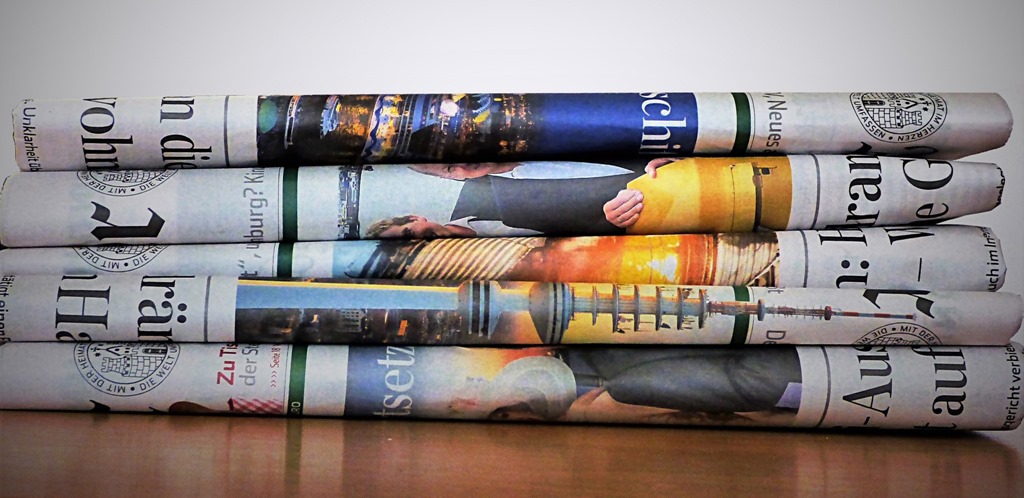 The results of a survey published last month suggest that journalists believe fake news is creating new trust in traditional media around the world.
According to the 2017 Ogilvy Media Influence survey, traditional media was found to be the most trusted news source globally by 52 percent of journalists surveyed across North America, Europe, the Middle East and Asia.
The reporters and producers reflected on the role of social media, company websites and other factors in the importance of trusting traditional news sources. Many agreed that with fake news being such a popular debate, there is an increased need and pressure for stronger reporting in order to re-build trust.
The survey results showed that, globally, Facebook is the number one gatekeeper for news, edging out legacy traditional media sources and significantly outpacing other social networks and digital platforms like Google and Twitter.
Does all this add up to greater trust in the media as Ogilvy claims?
Not according to the Reuters Institute for the Study of Journalism who says that most people don't trust the mainstream media and are even more suspicious of social media.
The latest Digital News Report from the Reuters Institute for the Study of Journalism [published in June] found high scepticism about news and comment, with 33 percent of more than 70,000 consumers polled in 36 countries saying they can't rely on the news to be true.
Perhaps a key differentiator between the two surveys mentioned is that one asked news creators – journalists and other members of the mainstream media – for their views, while the other asked news consumers for theirs.
There is one question mark to consider, though. Other research-based information published recently says that many consumers get most of their news from social networks (a majority of consumers do so in the US), but they don't trust such sources as much as they do traditional ones, ie, the mainstream media. Yet that's not where many people increasingly go for their news.
An even bigger question mark comes from Richard Edelman, CEO of the eponymous PR firm (and publishers of the annual Trust Barometer reports), in a post earlier this month on the results of a flash poll in the US on the impact of fake news on trust in the mainstream media.
The sad conclusion that has been drawn by a majority of Americans is that fake news is created by the media with a motive, destruction of political opponents.
In writing about the key findings of his firm's study, Edelman states simply that fake news is decreasing trust in traditional news organizations, a stark opposite view to that in Ogilvy's survey (but, noting again, that one surveyed members of traditional news organizations).
Still, Edelman articulates a credible perspective.
The mainstream media is categorized as elitist and politicized, unable to carry out its vital role of truth-telling as the fourth estate in global governance. We opt instead for opinion based on personal experience, using the social platforms as equivalent or superior forms of communication.
That's a similar-looking media landscape in the UK from what I observe.
In reality, the subject of researching trust in the media, mainstream or social, is a complex topic where comparative views are tricky given the huge variances in survey participants, methodologies and measurement standards.
Due Diligence
Much of the narrative surrounding this topic focuses on what the media must do from a journalism point of view. In other words, report the facts and create great content whether in print, TV, radio or online.
Is that really enough?
In this context, I think there are three essential challenges that must be met before anyone can lay claim to trust in the media:
The news being reported
Who is reporting it
Where it's being reported
The rise to prominence of social media over the past five years or so as another "channel" in the news ecosystem makes such challenges ever more important to address as the mainstream media no longer has exclusivity in reporting news.
And no longer can you simply trust a favourite or preferred outlet just because a) you've read/watched/listened to it for years; or b) they've always been first with the news.
Now, you have to question each of those three challenges in order to arrive at a state of trust.
It might go like this:
Verify the news being reported – that can be a relatively simple activity such as what you see in one medium – mainstream or social – you check where else the same thing is being reported. Nowadays you have free tools and services that can help you conduct verification of facts and truth: Full Fact to name but one in the UK; likewise, FactCheck.org in the US.
Look into the credentials of the reporter of the news – find out about the reporter, starting with a Google search. This is especially important when you're looking into someone like you or I, ie, people who aren't professional journalists yet who often report news. You need to get a good sense of that reporter's impartiality (or otherwise) as well as reputation.
Check the reputation of the place from which the news is coming – you need to have a very clear and confident sense that the place where you see news is a credible outlet for that news. This applies whether it's a mainstream media organization, a citizen journalist and her blog, or someone with lots of followers on Facebook. And never assume anything: just because a given news outlet is based in the US or Europe and has a credible-looking website, for example, there's no guarantee that it's a purveyor of real news and not the fake kind.
A few days ago, I noticed on the BBC News website a link at the foot of some news reports saying "Why you can trust BBC News."
Clicking that link took me to a page with a huge amount of information and links that, collectively, offered many answers to that simple question.
In explaining the content on this page, the BBC says:
Research shows that, compared with other broadcasters, newspapers and online sites, the BBC is seen as by far the most trusted and impartial news provider in the UK.

Even so, we know that identifying credible journalism on the internet can be a confusing experience. We also know that audiences want to understand more about how BBC journalism is produced.

For these reasons, BBC News is making even greater efforts to explain what type of information you are reading or watching on our website, who and where the information is coming from, and how a story was crafted the way it was. By doing so, we can help you judge for yourself why BBC News can be trusted.

We are also making these indicators of trustworthy journalism "machine readable", meaning that they can be picked up by search engines and social media platforms, helping them to better identify reliable sources of information too.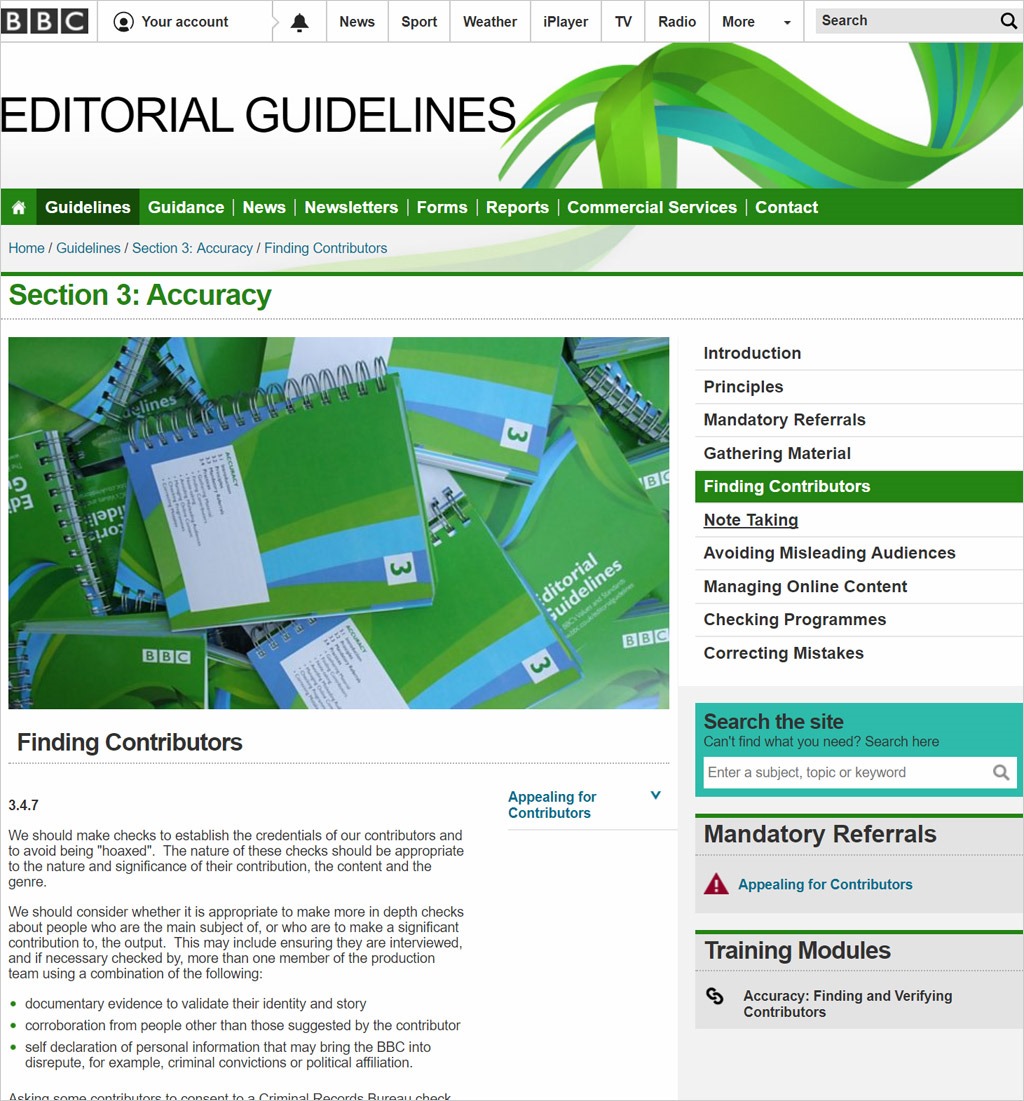 Some years ago, the BBC made public its complete Editorial Guidelines, previously a collection of documents only visible internally. It explains and sets out in considerable detail how the end-to-end process of research into a story, verification of it and related actions, to publishing it as news should be carried out and by whom.
Such public disclosure by a news-gathering and -broadcasting organization is a foundational element in trust of that organisation and what it does. It goes a long way towards generating the right climate for trust to be created and believed by other people. And this approach in explaining "Why you can trust BBC News" takes this to a new level.
In today's climate of general mistrust, we all need every help to foster the opposite – a climate of trust. It's a great example of what the mainstream media can do beyond the obvious to meet the three challenges I mentioned earlier.
(Photo at top via Pixabay. CC0)
Related reading:
Plus two recent episodes of the Small Data Forum podcast in which fake news and trust feature prominently in our discussion: