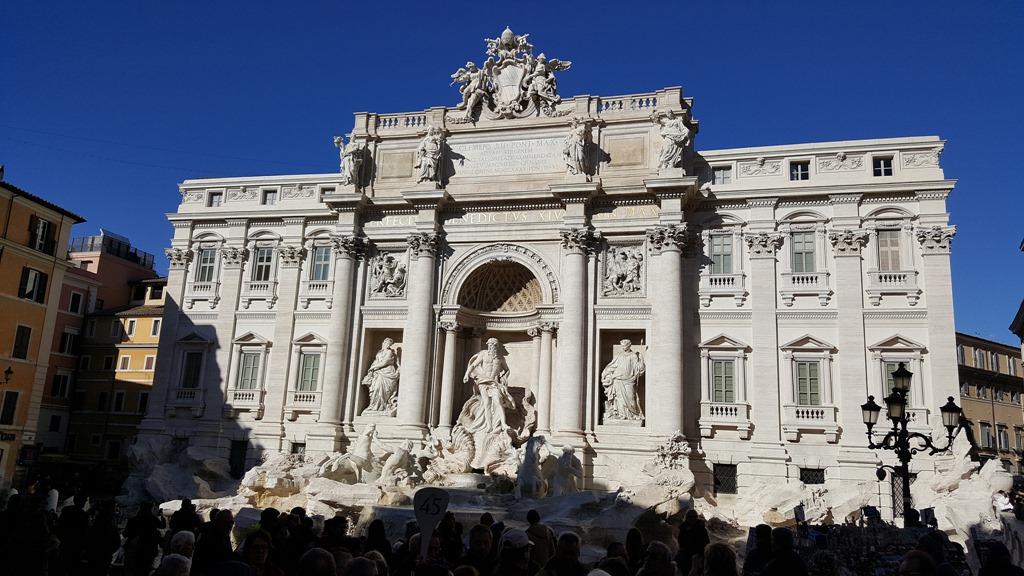 One of the great things about social media and social networks is the ability they offer to anyone to share a thought, an idea, or an expression, with anyone else who has a connection to the global internet.
Take the photo above, for instance. It's of the Trevi Fountain in Rome on a beautiful sunny late autumn day and I took the photo on a visit there in 2016. I've not widely shared it before now although it's been in my Flickr stream since then, and now it's embedded in this post.
What if you like the photo and want to use it in some way, personally or professionally? As I own the copyright to the photo, you'd likely want to reach out and see what permission you need to use it.
There's an easier and much simpler way to do that called Creative Commons. The licenses you or anyone can acquire from this non-profit organization are provided free and are based upon copyright.
They replace individual negotiations for specific rights between copyright owner (licensor) and licensee, which are necessary under an "all rights reserved" copyright management, with a "some rights reserved" management employing standardized licenses for re-use cases where no commercial compensation is sought by the copyright owner.
I began using a Creative Commons license when I started blogging in 2002. I saw it as a great way to enable others to make use of the words I write and images I create without the complexity and cost of traditional rights management. It made it easy for syndication especially.
So I made everything I create and publish in this blog available under a Creative Commons license, which continues thus today. That means anyone can use any of my content – words, images, audio, video – without asking me beforehand if they're willing to abide by the terms of the license.
It does surprise me that more people aren't aware of Creative Commons or the benefits its licenses provide to copyright owners and those wishing to use an owner's intellectual property. This is especially so regarding photography where demand for visual communication is increasing rapidly.
To help you see the light, here is a great guide to understanding Creative Commons and its licensing system written by Andrea Feustel at Copytrack.com, included in this post with their permission. Based in Berlin, Germany, Copytrack stands for just and fair management of intellectual property on the internet.
While the guide applies broadly to any content you can create and wish to share, the focus is very much on photography.
If you have searched for free images then you have probably come across Creative Common licenses (CC Licenses)
Despite them being a practical opportunity to handle image licensing quick and easily, there are still many image users unsure how they work.
Just because the licenses are without cost does not mean they are without rules. These rules can alter from picture to picture, each allowing the image user to use the images in completely different ways. To help understand CC licenses, Copytrack explains all the key signs, their different meanings, and what users have to watch out for when using CC Licenses.
Put simply, Creative Common licenses are licensing contracts that answer the most important questions when it comes to the rightsholder's rights. A key point to note is that CC licenses are valid worldwide. There are a lot of terms with the licenses that can be combined differently to create different contracts. All the licenses have one thing in common – they can be used for free. As well as an author and image, source must always be given and the licenses are irreversible. That means, if a photo is shared once with a creative common license it can never be removed.
To help users quickly establish how photos can and can't be used multiple signs are used to represent each term. The licenses vary in three major ways. First, the permission to edit work. Secondly, the ability to pass on modified version of the work. The last point defines if the image can be used commercially or not. The one rule that always remains is that the creators have to be named and sources have to be provided.
The four license terms can result in the following combinations and Creative Common licenses as letter codes:
CC by: This is the simplest license. The user is only obliged to give attribution. They are allowed to use, edit and use the photo for commercial purposes.
CC by-sa (Attribution & Share Alike): This license restricts the distribution of a modification of the photograph. This must be provided under the same conditions as the original work.
CC by-nd (Attribution & No Editing): This license does not allow you to edit the photo. However, it may be used for commercial purposes as long as the image is not modified in any way.
CC by-nc (Attribution & non-commercial use): This license prohibits the commercial use of images. Therefore, the use of the photo for profit-making purposes is not permitted, e. g. in an online shop or for resale of products.
CC by-nc-sa (named, non-commercial & share like): This license permits only non-commercial use of the photo. In addition, edited works may only be passed on under the same terms as the original.
CC by-nc-nd (Attribution, non-commercial use & no editing): This license allows you to use the image for non-commercial purposes; however, it is not permitted to edit the original.
Caution when giving attribution
All Creative Commons licenses require attribution. However, according to the license agreement, it is not enough to give only the name of the photographer. A number of assignments are required next to the name:
the name or, if indicated instead, the pseudonym of the copyright holder, usually the photographer
if the right holder has made an attribution to a third party (e. g. to a foundation, publishing house or newspaper), the name or designation of that third party
the title of the photograph
if a link to the source of the photograph or to the photographer is provided
the license under which the photo is offered
changes made by the user to the photo
Not everything is clearly regulated
In some areas, however, the CC licenses remain unclear. For example, the license terms do not explain in detail what is meant by the term "commercial". It is only defined as quite vaguely that a commercial act is an act which is mainly aimed at or directed towards a commercial advantage or a contractually owed monetary disposition. Not where the photo is used, but how.
In short, Creative Commons licenses are a way for photographers to share their photos with third parties in a controlled manner. Through their use, the photographer creates legal certainty in large parts, both for himself and for the photographer. This may also allow them to better distribute work. As the attribution must always be given, a picture passed on under the CC license can also have a considerable advertising advantage for the photographer.
About Copytrack:
Copytrack (www.copytrack.com) was founded in 2015 by Marcus Schmitt and currently employs around 25 people from legal, IT, customer service and finance. The service supports photographers, publishers, image agencies and e-commerce providers. It includes a risk-free search of the global Internet for image and graphics data uploaded by users at Copytrack are found with a hit accuracy of 98 per cent. The customers define if images are used without a license and even determine the amount of subsequent fees supported by an automatic license calculator on the portal. Copytrack is fully responsible for an out-of-court solution in over 140 countries as well as a legal solution in the areas relevant to copyright law. If the image has been successfully licensed, the rights holder receives up to 70 percent of the agreed sum. The pure search function is free of charge.