Since Twitter first appeared in 2006, the notion of sharing your thoughts and those of others in a concise 140-character message you can create and share from myriad devices has become an enduring aspect of the social web.
Today for many, it's an essential communication tool that enables direct and unfiltered connection between individuals that results in engagement and even relationships. For others, it's seen as a marketing channel that pays only lip service to authenticity. And for others still, it's a dark place filled with fake news, misinformation and propaganda.
One thing many of its roughly 100 million global daily active users might agree about is that Twitter can be a challenge to get a message across in only 140 characters. It often requires some smart thinking about words, grammar and meaning, requiring clever editing to get all you want to say into those 140 characters. It can be super challenging when you have URLs and hashtags to include, too.
So Twitter's news on November 7 that it has increased the maximum character limit to 280 – double the original number – is good news to those who wish for a larger canvas upon which to write their public thoughts.
My reaction was a positive one: while it may well encourage verbose junk tweets, overall I see it will be a useful aid to discussion and engagement.
The new 280-character limit that is rolling out to Twitter users worldwide follows testing Twitter conducted in September. Twitter says the novelty of being able to use double the space as before had people doing some innovative tweeting, flexing their new scope, as it were.
During the first few days of the test many people Tweeted the full 280 limit because it was new and novel, but soon after behavior normalized. We saw when people needed to use more than 140 characters, they Tweeted more easily and more often. But importantly, people Tweeted below 140 most of the time and the brevity of Twitter remained.
As you'd expect on Twitter, the news generated plenty of amusement along with criticism. The #280characters hashtag is a smorgasbord of the witty as well as the lame, and anything in between.
Not everyone likes it:
There's even an extension for the Chrome browser, published by Slate, that will only let you tweet in 140 characters:
If you're visiting Twitter.com in Chrome, 140 will cut everyone's tweets down to 140 characters. And better yet, 140 will restrict your tweets to 140 characters, too.
Others were imaginative in their embrace of 280 characters: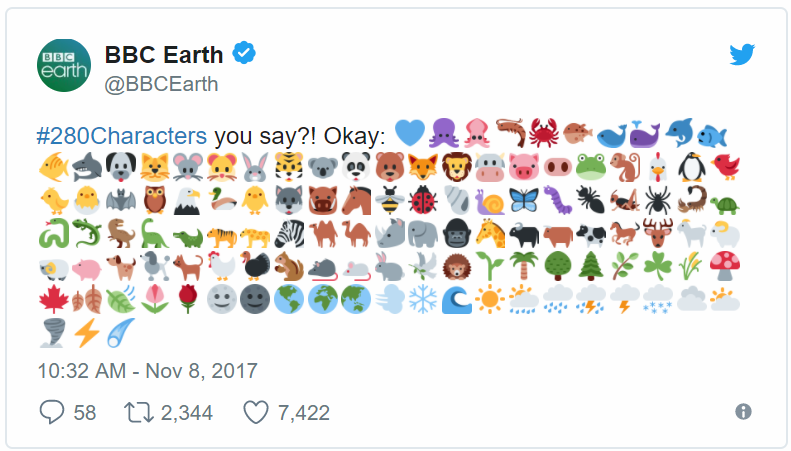 And the devilishly comical:
It's worth noting that the increase in available characters doesn't apply if you tweet in Japanese, Korean or Chinese. Twitter says:
Japanese, Korean, and Chinese will continue to have 140 characters because cramming is not an issue in these languages. In fact, these languages have always been able to say more with their Tweets because of the density of their writing systems. We shared more about this thinking and our research here.
Note, too, that this change doesn't apply to Twitter direct messages that you send privately to other users – the limit for a DM has been a huge 10,000 characters since 2015.
How does it work?
If you use the official Twitter app on your Android mobile device, you'll be able to tweet and retweet up to 280 characters. I was able to do that from yesterday morning. The same should apply on Twitter for iOS although one friend reported yesterday he couldn't yet. If you can't, it's worth checking your app store to see if there's an updated version for your mobile device.
If you use TweetDeck or the Tweeten desktop app for Windows, you will be able to use 280 characters.
It was a different story yesterday when I tried to tweet from a website using a Twitter sharing button – the popup window that appears when you do that only gave me 140 characters. It could be a caching issue as some commented when I tweeted about it, or maybe still to come in what Twitter is rolling out.
Will having 280 characters make any difference in your Twitter experience, how you use the service and how you interact with others?
It's a good question, one that Twitter offered some thoughts about from their September test:
In addition to more Tweeting, people who had more room to Tweet received more engagement (Likes, Retweets, @mentions), got more followers, and spent more time on Twitter. People in the experiment told us that a higher character limit made them feel more satisfied with how they expressed themselves on Twitter, their ability to find good content, and Twitter overall.
Even with double the character account for tweets, Twitter is designed for concise expression. If you want to write an essay, there's Facebook, Medium or your blog.
My own view is that having 280 characters available means that you will be able to express your thoughts, or add opinion to retweets, with the confidence that you will have enough space especially if you find 140 characters a ceiling you frequently bump up against (that's my experience about 60% of the time). That doesn't mean you will use 280 characters each time, just that you could if you think it's really necessary.
Happy tweeting!