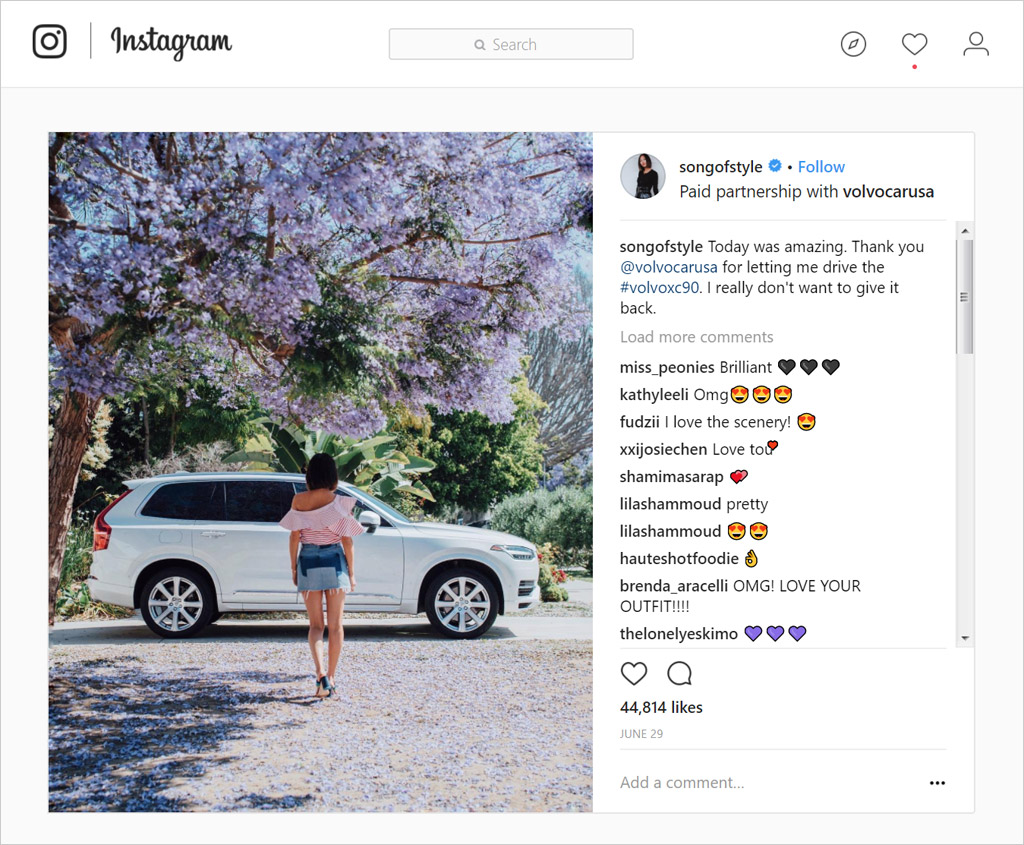 The Guardian reports on a rise in complaints to the Advertising Standards Authority (ASA), the UK advertising regulator, who says 'influencers' on social media sites such as Instagram and Twitter fail to declare that they are being paid to publicise products.
The newspaper defines 'influencers' thus:
Social media celebrities who have large and engaged followings online. They get paid money to publicise products and can command tens of thousands for one post.
This is about disclosure where the influencer publicising a product or service would makes it clear in his or her post that there's some kind of relationship with the brand owner and/or that the influencer receives compensation for that post, financial or otherwise.
It's common sense to disclose such relationships, to ensure there's no ambiguity and to improve transparency. In our current climate of fake news and mistrust, removing ambiguity and being wholly transparent surely are positive influencers of reputation, both for the influencer and for the brand.
Yet, according to the ASA, it's not happening with some influencers in the UK. It's a similar picture in the US and elsewhere, where a small number aren't practising good disclosure behaviours. Most get it right such as illustrated in the screenshot above where Californian fashion and interior design blogger Aimee Song is very clear about her relationship with Volvo Cars, for instance, when she posts a picture on Instagram.
So is it lack of awareness or understanding about the rules that are at play here? The ASA seems to think so although I find that hard to take really seriously in this age of global connectivity where it isn't hard at all to discover what's right and what's not. And remember the 'common sense' that I already mentioned.
Still, there clearly is a need for helping everyone involved understand the rules and best practice. The CIPR weighed in with its recommendations for members of the PR community with CIPR President Jason MacKenzie noting:
The growth of influencers on social media offers PR professionals new opportunities. But those opportunities come with responsibilities. The public have a right to know the difference between authentic endorsements and paid-for content
The Guardian quotes Guy Parker, chief executive of the ASA, and others, who make some wide-ranging observations on the influencer landscape in the UK and "what needs to be done." You can read that below.
---
This article titled "Social media stars breaching rules on promoting brands, watchdog says" was written by Sarah Marsh, for The Guardian on Thursday 5th October 2017 17.31 UTC
Social media stars are not following the law and telling fans when they are being paid to promote products, the UK advertising watchdog has warned.
It comes as new data from the watchdog shows a sharp rise in complaints about adverts posted on social media over the last four years. Figures reveal that there were 1,824 complaints about content on social networking sites in 2016, up 193% from 622 in 2012.
A recent case involved the online makeup Instagram blogger Sheikhbeauty, who promoted Flat Tummy Tea, described online as a herbal detox tea. In December last year, the blogger wrote: "@flattummytea 20% off guys!!!! If you've been following me you'll know i used this and I genuinely feel less bloated and a flatter tummy … oh yessss (sic)".
The Advertising Standards Authority (ASA) found that this breached the CAP code for non-broadcast advertisements because it was not clear that it was an advert.
In a similar case in June 2015, the reality star and fashion designer
Millie Mackintosh posted a video on Instagram under which she wrote: "80s vogeuing [sic] x yoga @Houseofvoga. More of my #BlendRecommends with @drinkj2o Spritz to come! #sp". A complaint that the ad with Britvic Soft Drinks Ltd was not clearly marked was also upheld.
The ASA put the rise down to the growing number of advertisers using platforms such as Twitter, Facebook and Instagram as their popularity grows.
Guy Parker, chief executive of the ASA, said a small but significant number of complaints related to social media stars and that they needed to work with brands to make sure ads were clearly labelled. Parker said that while progress had been made to get well-known figures on platforms such as Twitter and Instagram to be open about paid-for ads, "we are still not where we need to be".
"Too often we are seeing content that is clearly an ad and not identified as one. We are trumpeting this a bit and trying to raise awareness … We are trying to deal with cases that come across our desk to provide support, advice and clarity to brands and social influencers so they know when and how to disclose content," he added.
As social media has soared in popularity, so has the trade between marketers and "influencers", or social media celebrities who have large and engaged followings online. They get paid money to publicise products and can command tens of thousands for one post.
In the UK they are legally obliged to identify when such advertisements have been agreed by putting hashtag "#ad" with the post. Anyone not doing so is in breach of consumer protection legislation.
Parker said: "Some [people] do include #ad and, although we are in a better situation than a few years ago, we are still not where we need to be and that is very often due to ignorance [people not knowing the law]."
Daniel Knapp, an advertising researcher at the analyst firm IHS, said: "Consumers are saturated by traditional forms of advertising, such as TV breaks, online banner ads or outdoor posters. To combat advertising fatigue, marketers look to influencers as an alternative and more authentic way of selling their goods and services. Yet while many influencers are managed by specialist agencies, ultimately, brands work with individual people who may not adhere to the same standards and codes of ethics as a TV broadcaster or radio station selling advertising.
"Undeclared advertising and sponsorships are just the tip of the iceberg. Many of the larger influencers have become brands in their own right, who have launched makeup and product lines that they present on their social media channels. This leads to a further blurring of content and commerce that especially younger consumers struggle to navigate."
In recent years consumer protection bodies in the UK and abroad in the US have made efforts to crack down on social media stars who have deals with big businesses.
The UK's Competition and Markets Authority said: "It's vital that anyone getting paid for endorsing or promoting products online makes that clear. Unclear online endorsements can mislead shoppers and damage businesses playing by the rules.
"The CMA has been leading the way in this area with its international partners to help stop fake and misleading online reviews and endorsements. We've already carried out two enforcement cases against social media and marketing companies in the UK for misleading practices, and we're going further to protect online shoppers by providing clearer guidelines to businesses and marketing companies on their responsibilities under the law."
guardian.co.uk © Guardian News & Media Limited 2010
Published via the Guardian News Feed plugin for WordPress.