To many people, the phenomenon known as fake news is something that's moved beyond just a news item itself and into the realm of trust.
With so much reporting and commentary about fake news, it's no surprise that we're placing greater importance on verifying the truthfulness of what we read, listen to and watch that is called 'news.' Whether it's online or via the traditional mainstream media, or from companies, governments and others, we want to feel assured that what we encounter as news is real and not fake or propaganda.
Take the image above, a snapshot from the news I saw earlier today in the BBC News app on my Android tablet. To me, some of the news items look a bit suspect – "The politician who only showers every three days", for instance – but I trust it to be real news because it's on the BBC.
Yet such implicit trust in the medium reporting the news doesn't mean that concerns about fake news are diminishing. Quite the opposite. We're seeing a rise in efforts and initiatives by groups and individuals to identify it and combat it as well as efforts to verify and 'whitelist' sources.
For example:
While all these are going on, the fact remains that people generally are increasingly concerned about fake news and potential government intervention in the form of regulating the internet. How big this concern is, and the scale of the concern, is well illustrated in the results of a global survey into fake news carried out for the BBC World Service and published today.
The Scale of Concern
The results show that almost 80% of those surveyed worry about what is real and what is fake on the internet. This is the broad opinion from the 16,542 adult citizens across 18 countries, including 11,799 Internet users, that participated when the research was conducted by research and consulting firm GlobeScan between January and April 2017.
As internet usage has widened worldwide, anxiety about what is real and fake online has spread according to the report:
Brazilians are the most worried about this, with 92 percent reporting some level of concern. Other emerging economies also report high unease, especially in Indonesia (90 percent), Nigeria (88 percent), and Kenya (85 percent). Elsewhere in the world, reported levels of concern about fake Internet content are also quite high, ranging from 75 to 85 percent in most countries, with the exception of Germany – the only surveyed nation with a narrow majority (51 percent) stating that they are not worried about this.
The survey's findings also reveal that people are increasingly wary of expressing their opinions online.
In the tracking countries, a majority (53%) do not feel safe doing this in 2017, compared to 49% in 2010 when a previous such survey was conducted. Caution is more pronounced in developed economies, the survey report shows, while attitudes in developing economies are more relaxed.
The Regulatory Paradox
A significant aspect of this report concerns attitudes by survey participants to the notion  of increased government intervention through a greater regulatory framework over internet usage:
Despite their concern about fake internet content, a growing proportion of internet users are opposed to governmental regulation. On average, in the 15 tracking countries surveyed, the proportion agreeing that the internet should never be regulated by any level of government has increased, from 51 percent in 2010 to 58 percent in 2017.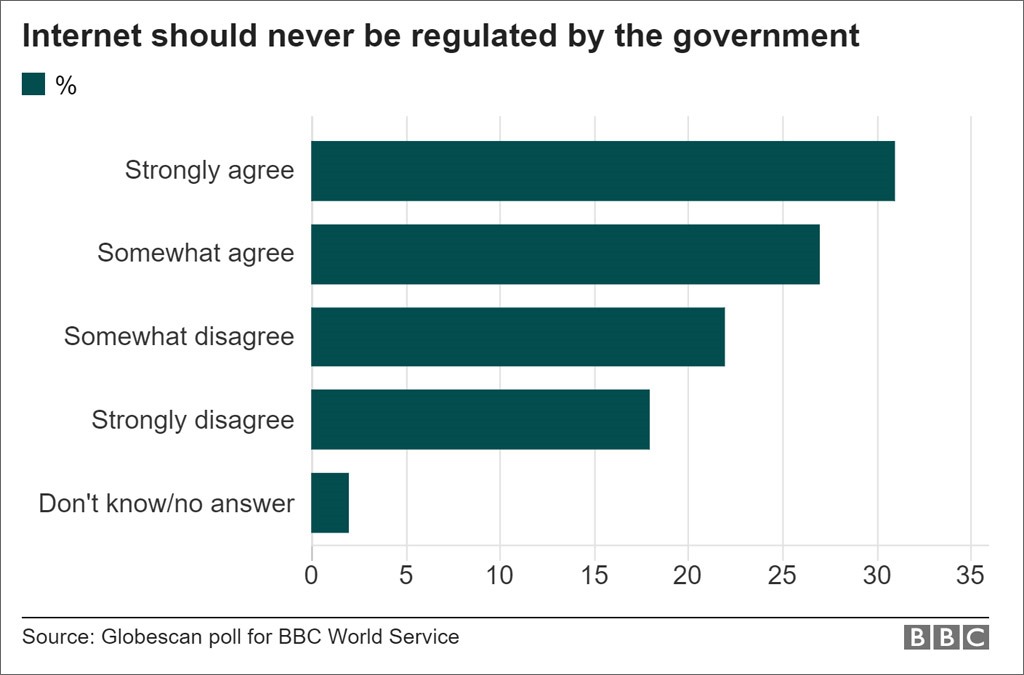 This push-back against regulation comes in the context of greater advocacy for ensuring universal access to the internet, the report suggests:
In the 16 tracking countries surveyed on this question, an average of 82 percent think that access to the internet should be a fundamental right of all people, up from 79 percent in 2010. In the same interval, internet usage has expanded globally, with 75 percent reporting personal use of it in the past six months in 2017, a jump of 16 points compared to seven years ago (59 percent).
The report goes into statistical detail and is worth a review.
It's not hard to conclude from this survey report that people wherever they are in the world are fickle and, largely, don't often know what they want (knowing more about what they don't want).
Overall it's a thorny issue, one that will be hard to balance to the satisfaction of everyone, whether by governments from the regulatory perspective or by legitimate content publishers trying to rise to the top above the fakery.
For the rest us, clearly it's caveat emptor.