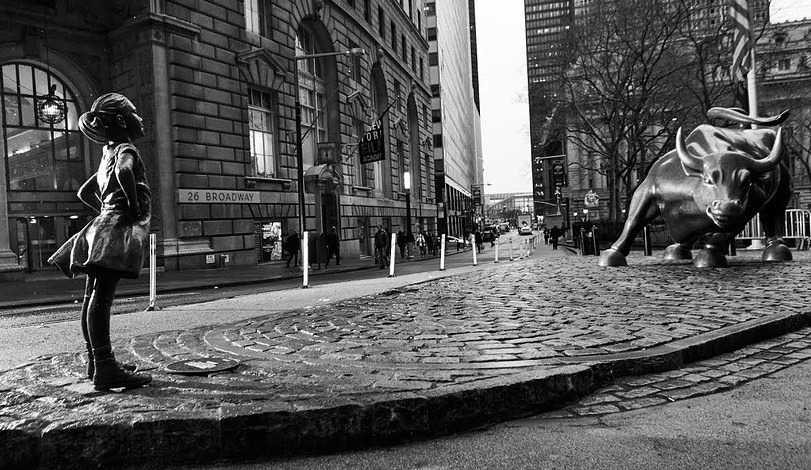 One of the hurdles along the road of seeing an end to the "advertising value equivalence" (AVE) measurement metric that's decried by many in the PR and measurement communities is persuading organisations to stop using it.
The issue with AVE is well summarised in a white paper published by The Institute for Public Relations in 2003, in which this succinct text appears:
We urge you to move away as quickly as possible from statements of the nature, "Our news coverage this quarter was worth $X million in advertising." Instead, talk about how you achieved your prominence goal, how your coverage gained in prominence over the year, or how you beat out your competitors in terms of the prominence of your coverage.
Calls to action within the PR community to stop using AVE can only go so far – clients and employers also need to be onboarded to the idea, and actively support it.
And what about the mainstream media? If they continue reporting how much such-and-such a firm's PR efforts are worth as an equivalent value to how much a firm would have spent on advertising, it adds perceived continued legitimacy to AVE, making it harder still to end the practice.
Here's an example of the problem – a report with the thumping headline "The Fearless Girl Is Worth $7.4 Million in Free Publicity for State Street" in Bloomberg Businessweek a few months ago.
The report is about the benefits the Fearless Girl sculpture have brought to it sponsor, State Street Global Advisers, an asset management firm. The statue was erected in Wall Street in front of the iconic charging bull statue, as an advertisement for an index fund which comprises gender-diverse companies that have a higher percentage of women among their senior leadership.
The statue formed part of an ad campaign run by the McCann agency, which won the Grand Prix at the Cannes Lions last week, advertising's biggest annual festival.
I came across the Bloomberg report by following a link from a story in AdWeek about brand activism. The link is this:
[…] A bullish (no pun intended) take on Fearless Girl is that it earned approximately $7.4 million in "free" publicity for State Street.
AdWeek's text (a good analytical piece by David Armano, who works for the Edelman PR firm) included quote marks around "free" unlike Bloomberg's use which didn't. Is that suggestive that a PR exec sort of "gets it" about AVE while a journalist doesn't?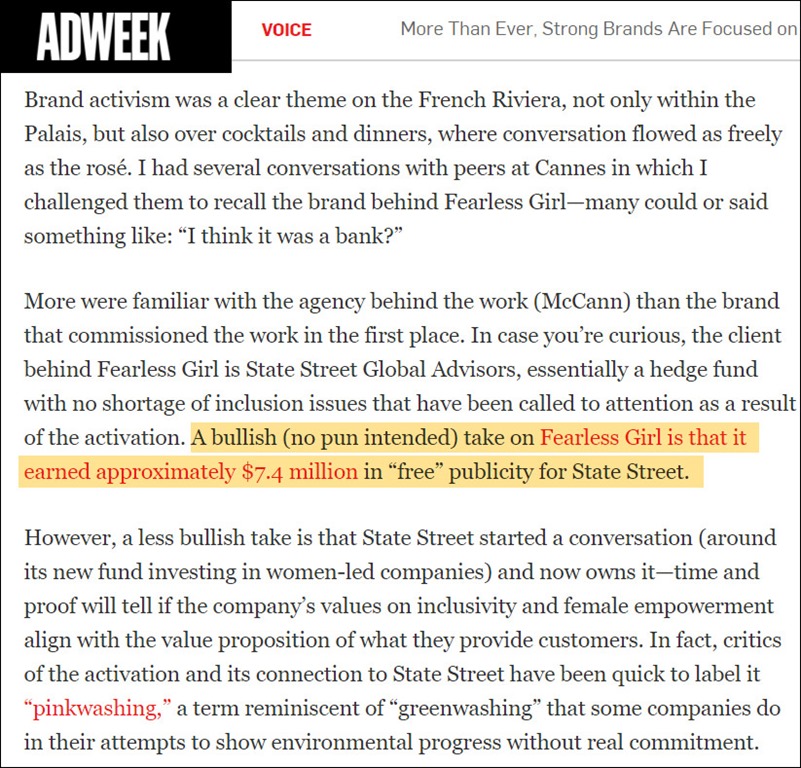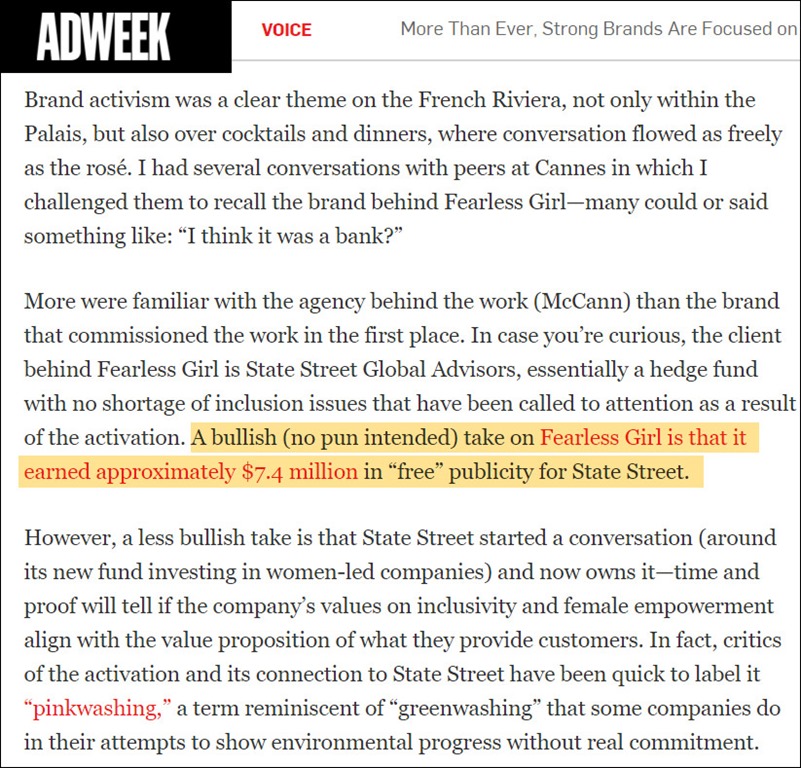 It seems to me that the hurdles about AVE are much to do with understanding why AVE is regarded with such disdain by many influential voices in PR and measurement, and why you should use a more credible metric (Stephen Waddington and Katie Paine each have good suggestions).
As for the implied question posed in the title to this post – How to get the media on board to end AVE – the answer lies in the same actual question PRs address with regard to AVE and clients or employers. In a word, education.
It should be a relatively simple process, shouldn't it? After all, we are communicators, are we not?
While you're pondering such questions, take a look at what else you'll need to think about as well: New metric, same old flaws: AVE mutates into EMV.
(Photo of Fearless Girl at top via Workthoughts.)