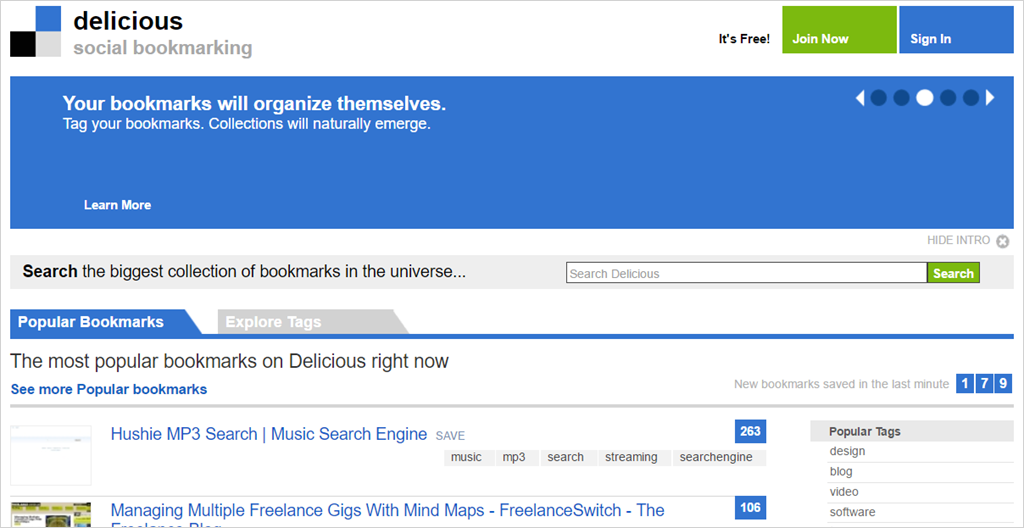 Bookmarking interesting content you encounter on your travels around the web is very much a second-nature act these days. See and save it now, read or share it later.
It wasn't always as easy as that until Delicious came on the scene in 2003 in the early days of the modern social web. It offered not only an easy way to bookmark websites and other content and save those bookmarks to your account on the Delicious website, but also organize the bookmarks via user-assigned tags and enable other Delicious users to find your bookmarks.
Delicious also made it very easy to share your content via RSS, an automated content sharing system that emerged at about that time.
I started using Delicious in 2004, finding it a very useful tool. I still have my account that contains nearly 28,000 bookmarks. It's quite a trip down memory lane looking over bookmarks from the early days.
Shel and I used it during the decade 2005-2015 that we presented The Hobson and Holtz Report business podcast, sharing links via the podcast's Delicious account of the topics we discussed in each weekly show.
Such a rich and influential history, and a major part of the fabric of the social web.

Sadly, that history is also rather chequered after the founders sold Delicious to Yahoo! in 2005. While it evolved and grew, it also suffered from downtime and unreliability as it passed from new owner to new owner over the ensuing years, resulting in an exodus of users.
Add to that other services that made bookmarking, tagging and sharing content in the cloud easier and the relevance of Delicious began to be less clear. Its future looked bleak.
Last week came news that Delicious had been acquired by another new owner – Pinboard, a rival social bookmarking site, founded in 2009.
In a June 1 post on the Pinboard blog, founder Maciej Ceglowski said that the site will stay online but will be read-only from June 15, 2017, meaning you won't be able to save new bookmarks after that date or use the API.
Is this the final end for Delicious?
That's not yet clear. In his post, Ceglowski said:
As for the ultimate fate of the site, I'll have more to say about that soon. Delicious has over a billion bookmarks and is a fascinating piece of web history. Even Yahoo, for whom mismanagement is usually effortless, had to work hard to keep Delicious down. I bought it in part so it wouldn't disappear from the web.
He added that users will have an opportunity to migrate their bookmarks to a paid Pinboard account. Those who prefer to bookmark elsewhere will be able to export their Delicious data soon.
Whatever the future might be for Delicious, at least its history in terms of more than a billion bookmarks can live on.