When the topic of artificial intelligence and cars gets discussed – it's a topic of frequent discussion online these days – it's often in the single context of self-driving cars.
While Google is a lead in many discussions about self-driving experimentation (where a car is largely driven and controlled by a wide range of technologies), electric sports car maker Tesla gets a lot of press due to its stylish sports cars that capture imaginations with their high speeds, market-leading battery innovation, automated driving capability, and competitive prices.
Tesla's also in the spotlight for owners of its cars getting killed in crashes where fingers point to the Autopilot technology in its cars being less than perfect for use on public roads that, combined with a driver not paying attention, is surely a recipe for lethal consequences.
Along with the ongoing discussions is lack of clarity over what people understand 'self-driving' to mean. In fact, there is no single definition of that phrase; rather, there is clear nuance in meaning as these definitions from the Automotive 2025: Industry without borders report (PDF) from the IBM Institute of Business Value (IBV) illustrate:
What is "self-driving"?
Automated: Driver must be present
Partially – Driver monitors automatic functions, cannot perform non-driving tasks.
Highly – System recognises its limitations and calls driver to take control, if needed. Driver can perform some non-driving tasks.
Fully – System handles all situations autonomously without monitoring by driver. Driver allowed to perform non-driving tasks.
Autonomous: No driver required
Limited – Designated areas where vehicles, infrastructure and the environment are controlled.
Fully – Integrated with other vehicles in normal driving conditions.
Much of what we see today falls under the 'automated' definition. Indeed, according to the IBV report, it's likely that we won't see anything like full autonomous driving in the mainstream for a long time, certainly not much before 2025.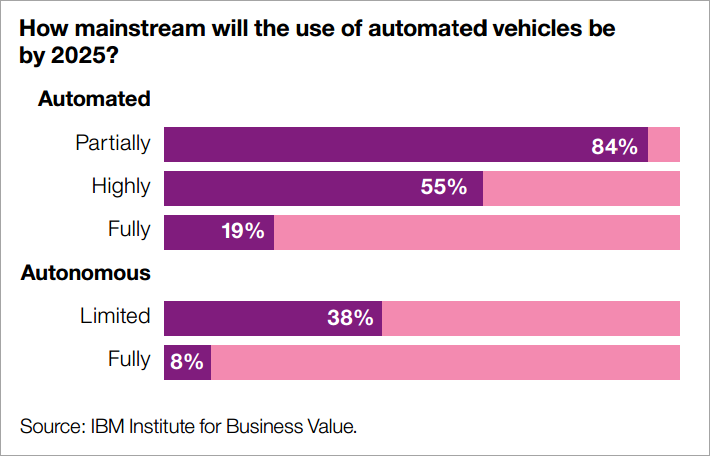 'Automated' is a different matter where we can expect to see considerable growth and more experimentation in the coming decade that will lead to partial mainstream use in a significant way.
Many elements are in play today, one of which – to circle back to the other conversation component that goes with 'cars – is artificial intelligence, a notoriously tricky phrase to define with clarity that anyone can actually understand, but the definition on AlanTuring.net isn't bad:
Artificial Intelligence (AI) is usually defined as the science of making computers do things that require intelligence when done by humans.
In the broad automotive context, AI often conjures up images of robots driving cars and lends itself very well to an emotive, scifi-ish, picture of self-driving cars. If you saw the original Total Recall movie from 1990, you'll remember Johnny Cab (see pic at top of page).
Yet AI is present in cars today in more fundamental, practical and visible ways that are largely to do with automating many driver-related tasks – making a phone call, navigating to a destination, or avoiding a collision, for instance.
The AI ingests data from sensors and other vehicle systems and makes decisions, the outcomes of which range from asking or alerting the driver, to taking actual action to avoid or minimise danger.
This is machine learning, a subset of AI, in action.
AI and the Connected Car
Recently, I gave a presentation on AI and the connected car at the 2016 annual conference of the Motor Industry Public Affairs Association (MIPAA), held at VW Group's UK National Training Centre.
I spoke about self-driving cars and much of what I mentioned above. But my focus was more on the big-picture shifts that are happening and coming where AI is but one element. As the MIPAA audience largely comprised automotive industry communicators, I wanted to help them see their role and purpose in this big picture, starting with a snapshot view of the buyers of their products – today's consumers:
Based on their digital experiences with other industries, today's consumers expect seamless, omnichannel and customized auto-related experiences
Today's consumers are increasingly willing to contribute to product and services innovation
Today's consumers know how to get information online and circumvent the standard processes that used to restrict their involvement with industry participants
Consumers clearly are in the driving seat, as it were, when it comes to the process of buying a car. This means that new ways of identifying them, listening to them, understanding them, and engaging with them, must be at the forefront in driving the sales process. This means rethinking that sales process, and has big implications on transforming learning development and training content and methods.
Indeed, the picture of the stereotypical 'sales schmooze' where the auto dealer salesman is interested only in the sale and hitting his sales targets isn't one that fits the going-forward picture.
Today's consumer knows a lot about the car he or she wants, either the specific brand and model or the characteristics and features of the desired car. And he or she has access to a treasure trove of information, online and offline, to help the influence and decision processes in car acquisition (where owning a new car might not actually be the desired outcome).
This is one example of the (continuing) disruption coming to the automotive industry between now and 2025 that comprises three distinct elements according to IBM's IBV:
Empowered consumers
Changing mobility models
A transforming ecosystem
And what of AI in this evolving landscape?
I mentioned earlier how AI is already present in cars today doing many practical tasks. So while self-driving cars may not yet get mainstream attention from the auto industry itself, there is plenty we will see in the coming years, some of which will seem eye-popping.
For more on my MIPAA presentation, here's the deck I used:
[slideshare id=67570474&doc=mipaa-ai-pub-161024082703&w=720&h=530]
Last week, IBM's World of Watson conference and exhibition took place in Las Vegas, attracting more than 16,000 participants. Watson is IBM's technology platform that uses natural language processing and machine learning to reveal insights from large amounts of unstructured data that includes news articles, research reports, social media posts and enterprise system data.
(I used to work for IBM and I'd say that this rather dry description doesn't do justice in helping you see the sheer scale, scope and speed of what Watson can do in so many different areas. This 90-second video might help).
One of the many Watson announcements out of last week's event was General Motors and IBM announcing a partnership to bring the power of GM's OnStar communications, in-vehicle security, hands-free calling, turn-by-turn navigation, and remote diagnostics systems together with IBM Watson to create OnStar Go, the auto industry's first cognitive mobility platform.
In an interview with the Wall Street Journal, GM CEO Mary Barra said the goal is to optimize driving time by connecting drivers to the world outside their car.
The system will use "the power of Watson to understand that consumer and make sure what we're putting in front of them is timely and relevant," she said.
What will OnStar Go look like when it's available in early 2017? According to Mary Barra:
[…] OnStar Go is designed to learn from users' behavior to deliver personalized offers from partners such as Exxon Mobil Corp. For instance, the system might alert drivers who need fuel to make it to their next destination and point the way to Exxon Mobil stations en route.
This is quite significant where Watson brings a truly cognitive aspect to how a driver interacts with his or her car. This is way beyond simple pre-programmed audio-visual responses.
Instead, Watson engages the driver – proactively in some cases – in a human-like way with natural language processing.
For a good idea of what that looks like, take a look at this slightly tongue-in-cheek video of the capability of Watson and how it will most likely act in more cars in the coming years.
IBM – Reinventing the wheel from Thieb on Vimeo.
Tongue-in-cheek it may be, but imagine your cognitive assistant in your car (and in the workplace – the car is just one example).
Look for complementary insights gleaned from broader trends reports. Mary Meeker in June this year, for instance, with her 2016 internet trends report (PDF). Check out slide 127 in particular that suggests a primary setting for using your voice to interact with a computing device (an AI, in our context):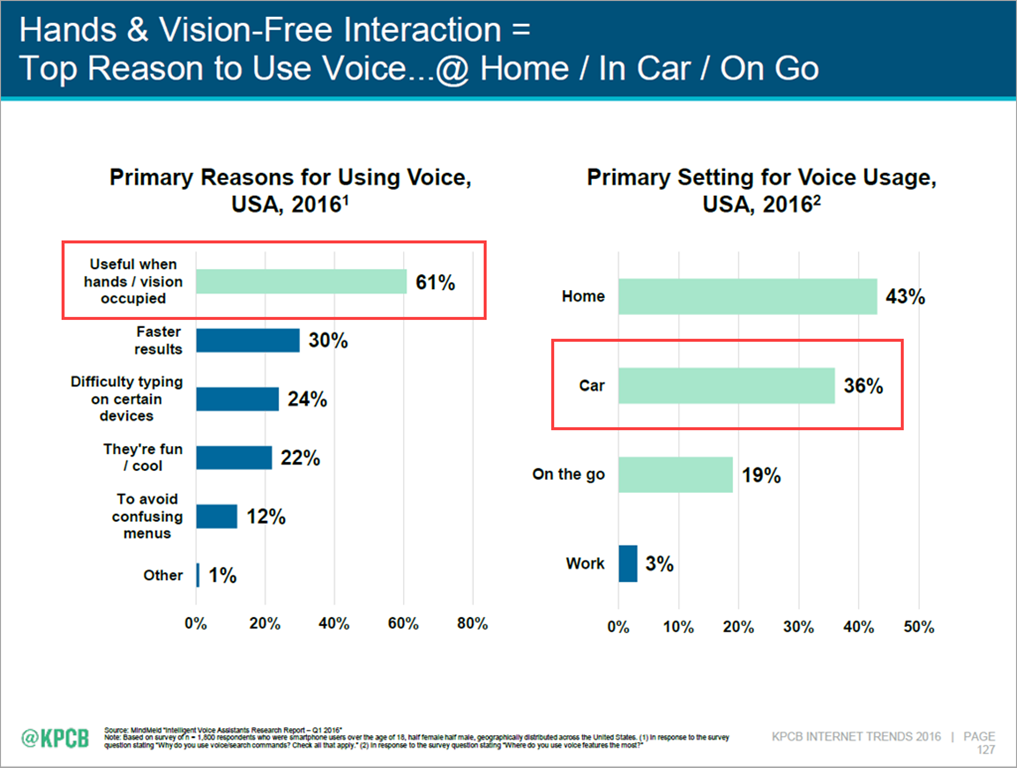 What's Next?
So where does this fit with what communicators are concerned about?
I say there's a clear opportunity for communicators to be the subject-matter experts on AI from the comms point of view. Be the go-to person for answers to questions that arise within your organization, and without. Take a proactive lead!
Above all, be sure you can answer or address questions like these six, with confidence:
How Ready Are You?
How will you apply analytics and cognitive capabilities to offer new transportation options?
What is your plan to assess the digital mobility interest of different consumer groups you want to target? How will you use that information to customize valuable digital experiences?
How will you identify and use the right channels to deliver recommendations to consumers so you can test their interest in additional digital functionality?
In what ways can you improve your innovation discovery process and strengthen your partnering competency to better serve the drivers and riders of tomorrow?
How can your organization get more engaged in the borderless automotive ecosystem, and how can you better leverage the ecosystem to learn from other industries?
Which social media and analytics tools can you use to reach more consumers and more influencers as you help transform the retail automotive experience?
That's what's next for you.
Additional reading: