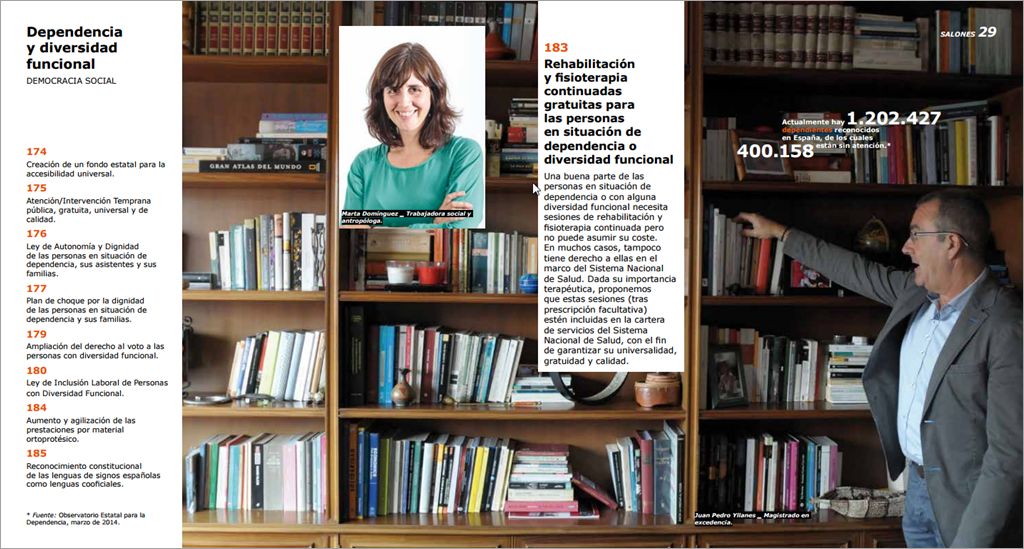 One of the foundational aspects of effective communication I've always believed in is to do with how you present your message to your intended audience.
You may have a terrific story to tell but if you can't attract attention to gain interest that leads to your desired action, you've most probably wasted your time and opportunity. It's a lesson most communicators, marketers and advertisers learned a long time ago.
It's a lesson clearly grasped by Spanish left-wing political party Podemos with the communication of their political manifesto to the voters of Spain.
Podemos – which means "We can" in Spanish – created their manifesto to look like an Ikea catalogue.
Hoping to get the program in the hands of people less interested in politics, the party designed and printed a 192-page catalog featuring its candidates in Ikea-like settings, albeit offering political issues—from financial regulations to increase in pensions to renewable energies—instead of affordable design.

The program, which can be bought for €1,80 plus shipping costs, is structured in two parts. The first contains classic Ikea sections: kitchen, bathroom, living room and so on, and in each, one aspect of the program is presented in bullet points and concise sentences, highlighting the program's numbers (jobs, investments) the way a furniture catalogue would do with an item's price. The second half has, instead, a more extensive (and traditional) presentation of the program.
The image above gives you an idea.
It's a highly imaginative and creative work. Double-page spreads present consumer-ish imagery of people – party figures, politicians, supporters – in exactly the kinds of settings you typically see in Ikea catalogues. The settings portrayed add believability to the words in those pages. Typefaces and sizes look very similar to those in Ikea catalogues, including the larger-sizes and bold attributes and use of colour to make some words and phrases stand out for attention.
Here's a good example – the double-page spread on justice and human rights:
Carolina Bescansa, co-founder of Podemos, told Spanish newspaper El Mundo:
If we want to achieve different objectives we have to take different measures. Our goal now was that the electoral program is the most widely read and so we have taken steps that could help.
She said that the objective of the Ikea-styled manifesto was to "generate impact."
It's certainly had that, outside Spain too, including newspaper headlines about flat-pack policies. See what you think of it – you don't have to cough up €1.80 for a copy, just download the PDF (and compare it against the current Ikea catalogue).
Imagination works
It's very good to see some creativity, imagination and style around political communication like this. It makes me wonder what such an approach might have done for the government here in the UK surrounding the EU referendum that takes place on June 23. Every household in the country received a brochure in April, setting out the government's position.
Here's what it looks like:
What the postman brought… #EUreferendum pic.twitter.com/9CWq3cH9SC

— Neville Hobson (@jangles) April 13, 2016
Imagine what it could have been.