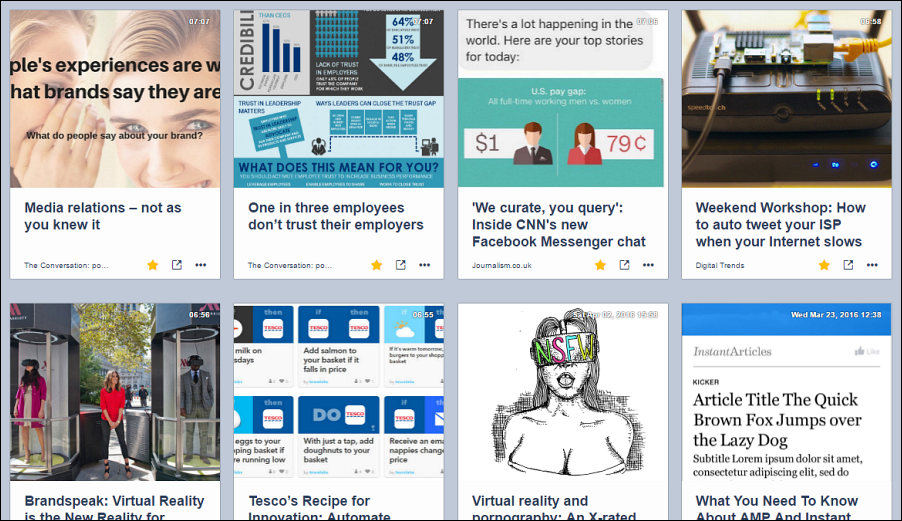 Catching up this weekend with news and information in Inoreader, my RSS reader of choice on every device I use, I selected a good dozen or so stories to blog about when time permits. They all join a long list of in-draft posts that, by the time I really do get moments to complete and publish them, the attention opportunities will probably be long past.
So I'll share some of the actual stories directly in this aggregate post that might enlighten your Sunday/Monday morning reading if you hadn't come across them until now. ICYMI, in other words.
3 great reads:
One In Three Employees Don't Trust Their Employers, says Rachel Miller citing a new report on employee advocacy by the Edelman PR firm. Miller says the report also highlights that more than two-thirds of employees feel their CEOs are too focused on short-term performance. As a result, employees are far less likely to say positive things about the company they work for.
Rachel quotes Edelman's Nick Howard, executive director of Edelman's employee engagement business in Europe, saying "the bad things [employees] say will be believed by consumers."
She has some keen advice for internal communicators:
Why not get employees involved in [announcing initiatives, etc] – we know people trust their peers, why not work with your workforce to have ambassadors in the truest sense? This means you can move to a state where your employees are the ones getting top billing in sharing news and views about your company, which is reinforced by your CEO.
The subject of ambassadors is one taken up by Andrew Grill, my colleague at IBM Social Consulting in his post The social ambassadors under your nose, published by the Australia and New Zealand Banking group on their blog. Grill notes that "the challenge is how you find, mentor and encourage these brand ambassadors, while keeping within company guidelines around social media, and in regulated markets deal with the issue of transparency and disclosure."
But it can be done, says Andrew, where those most likely to be great brand ambassadors are probably already comfortable using social media sites such as Twitter and LinkedIn, which make it easy to spot them. And his key point:
In my experience, those who are already proud about displaying where they work on their Twitter profile are in many ways already a brand ambassador, and the best people to engage with at the start of a brand ambassador program.
Bots have been in the news quite a bit recently, ranging from Microsoft's disaster with Tay last month to a slew of news about bots and more from Facebook founder Mark Zuckerberg this week during the Facebook Developer Conference.
One news organization at the forefront of seeing what bots can do for engaging with news consumers is the American broadcaster CNN who is trying out an interesting experiment in 'We curate, you query': Inside CNN's new Facebook Messenger chat bot, reported by Journalism.co.uk.
Chat apps and bots are two hot trends in the publishing industry right now, says the journalism site, so it was only a matter of time until someone put the two together. CNN is one of the first news organizations to adopt Facebook Messenger's new bot platform, said Alex Wellen, chief product officer at CNN, who told Journalism.co.uk that the aim in joining Facebook's bot platform is two-fold: a combination of publishing a more carefully curated selection of articles, and enabling readers to query these stories. Wellen added:
It's an opportunity to reach a global audience and connect in a way that's very personal but also at scale
I've tried it out and, while it clearly is a very early experiment, it responded well to my first query asking about the UK's forthcoming referendum on staying in or leaving the EU. The CNN bot served up a relevant story on its site published on April 15. A good start.
I'd expect to see this offered by many more news broadcasters soon. Looking forward to seeing what the BBC does. Read the full report on CNN's bot at Journalism.co. uk, and see CNN's announcement. Try it out!