The Volkswagen emissions-test-cheating scandal moved on a few miles/kilometres this week with developments that saw the VW group headquarters and some employees' homes raided by German prosecutors and criminal investigators, the CEO of the US subsidiary hauled in front of the US Congress to explain what happened (and where he admitted he knew about the cheating in 2014), finger-pointing gets underway, dire warnings emerge about potential restructuring and job losses, and a share price that has fallen by 40 percent.
As the company, politicians and regulators grapple with such weighty matters, there is a milestone worth noting in this sorry tale that could be a pivot marker for Volkswagen to build a foundation for the eventual recovery of its reputation, if it can survive the current fallout and what else may still come. After all, that's the bottom line in this saga – reputation. All flows to and from that.
This week, the company launched recall websites for each of its primary brands – UK sites: Volkswagen, Audi, Seat and Skoda – so that consumers can easily find out if their car is one of the 1.2 million in the UK (out of 11 million worldwide) with the malware engine management software installed that cheated the emissions tests in various countries.
The sites offer owners of cars from each of these VW-owned brands a quick method to check the VIN number of their particular car against manufacturers' databases. The result of such a check is straightforward – either your car has an engine requiring a software fix (and maybe hardware as well) or it doesn't.
As the owner of an Audi diesel-engined car, I was particularly interested in this, and so I ran the check against my car.
First step, click the red button and then enter your VIN number…
…Then hit 'Search.'
Within a second or two, the result comes back – either yes, you do have an engine requiring recall; or, as in my case, no you don't.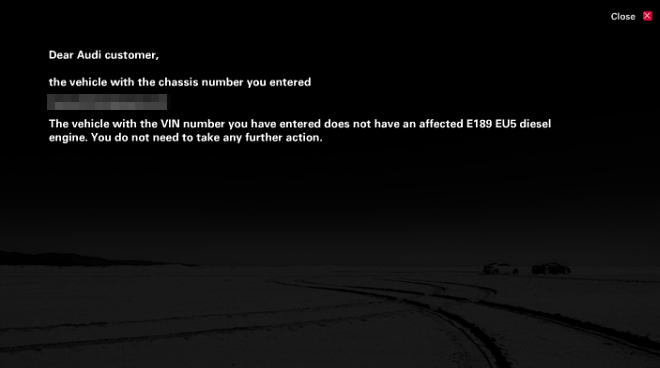 Either way, you'll know where you stand in terms of your particular situation as the owner of a car manufactured by a member company in the VW group.
Volkswagen has said that the recall of affected vehicles will begin in January 2016 and will probably take all of 2016 to complete. So, in essence, in a little over a year from now, the car maker should be over the huge hurdle of damaged goods that is the direct consequence of the emissions-test cheating that is damaging its reputation so severely. All else being equal, as the saying goes.
In thinking about Audi – I own and drive one as I mentioned earlier – I reflect on their logo and German-language advertising slogan "Vorsprung durch Technik" that's used in its global markets except the USA. Literally translated, it means something like "Progress through Technology." It's a good label for a premium-brand car company that is strongly focused on technology as part of the overall brand identity and experience.
The USA slogan is most interesting: "Truth in Engineering." A little ironic today, perhaps, in light of the emissions scandal. Still, isn't the scandal mostly about the people rather than the product?
Equally interesting is something I noticed upon visiting the Audi USA website when writing this post. The four-ringed Audi logo is there – but the slogan is gone. It's just the rings at top right of every screen, unlike other Audi country websites – Audi UK, for instance – that include the slogan as well as the logo in that same position.
Am I reading too much into this? The last time I visited that website, about six months ago, I'm pretty sure the slogan was there. Perhaps it's been gone for a while. Maybe.
As a final thought, let me say that reputation takes a very long time to build and foster yet, by comparison, only moments to damage or destroy. It's nowhere clear yet whether VW's reputation – corporate and each brand – is on a slippery slope to permanent tarnish (or even destruction) or on a path to redemption over time.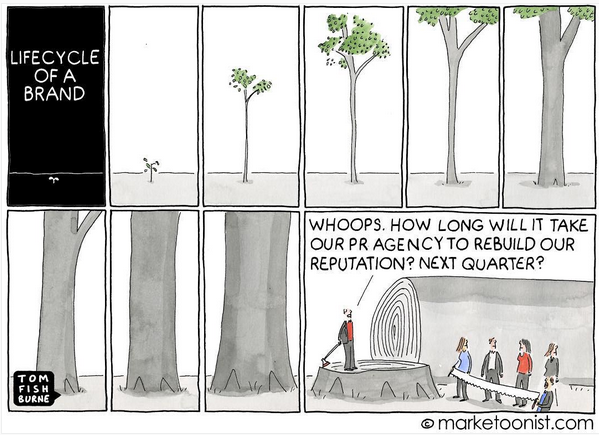 As another saying goes, time will tell.