In just a few days, on July 29, Microsoft will begin the public rollout of Windows 10 in 190 countries. If you want to upgrade your desktop or laptop computer, it's a free upgrade in specific circumstances. Lifehacker has a simple flowchart that makes it quite easy to see if you qualify.
The only difference to this chart is that Windows 8 won't get you the free upgrade but Windows 8.1 will. According to Microsoft:
The only requirements are that a) your device is compatible, and b) you're running genuine Windows 7 Service Pack 1 (SP1) or Windows 8.1 (Update).

Windows 10 is designed to run on Windows 7 and Windows 8.1 PCs. That means your device is likely compatible and will run Windows 10.

See the full specifications here.
You don't have to get the upgrade immediately if you don't want to – you'll have a year from July 29 to get it for free. Otherwise you'll have to buy a license just as you have had to do with previous versions of Windows. What's different this time is the free upgrade offer.
Once you have upgraded your computer to Windows 10, you'll be able to create an install disk on a flash drive that will let you do a fresh install from scratch if you wish to. Microsoft says such an install disk is yours to keep for free as well.
Starting a few months ago, you may have seen a popup window on your desktop saying that you could reserve a free copy of Windows 10 upgrade that would be available to you from July 29. If you accepted that, you'll have a little Windows icon in your system tray.
You'll also have that confirmed in the Windows Update section of Control Panel in Windows 7 or 8.1.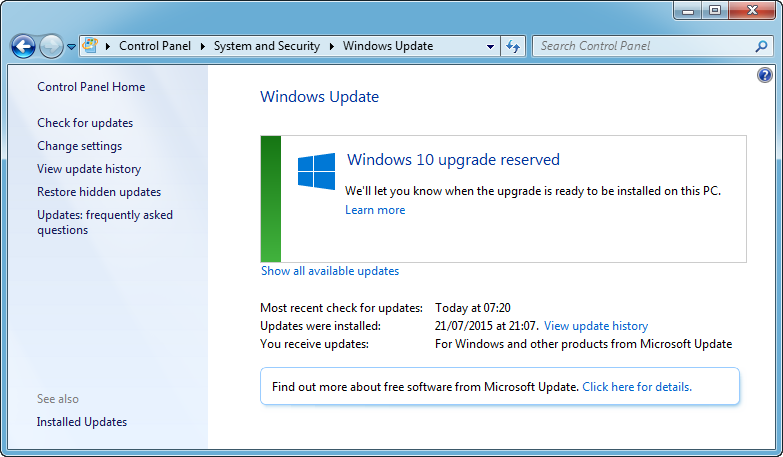 And what about editions? What 'version' of Windows 10 will you get?
Microsoft explains it:
Note the small print – the free upgrade offer does not apply to enterprise-edition customers (that's typically large companies) who will have different offers.
So what can you expect with the Windows 10 upgrade? How easy will it be to install? What issues might arise?
If you think about it, this is quite an exercise. Imagine the thousands if not millions of different configurations of computers around the world, a fair number of which will have some issue or another. Some won't have up-to-date video drivers perhaps. Or maybe a niggling problem in Windows 7 the user never got around to fixing. It will be amazing if everyone's upgrades go 100 percent smoothly.
Yet I think you can expect a pretty good experience if you're prepared. Being so isn't difficult:
Make sure your current qualifying Windows version is legal and as up-to-date as it can be via Windows Update. Best thing is to ensure it's configured for automatic updates and let it do its work for a few days.
When you do get a notification that Windows 10 is ready to install, close every single program you might have running so that your PC can devote all its resources to the Windows 10 upgrade process from the start of it.
Keep all the peripherals you use – printer, mouse, webcam, multiple monitors, etc – connected so that Windows can see all those devices and migrate settings as required. And of course, ensure your PC is connected to the internet.
As a member of Microsoft's Windows Insider programme, I've been running beta versions of Windows 10 for the past eight months or so. The latest beta build 10240 released to Insiders about ten days ago is as flawless an upgrade as it got for a beta. It suggests quite clearly that you should expect a flawless upgrade experience, all else being equal.
Indeed, some industry journals are saying that 10240 is the RTM version of Windows 10. Maybe it is; my thought was that it definitely has the look and feel of finished software, as I noted in a post to the Insider community forum on July 16 (if you're an Insider, you can read it in full):
[…] 10166 was a really good update in terms of overall polish, reliability of operation, looking like a final. Hard to add more to that but 10240 looks even better. It has a definite look of final, release-version software. For the first time, a terms of use text appears along with a screen explaining some of the features in Windows 10, eg, Edge browser.
Either way, Windows 10 is almost upon us so be sure you're ready. I think Windows 10 is the best Windows yet, even better than 7.
See also:
Sean Hollister writes about his upgrade experiences in Gizmodo, a post a day (here's Day 1 and Day 2). Very much worth reading.
When should businesses upgrade to Windows 10? ZDNet has insights from industry experts.