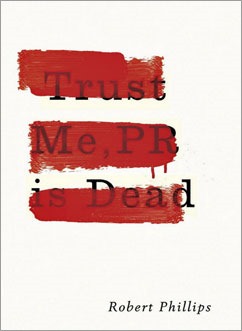 Robert Phillips stunned the PR agency world when he walked away from his prestigious position as CEO of Edelman EMEA. Phillips explains his decision in Trust Me, PR is Dead, in which he calls for an end to the PR industry and advocates instead for a new model of public leadership (as the replacement for PR) and public value (the role of corporations which, Phillips believes, need to adopt a reinvented kind of capitalism that focuses as much on contributing to society as to their bottom lines).
Phillips came to Edelman when the agency he cofounded – Jackie Cooper PR – was acquired. While at Jackie Cooper, he was instrumental in the development of ground-breaking campaigns, including "Hello Boys" for Wonderbra.
Today he is co-founder of Jericho Chambers, which helps organizations become the kinds of organizations he believes corporations need to be – a vision he articulates in his book, which The Huffington Post called "Thrilling…a passionate revolution."
FIR co-host Shel Holtz has a different perspective, which he shares in this FIR Book Review.
Listen Now:
Get this Podcast:
Book Info
Trust Me, PR is Dead
Publisher: Unbound
Hardcover, 336 pages
Published June 18, 2015
ISBN-10: 1783520833
ISBN-13: 978-1783520831
Purchase at Amazon US (Kindle version not yet available), Amazon Canada (Kindle version not yet available), or Amazon UK (Kindle version).
Share your comments or questions about this podcast, or suggestions for future reviews, in the online FIR Podcast Community on Google+.
You can also send us instant voicemail via SpeakPipe, right from the FIR website. Or, call the Comment Line at +1 415 895 2971 (North America), +44 20 3239 9082 (Europe), or Skype: fircomments. You can tweet us: @FIRpodcast. And you can email us at fircomments@gmail.com. If you wish, you can email your comments, questions and suggestions as MP3 file attachments (max. 3 minutes / 5Mb attachment, please!). We'll be happy to see how we can include your audio contribution in a show.
To receive all podcast in the FIR Podcast Network, subscribe to the full RSS feed.
(Cross-posted from the FIR Podcast Network.)