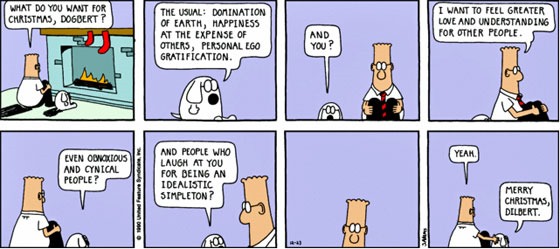 Greater love and understanding for other people – these aren't bad sentiments this Christmas 2014 when you consider some of the recent events that have caused such grief and anguish around the world.
"Peace and goodwill to all men," is a verse in the King James Bible often quoted at this time of year. While there may be precious little going on in the world to encourage belief in  the meaning of that phrase, it only needs each of us to practice its meaning for it to make a difference. As Dilbert does in Scott Adams' cartoon from December 23, 1990.
That's 24 years ago. Not much changes, does it?
Merry Christmas!