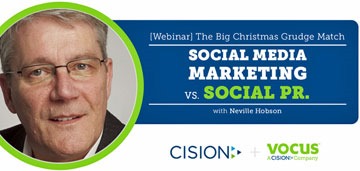 Can you really separate out social marketing and social PR? Or are they just two sides of the same coin? And are there actually start and end points?
I've partnered with Cision and Vocus to address these elements of a big topic in a free webinar we're presenting on December 9 that will help you bring a clear focus to your social communications planning and execution in 2015.
Here's the heart of what we'll be doing:
Discover the communications strategies, tactics, and channels used by marketers and PRs to identify the best – and worst – practices. Along the way, we'll be asking the big questions, like:

When should PR and marketing work together?
Where is one more effective than the other?
Can they and should they be separate at all?

Save your spot at the webinar to make sure your social communications are ready for 2015.
Some big expectations! But I'm confident you'll get some insights that will help you.
Join us on Tuesday December 9 at 14:00 UK time for 60 minutes of great discussion. It's free, so sign up now.
[Update December 21:] My thoughts about the webinar: Social marketing and social PR: never the twain shall meet? Cision and Vocus have posted the webinar recording.