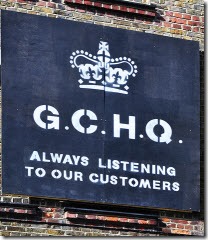 Here's another paragraph to add to the debate about privacy, surveillance, spying and the whole gamut of who does what, how and why with digital information that you think is yours and private but in reality is in the spies' domain.
Last night, Channel 4 News broadcast a 10-minute report in its evening news show that revealed how Cable & Wireless, one of the UK's largest communications firms, had a leading role in creating the surveillance system exposed by Edward Snowden in which the GCHQ plays a leading role.
I didn't hear the words "alleged" or "allegedly" mentioned in the report.
The essence of Channel 4's story is this:
[Cable & Wireless], which was bought by Vodafone in July 2012, was part of a programme called Mastering the Internet, under which British spies used private companies to help them gather and store swathes of internet traffic; a quarter of which passes through the UK. Top secret documents leaked by the whistleblower Edward Snowden and seen by Channel 4 News show that GCHQ developed what it called "partnerships" with private companies under codenames. Cable and Wireless was called Gerontic.
Watch the full story:
This is just another revelation in a litany of exposure of government surveillance – due largely to the actions of Edward Snowden – that suggests there is nothing any of us can really consider as private.
If what Channel 4's report portrays is true, then fiction really is fact.
It's not only governments, though – private companies are equally as bad, according to two reports in recent months.
Take a look at a sobering report in the November edition of Wired magazine in the UK that recounts the experiences and findings of reporter Madhumita Venkataramanan in her investigative piece entitled My identity for sale:
Earlier this year, I became curious about the personal-data economy. It has grown relentlessly into a multibillion-pound business of tracking, packaging and selling data picked up from our public records and our private lives. As I dug deeper into the world of trackers, it reinforced my anxieties about a profit-led system designed to log behaviour every time we interact with the connected world. I was aware that the data generated by apps and services I use daily – from geolocation and cookies to social-media tracking and credit-card transactions – was building a record of my past. Combine this with public information such as Land Registry, council tax and voter-registration data, daily location routes and social-media posts, and these benign data sets reveal a lot – such as whether you're political, outgoing, ambitious, pessimistic, uptight or a risk taker. […]
And there's more – check this report in the Telegraph on October 10 in which Sir Iain Lobban, Director of the GCHQ until the end of October 2014, says that big companies snoop on the public more than GCHQ does:
[…] In his first print interview, Sir Iain told the Daily Telegraph that the public should be more concerned with what private companies were during with their personal information.

"Look, who has the info on you? It's the commercial companies, not us, who know everything – a massive sharing of data," he said.

"The other day I bought a watch for my wife. Soon there were lots of pop-up watches advertising themselves on our computer, and she complained. 'It's that b***** Internet' I tell her."
Reality: anything you say or do online is up for grabs by the spies, whether from the government or from private companies. Reminds me of MAD magazine's Spy vs Spy comic strip back in the day.
Yet this is no laughing matter.
(Photo at top by George Rex, used under Creative Commons license.)