Some places you visit give you a palpable feeling of the event or events they mark or commemorate. You can literally breathe in and feel what it was like at the time it happened.
That certainly was my experience on a visit to Runnymede on October 31, from the moment we drove into the car park past The National Trust sign stating that we had arrived at "The birthplace of modern democracy."
This place, in between Windsor and Staines in southern England, is best known for the role it played as the site by the banks of the River Thames where, on June 15, 1215, it is widely believed that King John affixed his seal to a document known as the Magna Carta, imposed upon him by a group of his subjects, the feudal barons, in an attempt to limit his powers by law and protect their rights.
Our visit to Runnymede was to enable our friends, Shel (my podcasting partner) and Michele Holtz, to see this place on their visit to the UK this past week. I've been here before, but the last time was well over 20 years ago.
And so we strolled across the meadow on a beautifully sunny and unseasonably mild October morning to be at the place that marks a milestone in history that has had a direct influence on the fortunes of many countries over the centuries.
Without doubt, this place is one of major significance yet has none of the glitz or shallow commercialism that afflict so many places of historic interest.
The site where King John  and the feudal barons gathered to consummate Magna Carta is tucked away among trees, with understated majesty in its location and its temple-like construction.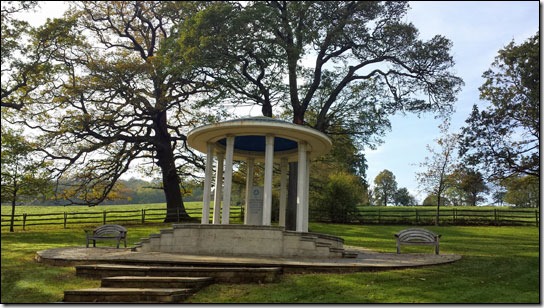 I hadn't realized, until this visit, that the structure marking the physical place of Magna Carta was built and is maintained by the American Bar Association.
Yet it's not hard to see why there is such a strong connection as the principles of Magna Carta are foundational to the American constitution and the shared belief between the UK and USA in the individual freedoms and rights of its citizens under the rule of law.
Within the temple-like structure sits the symbol of Magna Carta, a rounded tall stone obelisk with the simple words "To commemorate Magna Carta, symbol of freedom under law."
This is about symbolism, which makes it easy for me to visualize the events that took place on this site in 1215.
I can imagine King John sitting here with those who spoke for the feudal barons, surrounded probably by entourages, soldiers and horses and other men.
The royal barge would likely have been moored at the riverbank.
What kind of gathering was it, I wonder. Given that John was forced to accede to the demands of the barons and so agree to the Magna Carta – the alternative being a bloody civil war – it was likely not a happy, smiling social gathering.
With the document now bearing the seal of King John it was a done deal, as it were. Yet the sealing in 1215 proved to be a failure in terms of preventing a bloody war as King John subsequently refused to accept and abide by the Magna Carta, the document he had sealed himself.
That led to a civil war known as The First Barons' War from 1215 to 1217.
But, what took place at Runnymede on that June day in 1215 was an important part of the subsequent protracted historical process that eventually led to the rule of constitutional law in England and beyond.
You can read more in the Wikipedia entry, which has substantial links to other reference material on Wikipedia and elsewhere.
Another significant aspect of Runnymede, that we also visited, is a memorial to an event that occurred in the 20th century, almost 750 years after Magna Carta.
That event was the assassination of US President John F. Kennedy in November 1963, marked by a memorial and the acre of land in which it was placed, given to the United States: that acre of land is American soil.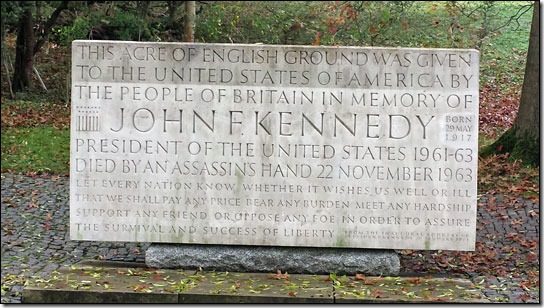 These two sites of special interest, marking significant events centuries apart, are a good reminder of the connected values we hold dear in a turbulent world, and what they symbolize to each of us.
If you've done the maths on the dates I've mentioned, you'll note that next year, 2015, is the 800th anniversary of Magna Carta. I expect we'll see more mentions of Magna Carta leading up to next June, which I hope will lead to greater discussion about and understanding of its principles.