Sometimes you see an app for mobile devices that's simply brilliant in the idea and concept of it.
Such is the case with SnapDonate, a new app for Android devices that lets you make a snap decision, 'snap' the charity, and donate there and then – I guess that's how they came up with the name – right from your smartphone or tablet.
Here's how it works:
Load the app and point your phone's camera at a charity logo wherever you see one.
The app will automatically recognize it if it's one of the nearly 70 it currently can (and you can find more with the app's search tool).
Select an amount to donate, starting from the minimum of £2 (about €2.50, $3.20).
Add a message, your name and an email address if you want a receipt (all optional), or connect with your Facebook account.
Hit the send button and your donation will be on its way to the charity of your choice via JustGiving, the world's top platform for online fund-raising. (You can also save your intent for later – handy if there's no network connection where you are at that moment.)
I tried it – installed the app on my Galaxy S4 and went through the procedure that really is simple and fast.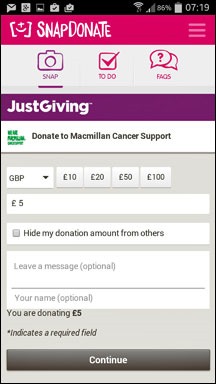 There's no doubt that, from capturing a charity's logo where you see it – in my example, Macmillan Cancer Support from the logo on their website – you can complete and send a donation in less than a minute.
I did encounter some flaky behaviour using the app, though – it crashed whenever I took one of the screenshots – and it didn't actually get me to the completion point: sending the donation. I sent in crash reports each time. I see the app on Google Play is version 1.0.0 and requires Android version 2.3.3 or later (my S4 runs 4.4.2) so hopefully things will be fixed in the next update soon – reinforcing the wisdom, perhaps, of waiting for version 1.0.1 of anything. Note that a version for iPhones is coming soon.
Still, the idea is excellent even if the execution is a bit flawed at the moment in my experience.
I like the idea a lot, especially for situations such as when I come across a charity volunteer collecting outside the supermarket or in the High Street, and I don't have actual cash on me. It always sounds pretty lame when you say, "Sorry, I don't have any cash." If the collector sports a big logo, I can snap it and donate cashlessly there and then or save for later.
With Christmas fast approaching, the pressure on everyone to support causes with donations will be mounting. While no one can support everyone, SnapDonate will certainly make choosing a favoured charity simpler and actual giving easier while you're on the go.
(Via TNW)