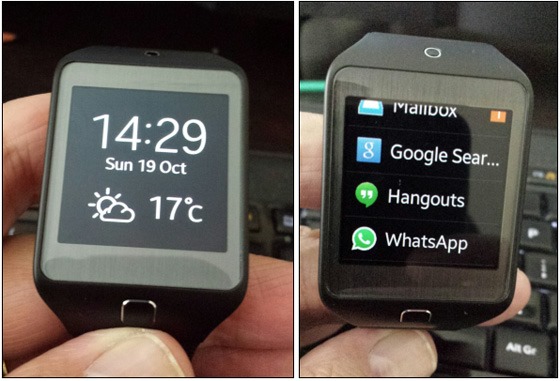 I speak and write quite a bit these days about wearable technology, a topic I have a keen interest in.
While the overall tech is a major part of my interest, it's also largely about how people use it, especially in one area that's getting a lot of attention – smartwatches.
As I don't have one myself, I've been thinking about which one to get. It surely is hard to talk about a device with even a little credibility if you don't use one yourself.
After spending time these past few weeks in considering different devices, including asking friends for opinions and reading many reviews, today I bought one – a Samsung Gear 2 Neo, pictured above.
Of all the smartwatches currently on the UK market that I considered – the list included not only direct competitors like the Pebble Smartwatch, Sony SW2 and the LG G at the premium-price end, but also really low-cost brands out of China such as Foxnovo, Lemfo and Lenofocus – I kept circling back to the Gear 2 Neo.
Part of the reason is trust in the Samsung brand as someone whose other mobile devices are Samsungs. And the big plus – the Gear range is geared, as it were, specifically to Samsung devices to enable a range of rich features, many of which I find compelling.
These include:
Seamless pairing via Bluetooth with my Galaxy S4 smartphone (Samsung has made 17 smartphone models able to pair with the Gear 2 Neo).
Receiving notifications of incoming messages, etc, from a wide range of apps installed on the S4 smartphone including Twitter, WhatsApp, Google+, Facebook and many more.
Ability to manage and customize many aspects of the smartwatch from the smartphone with the Samsung Gear Manager app.
The Gear 2 Neo has 4 gigs of internal storage so you can store lots of content, from video and audio to installable apps from Samsung's App Store.
Very easy-to-understand interface – you don't really need to read the manual.
Excellent hardware build quality including dust and water resistance.
Beautiful screen size and resolution – 1.64-inches, 320 x 320 pixels, Super AMOLED touch screen.
I expect to discover more as I get to know the Gear 2 Neo.
The device also lets you interact with it for a range of fitness-type activity such as heart-rate monitoring, a pedometer, etc. Those don't interest me at all – so played no factor in my purchasing decision – and as a Twitter friend mentioned to me earlier today, devices like Fitbit do a far better job of that.
Where I think the Samsung Gear 2 Neo will excel is in areas like notifications of events from apps (how seamless will that be especially in a workplace environment or when out and about?), customization and installing third-party apps.
One other device I did briefly consider was also from Samsung –  its entry into the Android Wear market with the Samsung Gear Live, coming very soon. In my view, that's one for the very early adopters (see this review by TechRadar), which I don't want to be for my first smartwatch.
The Samsung Gear 2 Neo is a really nice device; I am pleased with it and feel I made a good decision. Still, time will tell: review to come once I've kicked its tyres a while.