I don't think many people would disagree that Apple creates some of the most beautifully-made products in their range of mobile devices.
None currently is more desirable than the iPhone, a smartphone that is held in high esteem by the millions of people around the world who have used one or more of the evolving models since the first-generation device was launched in 2007.
The iPhone and Apple's iOS operating system, together with smartphones running Google's Android operating system, collectively accounted for over 96 percent of global smartphone shipments in August 2014, according to IDC, a market intelligence firm. Such a metric has been so for a significant period of time. Windows Phone, Blackberry and others are mere blips by comparison.
It's an impressive market position for iOS and Android devices.
What's probably more impressive to note is that smartphones that run iOS – ie, iPhones – are made only by one manufacturer: Apple. On the other hand, Android-powered smartphones – think of dominant player Samsung's Galaxy range, for instance – are made by ten different companies.
Such light analysis of the smartphone market and where the iPhone sits in it runs through my mind when thinking of the latest generation of the iPhone launched in early September – the iPhone 6.
I was fortunate to be able to examine an iPhone 6 up close up a few weeks ago for this review thanks to mobile operator Three UK.
In the few days I had to get to know the iPhone 6 – it arrived on the day when the fiasco of Apple's iOS 8.0.1 upgrade began – I focused mostly on the device itself rather than the apps you can run on it. As an ex-iPhone user (I was a firm iPhone fanboy with an iPhone 3G many years ago) and now a firm Android user with my current Galaxy S4, I was interested in what this latest generation of iPhone looked like and how it performed, and how it compared to my own experiences with my Galaxy S4.
In a nutshell, these are key specs that most people might ask about when considering an iPhone 6:
Overall size: 138.1mm high x 67mm wide x 6.9 mm thick (5.44 x 2.64 x 0.27 inches).
Display: 4.7 inches (diagonal) Retina HD display, 750 x 1334 pixels – bigger than any previous iPhone model.
Processor: A8 chip with 64-bit architecture, plus M8 motion coprocessor.
Internal memory: 16Gb (the model I reviewed); other capacities: 64Gb, 128Gb.
External memory: None (and no capability for any, eg, SD cards), in common with all Apple mobile devices.
Cameras: 2 – primary (rear) 8 megapixels; FaceTime (front) 1.2 megapixels.
Video: 1080p HD video recording (30 fps or 60 fps), Slo-mo video (120 fps or 240 fps), time-lapse video.
Cellular and wireless connectivity: 3G, LTE 4G (depending on model and plan with mobile operator); 802.11a/b/g/n/ac wifi, Bluetooth 4.0, NFC.
Battery: 14 hours talktime on 3G; 10 hours online (internet) use; up to 10 days (150 hours) standby time.
Sensors include: Touch ID for optional secure sign-in to the device and to your Apple account using your fingerprint (first introduced in 2013 with the iPhone 5S).
SIM card type: Nano-SIM. iPhone 6 is not compatible with micro-SIMs and other card types used in iPhone models earlier than the iPhone 5S.
Colours: Space Grey (the colour of my review unit), silver and gold.
Would my getting to know the iPhone 6 in a short space of time make me desire one?
Here's a concise overview of my impressions of the iPhone 6 with photos, and with my conclusions at the end.
1. Unboxing
As any iPhone user will tell you, the presentation of the iPhone itself is a huge part of the overall experience. That means the arrival of your iPhone 6 and the unboxing.
The box itself is a great example of high quality manufacturing, feeling substantial and looking pretty good. I especially like the bevelled silhouette-like impression of the device itself on the top lid.
Unboxing the iPhone 6 is an enriching experience.
Great quality about the box itself
Presentation of the iPhone within the box is a huge part of the first experience
Contents packaged perfectly
High quality applies throughout, from the box itself to the device to the accessories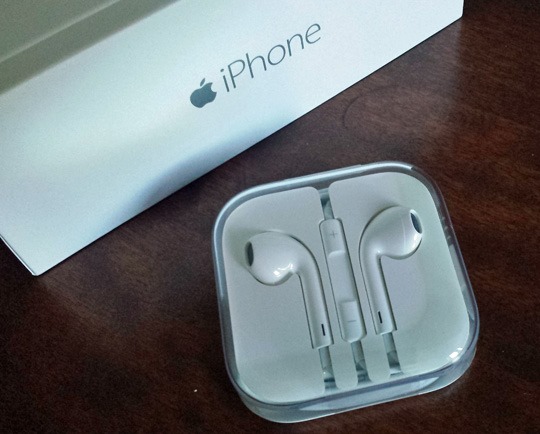 2. The iPhone 6
The first impression I had when removing the phone from the box was regarding the gorgeous design, the height of minimalism.
This is a piece of technology that is beautifully designed and beautifully and flawlessly manufactured. It feels comfortably substantial in your hand without feeling heavy. If you're an existing iPhone user, it will be precisely as you expect in this regard, perhaps even exceeding what you expect.
It's made of anodised aluminium, stainless steel and glass, materials you might think would add weight. Yet it feels lighter than an iPhone 4S, a much smaller iPhone.
The attention to design and manufacturing detail is evident on the iPhone 6's rear case – superlative Apple branding: the reflective Apple logo on the back, typeface of the iPhone name, small print about where it's made, all beautifully executed.
The second immediate impression I had was regarding the glass screen and how it reaches the edges of the device on every side, and curving slightly at the edges where it meets the device body.
You might be able to get a sense of that in this photo (the iPhone 6 is the phone nearest the camera).
The device in the photo immediately behind the iPhone 6 is an iPhone 4S; it's quite clear to see from the angle that the 4S is considerably thicker than the 6.
And for further perspective, the 6 is quite a bit larger than a 4S.
In fact, the iPhone 6 is about the same overall size (and feels about the same weight) as my Galaxy S4 and of the latest Galaxy S5, give or take a millimetre or so. The screen size on both of those Samsung devices is larger than that of the iPhone 6 as you can see in the photo below. (If a really large iPhone is what you want, look no further than the iPhone 6 Plus, a good 0.8 inches taller than the iPhone 6 and with a 5.5-inch display.)
I think it's valid to compare the 6 with a Samsung Galaxy S4 rather than only an S5, the Android phone probably closer to the iPhone 6's features and performance. If you're thinking about upgrading from an S4 and the S5 is in your sights, then an iPhone 6 should be a device you would also consider and compare. You can see the similarities and differences between a 6 and an S4 in a handy comparison guide published by GSM Arena.
In using the iPhone 6 during the few days I had it, it proved to be a delightful device to use. The A8 processor made everything run fast although an influence in that would be because the device is out of the box, so to speak, with no customizations or other apps installed, no photos hogging the storage space, etc (unlike my S4).
Because of the iOS 8.0.1 upgrade problem – it knocked out cellular capability on the iPhone 6 until Apple released a fix a few days later – I couldn't try out using the device as a phone on Three's network, nor use 3G or 4G cellular connections for data. But I'm sure both would be great – I say that because, coincidentally, I am a Three customer already with my Galaxy S4: phone and SMS services are fine, and using 3G and 4G for data (internet, email, social networks, etc) are equally good, wherever I typically go in the UK.
A few other things impressed me as well:
The battery seems to last forever. It may have a rating of 10 hours for internet use but my experience of some quite heavy use over wifi connectivity – at events I was at in London where I took loads of photos, tweeted a lot and looked at things on websites – resulted in the battery still with over 30 percent available at the end of a full day.
A hardware mute button: I've always liked that on an iPhone.
Stereo sound from the single speaker is excellent
The Lightning connector: excellent, you can insert it into the iPhone 6 port any way and it goes in, unlike regular microUSB connectors which only go in one way.
The inbuilt camera app is very fast to load and fast to take pics – better than the Galaxy S4.
I love Touch ID, the security system that uses your fingerprint. A simple set up, and fast recognition of your fingerprint with multiple scans when you touch the home button. A more convenient method, perhaps, of authenticating who you are when buying multimedia and apps from iTunes, and paying for them with Apple Pay when that rolls out.
3. The Bottom Line…
And to the verdict – would I go for an iPhone 6, either as an upgrade when my current Three contract is up for renewal (another year to go, though) or just start another one?
The better person to answer that would be my wife who uses Apple devices (iPhone, iPad). She currently has an iPhone 4S. She resisted the iPhone 5 saying it was too big. But just one glance at and a touch of the iPhone 6 produced the instant reaction of "Ooh, I want this!" Coincidentally, her current 4S contract is expiring and she's eligible for an upgrade with her mobile operator, Vodafone.
And that's probably how many people will look at this:
If you currently use a modern Android smartphone such as a Samsung Galaxy 4 or 5, or one of the new Sony or LG phones, you would likely hesitate because there isn't much truly compelling that would make the iPhone 6 a quantum leap ahead of other devices from the technical point of view in ways that would be visibly notable to the average user.
If you have an iPhone 5 model, you might have similar thoughts as well; if you have an iPhone 4S model, an upgrade to a 6 would give you noticeable improvements in your user experience, eg, everything is way faster compared to the 4S.
And of course, if you're an Apple fanboy (or fangirl), embedded into "the Apple experience," well, you'll move up to an iPhone 6 no matter what.
Much will depend, too, on what kind of use you intend with this device. If lots of phone calls and text messaging is what you want, an iPhone 6 is overkill – you'd be just as well off with keeping your current smartphone and, when your contract runs out, getting a SIM-only deal that includes lots of minutes and texts.
If you want a device to use primarily as a powerful mobile computer where cellular is another way to get online, then an iPhone 6 would give you the latest tech for that in the Apple ecosystem. Three UK in particular offers plans that include all-you-can-eat data – no data limit – which is what I have with my Galaxy S4 contract. I wouldn't go with a plan or an operator who limits data use and surcharges you if you go over the limit.
So you have to consider the mobile operator, the type of plan and the cost. iPhone 6 is not cheap with prices for many monthly plans that I've looked at across all mobile operators in the UK coming in at up to £10 a month more than for other smartphones, depending on the plan, with varying upfront costs from free to £99 or more.
It looks to me as though the iPhone 6 is being positioned in the UK as a premium branded product with pricing to match. I wonder where that will fit when Apple rolls out the Apple Watch next year which has all the look of a premium fashion brand rather than just a high-tech wearable gadget.
Nevertheless, the iPhone 6 is an outstanding device from the design and manufacturing perspectives. It showcases the best of Apple's hardware and software technologies that, until the advent of imaginative competing manufacturers and improved versions of Android, meant Apple really had little real competition. Still, many credible reviews (see below) laud the iPhone 6 as the best smartphone on the market today, anywhere in the world.
So I'd summarize the bottom line like this:
If you already use an iPhone, especially a 4S or even earlier, the iPhone 6 is definitely worth considering whether and when to upgrade to.
If you're with a recent comparable Android device, there isn't much justification to switch to an iPhone 6 no matter how desirable the iPhone 6 appears to be.
The cost of monthly contracts from UK mobile operators may well hold the balance of decision-making when compared to Android and other alternatives on the market, many of which are significantly lower monthly cost.
Decisions, decisions!
Some good in-depth reviews I've seen include: