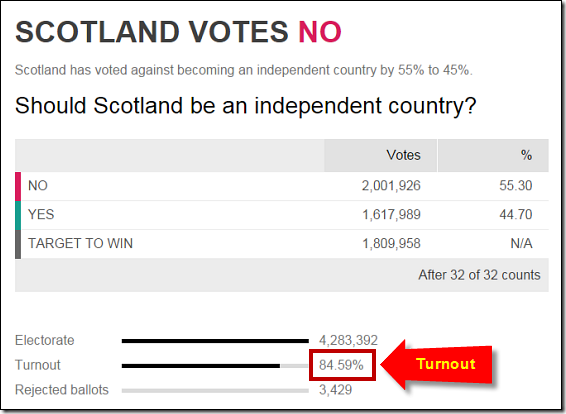 The referendum on independence that the voters of Scotland participated in on September 18 was a close result. But the nays had it in the end by a ten percent margin.
What struck me most about this referendum was the voter turnout – almost 85 percent of the 4.2 million Scots registered to vote actually did vote. I've seen it reported that this was the highest voter turnout in any election of any type in the United Kingdom since 1918, the year that women won the right to vote.
Clearly there are significant differences in a rare event that can radically change the very nature of a country compared to an election in which you vote your political representatives into a parliament every five years. But surely there are lessons to be learned (the favourite phrase of politicians!) in not only the outcome of this referendum but also the campaigning beforehand and how the passionate minority – politicians and citizens alike – influenced the views of many in the voting majority to actually get out and vote never mind vote in a particular way.
Of all the politicians I saw and heard in the run up to last Thursday's voting, none had an impact on my thoughts as much as Gordon Brown, the former Prime Minister, in a passionate speech supporting the Union between England and Scotland that he gave the day before voting.
You can listen to it here, see what you think:
(Audio extracted from the BBC News video report available on YouTube.)
I was never impressed with Brown as Prime Minister. But what an orator! In this speech, there was no script in his hands, no prepared statement he read. Just the power of his words and how he spoke them.
Would such passion – believable passion at that, genuine not scripted – make much difference in what voters think and do as politicians make their cases to those voters? Some might say that's what they already do. I don't support that view at all, certainly not from watching and listening to almost any politician today.
I think politicians of every stripe should be examining what happened in Scotland last week and considering what they need to do to aim for such high voter turnout when the general election arrives in May 2015.
Do we really want to repeat the dismal showing that saw UK voter turnout of just 36 percent in the European elections earlier this year, and even worse elsewhere in Europe? Surely not. But you have to make it interesting enough for voters to believe they want to become engaged, want to have their say.
You have to persuade voters to believe.
That's a great deal to do with communication, specifically:
Having a compelling story.
Understanding which media are the most effective means to connect with voters in every single instance of reaching out with your story.
Being honest, open, authentic, credible.
Telling your story really well, in such a way that it will stimulate an action – in this case, engaged voters having their say, too.
Is it possible that politics might get really interesting between now and May 2015?
Related post: