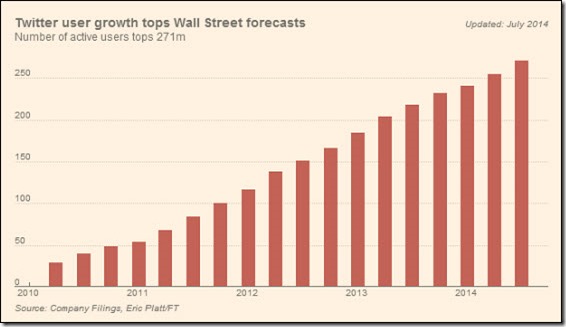 Twitter reported its financial results for the second quarter 2014 this week:
Q2 revenue of $312 million, up 124% year-over-year
Q2 net loss of $145 million and non-GAAP net income of $15 million
Q2 adjusted EBITDA of $54 million, representing an adjusted EBITDA margin of 17%
Depending on which media report or commentary you read, it's either an unimpressive financial performance, or a strong performance to silence critics.
Either way, a common view in mainstream media reports is that the results exceeded financial analysts' expectations.
One other significant element in the earnings announcement is growth in the number of users, as the Financial Times chart above shows – a consistent increase every quarter since mid 2010 to arrive at today's number of 271 million average monthly active users, an increase of 24 per cent over the same period last year.
The combination of financial results that exceed expectations and continuing user growth are facts that the stock market and investors like. Indeed, the FT's report includes a bottom-line statement:
[…] Shares rose to $51.25 in after-hours trading, the highest price since Twitter reported its first results as a public company in February, prompting the stock to plummet. The stock is almost double the price at which Twitter listed last year.
One other aspect I find interesting relates to what Twitter is, ie, how people now describe Twitter.
In media reports, you'll see it described variously as a "micro-blogging service" – that moniker arose in the very early days of Twitter – or a "social-networking service," both labels used in a BBC News report. It's a "social network," says the Telegraph. The FT calls it a "messaging platform" while The Wall Street Journal says it's a "social media company."
And Twitter? How does the company describe itself? From the 'About' paragraph in the earnings report:
Twitter (NYSE: TWTR) is a global platform for public self-expression and conversation in real time. By developing a fundamentally new way for people to create, distribute and discover content, we have democratized content creation and distribution, enabling any voice to echo around the world instantly and unfiltered. The service can be accessed at Twitter.com, via the Twitter mobile application and via text message. Available in more than 35 languages, Twitter has 271 million monthly active users. For more information, visit discover.twitter.com or follow @twitter.
Compare that to the mission statement on the Twitter corporate page:
Our mission: To give everyone the power to create and share ideas and information instantly, without barriers.
And note the latest user metrics on that page:
271 million monthly active users
500 million Tweets are sent per day
78 percent of Twitter active users are on mobile
77 percent of accounts are outside the U.S.
Twitter supports 35+ languages
Vine: More than 40 million users
Clear?