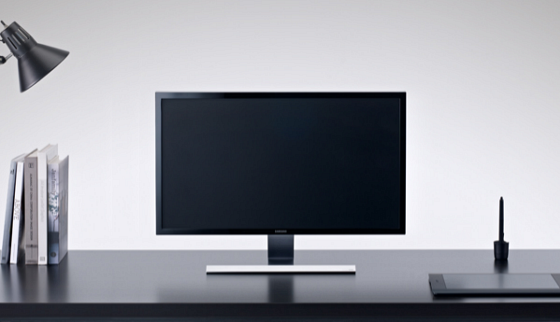 An important item on my tech shopping list is an ultra high definition (UHD) monitor to go with the new desktop PC I'm planning to buy for the home office. So when Samsung UK's PR agency asked me if I'd like to test drive Samsung's new 28-inch LED UHD monitor just launched in the UK, why would I say no?
And so late last month, a big box arrived containing a brand new Samsung U28D590D 4K UHD monitor manufactured in May 2014, a sticker on the back said. And it's been the primary display screen connected to my Dell home office desktop PC for the past few weeks. It's certified for Windows 8 (the Dell mine is connected to runs Windows 7).
One key thing to mention straightaway – this is not a touch-screen monitor.
Here's a quick summary of what I noted and was particularly impressed with from the moment I hooked it up to the PC:
It's simplicity itself to set up. Unpack from the box, peel off all the protecting plastic film, affix the stand, connect to the graphics card port on your PC, plug in the mains lead, turn it on. Your PC or Mac will recognise it and set up a monitor driver. You should then install the specific Samsung monitor driver for this model that comes on a CD or let your operating system find it online. That's basically it to get started.
One preparatory step I did take beforehand was to update the graphics card driver on the PC. It has an Nvidia card installed and, if you run a Windows PC, it's always a good idea to have the latest WHQL-approved driver whatever brand of card you have.
The screen resolution is fabulous even if you can't get the full 4K UHD experience and have to settle for what your PC and graphics card is able to support, which will likely be full high definition (FHD, also known as 1080p), the native resolution of many modern LCD or LED monitors, typically 1980 pixels wide by 1200 pixels high for a 24-inch monitor (which is the size of the AOC LED FHD  monitor I have that the Samsung replaces).
Absolutely gorgeous colours – a billion, says Samsung, if it runs at 4K UHD resolution if you connect with the DisplayPort 1.2 interface – along with crisp and clear graduation of colours and shades of grey. This is the best I've ever seen on any monitor.
4K UHD is stunning compared to FHD – rich, vibrant colours and four times the resolution. The peacock picture below tries to illustrate this to show the difference in colours and resolution between FHD and UHD.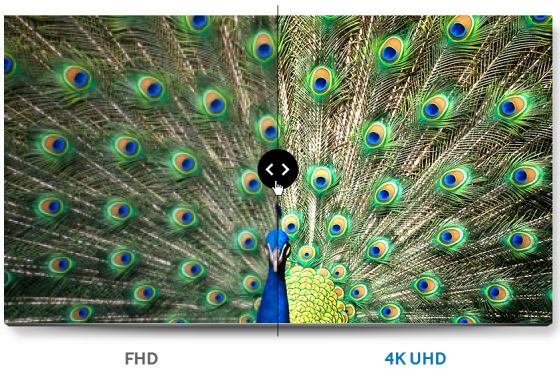 Screen refresh is literally instantaneous with no visible pauses or juddery imaging, which is what you might expect to experience if running a program, watching a movie or playing a game that is extreme in its demands of the graphics processing system and memory of your computer. This is where a powerful graphics card with a fast GPU and lots of video memory is important, along with a DisplayPort interface ideally, or an HDMI port to connect the monitor to the PC. (The Samsung monitor has one DisplayPort interface and two HDMI ports, both to the version 1.4 HDMI standard. I'm currently connected via HDMI.)
That works on a similar principle you may already be familiar with on televisions – you need the biggest bandwidth connection between the TV and, say, an Xbox or even your cable TV box to pump the significant amount of audio-visual data at the highest speed you can get. Hence DisplayPort or HDMI, both far superior for this than the typical DVI ports you find on most computer monitors (and many TVs).
I haven't yet played any contemporary games with this monitor, but I have watched quite a few movies, both on high-definition Blu-ray disc and streaming via Netflix, as well as live TV from the BBC and catch-up TV via iPlayer. In every case, the viewing experience has been an awesome one with smooth, crisp and clear images that make the most of the monitor's capabilities (plus the PC's processor and memory,  graphics card and HDMI connection, as well as a pretty good 154Mbps wired broadband internet connection).
And I've created, edited and watched a fair number of PowerPoint presentations. The ones I create tend to have lots of graphics, mainly screenshots, so saving content and displaying it can be quite resource-heavy on the computer's graphics system. With this monitor, it's a breeze with hardly a lag in screen refresh when I open up a typical 80-meg PowerPoint deck.
In case you're wondering what's the big deal about UHD and 4K, let's address that.
UHD means that the monitor can display content at 3840 pixels wide by 2160 pixels tall resolution, which is four times as many pixels as full high definition (FHD), the resolution typically at 1920×1080. The American Consumer Electronics Association has a great definition of both terms of direct relevance when it comes to computer monitors like this Samsung one.
Okay, I suspect some of you reading this may be at the start of eyes glazing about now. To me, what's important is that this monitor delivers on the essential elements of resolution, colours and screen refresh times that combine to make a terrific experience whether you're playing TitanFall, watching House of Cards on Netflix or making a fabulous PowerPoint deck.
So here are some key features:
UHD resolution

3840×2160 pixels –

 4 times the resolution of Full HD
1 millisecond response time – that's almost instantaneous
Minimalist design
Display port interface plus 2 HDMI 1.4 ports
UHD upscaling – great when watching HD video
Game Mode for a terrific gaming experience
I've not yet explored everything this monitor is capable of – things like picture-in-picture, picture-by-picture (two PCs connected to the single monitor to see the desktops of both simultaneously on one screen that's divided into two), or game mode (detects the changes in scenes, enhances the colour and alters the screen's contrast to make dark spots darker and light spots lighter so you can see all the action at all times).
Such experiences are still awaiting me in the coming months.
In summary, the Samsung U28D590D 4K UHD monitor is an excellent display device. Its sleek minimalistic design fits my expectation of a piece of advanced technology that I like to have on my desk. It's beautifully made and looks pretty good.
The U28D590D is on sale in the UK now (Amazon UK has it at around £460) and you can see it soon in retailers like PC World. Its feature set pits it extremely well amongst competing products from the likes of Dell, Asus and AOC whose similar-spec UHD monitors cost more, significantly so in some cases.
On the Samsung UK website: