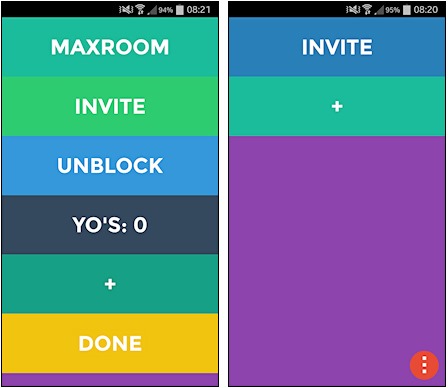 Have you tried Yo yet? The new social messaging app for iOS and Android devices has certainly attracted a great deal of buzz this past week.
I first heard about Yo in an FT post on June 18 that described it thus:
[…Yo is] messaging without the messages. All you can do with Yo is send a friend a notification saying "Yo". The entirety of the app is a list of friends' usernames, one tap of which sends them a "Yo", which arrives with a cheeky intonation of the colloquial greeting and the name of the sender. Each Yo can mean whatever you want it to mean – or have agreed beforehand with your friend. Ultra-simplicity brings wide-open scope for personal interpretation.
So what would you do with Yo? Here's what the developers say in the description about Yo in Google Play:
The simplest & most efficient communication tool in the world.

Yo is a single-tap zero character communication tool.

Yo is everything and anything, it all depends on you, the recipient and the time of the Yo.

Wanna say "good morning"? just Yo.
Wanna say "Baby I'm thinking about you"? – Yo.
"I've finished my meeting, come by my office" – Yo.
"Are you up?" – Yo.

The possibilities are endless.

We don't want your email, Facebook, there is no search, no nothing. just Yo.

Open the app, tap Yo, that's it.

It's that simple. Yo
Minimalism in mobile social messaging – I find the idea quite appealing!
Not everyone does, though. Writing in TechCrunch, for instance, Sarah Perez says, "Yo is a fad. Nothing more." In my Twitter circle, Rachel Miller says, "Certainly simple to use, but baffling as to why you would!"
While it may well turn out to be a fad ultimately, and may continue to baffle in the meantime, Yo is attracting more than just buzz in the form of investor promises of $1.2 million. It's also reportedly been hacked, but that doesn't seem to bother its fans (currently at least 500,000 users according to Business Insider).
And then there are brands and marketing.
Brand Republic reports that Yo's Israeli inventor Or Arbel has a big imagination:
[…] Arbel claims brands could get involved in a number of ways including Starbucks using it to let customers know when their order is ready, airline Delta informing people when their friend's plane has landed, and Gap informing people when they have a sale on.
Someone will do one or more of those things, you can be sure. Whether it's any of the companies Arbel cites remains to be seen.
Potential to keep an eye on.
By the way, the word 'Maxroom' in the screenshot above is my Yo handle. Say Yo! if you'd like to connect.