The bane of contemporary mobile life is your smartphone running out of juice sooner than you expect (what many would undoubtedly see as a classic 'First World problem').
It usually happens to me at a conference or other event when I'm using my device a lot for tweets and pics and sharing them online, and there's no nearby power outlet; or, more typically, I don't have a charging cable with me that I can plug into a PC's USB port.
So when the good folk at Nomad in California asked me if I'd like to try out their ChargeCard and ChargeKey micro USB cables, I was more than happy to say yes. Here's what each device is –
ChargeCard: A thin smartphone cable in a credit-card-sized format casing that's designed to fit into even the slimmest wallet.
ChargeKey: A key-shaped smartphone cable that fits onto your keychain.
They work like normal cables for charging the battery and syncing your phone – in both cases, you plug one end into a computer's USB port and the other end into your mobile device. There are versions for iPhones and for other devices that use the near-ubiquitous micro USB standard connector (almost everyone else). As all of my mobile devices are Android, I chose the micro USB versions.
The package from Nomad arrived just before Easter so I've had a chance to try out both devices. They work better than I expected.
As the photos here show, you plug the micro USB connector into your phone, and the end of the charging cable into a USB port on your computer.
Above is the ChargeCard connected to my Samsung Galaxy S4 smartphone, plugged in to a USB port on the side of my Toshiba laptop.
As you can see, the cable connector plugged in to the laptop's USB port looks like (and is) a very flexible rubber-and-silicon material that's built in to the more rigid hard plastic of the credit card-sized casing.
Below is the ChargeKey on a keyring with my car key.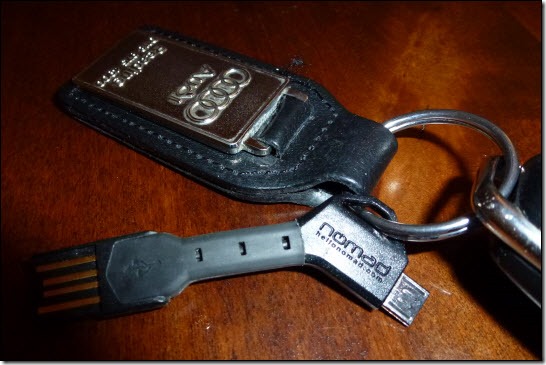 As the ChargeCard image above shows, the connector part of each device is amazingly flexible – here below is what the ChargeKey looks like with the S4 connected to the laptop's USB port.
Note how twisted the connector cable is. It's designed to cope with that, Nomad says, and it connects and works fine. It's an issue you encounter with many mobile devices and charging/sync cables where each connector only fits one way, so you can end up with some contortions such as you see here.
At least part of the equation will be fixed as and when the new reversible USB connector standard makes its way into the cables and connectors we'll see and use in the coming years when new reversible-connection USB ports get built in to PCs and other devices.
I've now ditched all but one of the USB cables that had homes in my various bags and that usually got tangled up in something. Having one is for the time when you can't use either of the Nomad products – no flat surface, for instance, or it's just too awkward, so a long cable may well serve you better.
For me, by far the most comfortable-looking of Nomad's two devices is the ChargeCard. But both are very good and would likely serve different needs. I'm not sure keeping the ChargeKey on a carkey ring such as I have is best – it's a bit awkward aligning the various devices on a table. I find the ChargeCard to be a better bet for that.
Still, both of these devices are really great. Did I mention sync? Not only do they charge your device, but also they let you synchronize data on your device with what's on your computer, if you have it set up for that and if that's what you want to do. Otherwise, they're devices that enable you to charge up your battery – and very good ones for that purpose.
The built quality is outstanding, a best-practice example of innovative design and manufacturing – and great examples of the kind of flexible wearable technology that's beginning to emerge: imagine the wiring within the twistable connector in each of Nomad's devices that does its job no matter how twisted the connection, so to speak.
I did wonder about how exposed the connectors are – how easily might they potentially suffer damage without covers? Nomad addresses that one in a credible set of FAQ on their website. So I'm reassured.
And I like Nomad's philosophy:
[…] We're focused on building simple solutions to simple problems, problems that shouldn't slow us or you down. ChargeCard and ChargeKey are just the start of our modern, minimalist, mobility movement.
Nomad began as a Kickstarter-backed project, exceeding its fund-raising goal by a factor of more than three. It became fully funded in August 2012.
Nomad sells the ChargeCard and the ChargeKey for $29 each in the US, with discounted pricing on quantity orders and referring a friend. They also have an affiliate program (I haven't joined that so no links here are affiliate links). There's good news if you're in the UK – as well as in Canada, France, Germany, Italy, Japan, and Spain – as you can buy either device from Amazon and get your purchase quickly.
Products that get you juice. What's not to like?